Forum Summary: AmCham Digitalization Forum - November 2019
Digitalization and Cloud(s) – Are we Solving Problems or Creating New Ones?
Hewlett Packard Enterprise hosted the latest edition of the AmCham Digitalization Forum at Technopolis in Fornebu. HPE Managing Director Thomas L. Kraft kicked off the session with an engaging presentation on cloud-based opportunities and challenges, which led to an inspiring discussion on digitalization culture in Norway and abroad.
Functionality x Security x Location
Kraft started his presentation by noting that despite the fact that there has been a fair amount consumer criticism about the quality and complexity of digital solutions, it is important to remember that Norway is playing a pioneering role in developing digital solutions in areas such as mobile banking and healthcare – putting Norway ahead of tech centric nations such as Japan.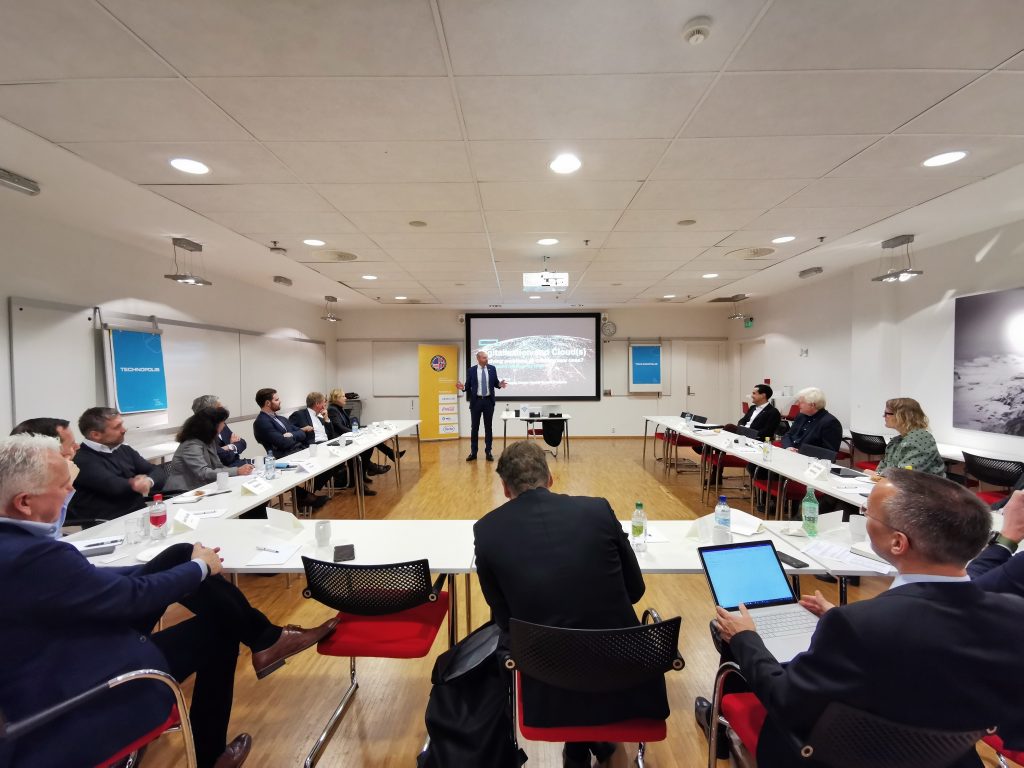 But when it comes to digital solutions for businesses, Kraft noted that Norway can do better. "Norway means serious business when it comes to digitalization and has made significant progress for its citizens, but what about its businesses?"
Kraft then expanded upon this theme, highlighting how corporate customers in Norway are looking for user friendly cloud-based and data solutions that combine functionality, security, and local, Norway-based service.
Going forward Kraft predicted that more companies will enter the cloud and data space in an effort to help businesses harness and refine data to help operations run seamlessly, inform strategic decision-making processes, and tackle tomorrow's challenges.
"Norway means serious business when it comes to digitalization and has made significant progress for its citizens, but what about its businesses?"
While Norway is still very much a digital pioneer, Kraft estimated that approximately 90% of business in Norway is done the old way, using non-cloud based legacy systems – something that is creating headaches for Norway's growing startup scene when innovative statups must integrate with the larger, more traditional companies that they work with.
"It's often the case that startups run on serverless platforms, and when these companies are purchased by larger companies, well, that's where the fun begins. These dynamic young companies can get bogged down integrating their operations into the older systems often employed by more established companies," he concluded.
It was a sentiment that resonated strongly with other forum participants, who discussed Norwegian digitalization culture more broadly in a flowing roundtable discussion. Next Step CEO and Silicon Valley veteran Jennifer Vessels noted that Norwegian companies and Norwegian affiliates of multinational companies could do a better job of integrating IT across the entirety of their operations, whereas other participants pointed out that digitalization must be better integrated in the Norwegian education system through competent teachers with an understanding of how to "digitalize" their subject so that their students stay ahead of the curve.
Participants noted that a better integration of digitalization in a diversity of academic subjects could also help increase diversity in the IT sector, breaking the mold of the "male tech nerd" and creating a digitally savvy workforce necessary for Norway to remain competitive in an ever more digital global economy.
Cross-industry forum participants included leaders from Verizon, Microsoft, Equinor, Tailormade Consulting, KPMG, Badenoch & Clark, Next Step, Schødt, Simula, Fast Solutions, Selmer, Isco Group, SAS Institute, Cisco, and the US Embassy.