2019-2020 AmCham Mentorship Program Halfway Meeting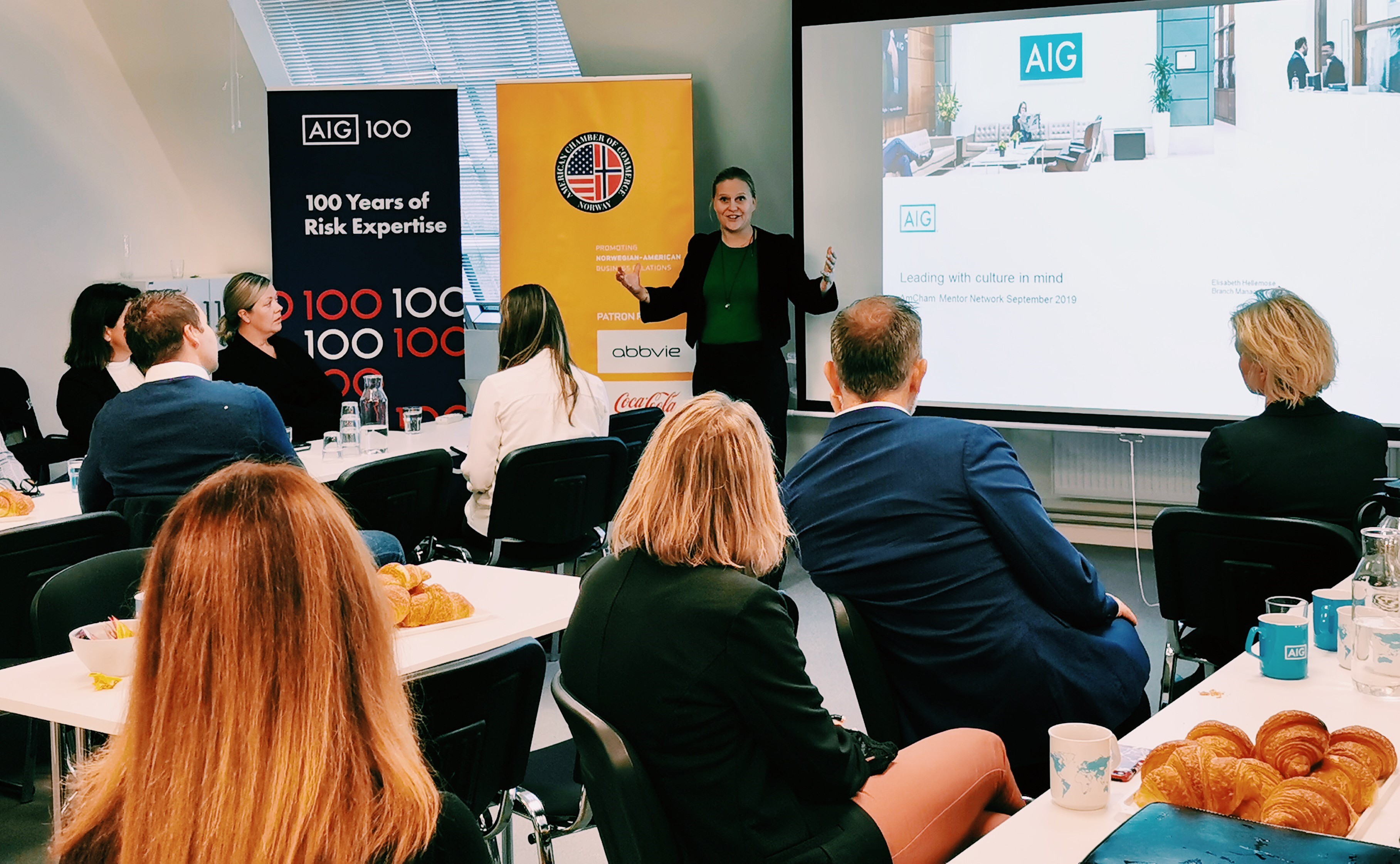 Participants in the 2019-2020 edition of the AmCham Mentorship Program gathered at AIG's Oslo headquarters to share program updates and discuss how they plan to continue to grow their mentor-mentee relationships in the months to come.
Navigating and Understanding the Multicultural Workplace
The session started with a presentation by Elisabeth Hellemose, Branch Manager at AIG, on the nuances of developing a multicultural workplace in the Nordics.
She began by asking participants to raise their hands if they worked in a team with members from a different cultural background than their own. The show of hands was instant and unanimous, highlighting the international nature of today's Nordic workplace.
Drawing on her own Danish-Norwegian background, Hellemose then took participants through the international culture at AIG, noting the multitude of cultures an AIG employee may interact with on any given day and highlighting the subtle cultural differences that can be found within the Nordic region itself.
While many people who work with the Denmark, Finland, Iceland, Norway, and Sweden often assume that they have identical living and working cultures, Hellemose noted that there are important nuances between them in regard to egalitarianism, task orientation, and work independence, and as a leader it is critical to understand these differences in order to build a collaborative team where all members feel empowered and engaged. 
Hellemose concluded with the importance of working to understand your co-workers as complex individuals, rather than as members of one or several different groups, highlighting how leaders can focus on having goal-oriented conversations that build rapport with colleagues and ensure conversations remain objective.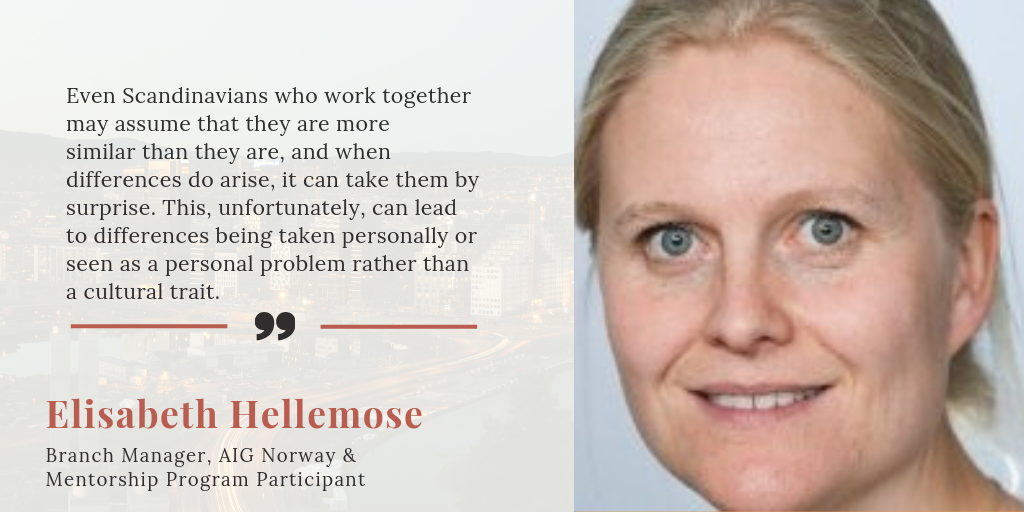 Decision Making as an International Leader
Roche Norge General Manager Rajji Mehdwan followed with a presentation highlighting the art of making culturally aware decisions in an international company.
It is an art that Mehdwan noted was critical to Roche's evolution over the course of the past few years. As companies like Roche have expanded globally, the need for managerial flexibility and the ability to incorporate culture differences into the decision-making process has led to a decentralization in leadership by transitioning from a global, hierarchical system to a flatter, regionally-based system.
This change also enabled to Roche develop a keen understanding of how to empower individual employees, a move that has improved performance across national and cultural borders. Mehdwan then highlighted the importance of allowing her employees to make their own decisions, especially at the country level, an approach that builds trust and respects cultural differences.
This transition, however, was not always easy. Mehdwan noted that there had been instances where she had wished her employees had consulted her first, but she knew she needed to set an example by "walking the walk and talking the talk."
She then discussed the importance of staying true to your instincts as a leader while simultaneously as respecting the local culture and adapting your business methods to better understand that culture. Like Hellemose before her, she also noted the importance of understanding the distinct differences between the Nordic states by highlighting her own personal transition with Roche from Denmark to Norway.
"I think you have to stay true to the leader you are and your beliefs about how to help your company succeed but to adjust how you do business. I thought that because I had worked in Copenhagen it would be easy coming to Norway, but it has taken time to understand how to do business in Norway, and I am still learning," she concluded.
The insights shared by Hellemose and Mehdwan resonated with program participants, who then eagerly shared their experiences of working in multicultural environments, experiences that included collaborating with colleagues working remotely around the globe and being a part of a team in a international office settings.
The session ended with mentors and mentees sitting down together to give feedback on the program so far and giving advice to each other on how to get the most out of the remainder of the program. The mentees discussed their experience with their mentors and underscored the value of having a mentor from a different industry than their own. Mentors and mentees agreed that the cross-industry pairings at the core of the program were eye-opening and a win-win for everyone involved, enabling an exciting flow of knowledge, perspectives, and ideas between our patron member companies.
About the AmCham Mentorship Program
With its unique cross-industry orientation and global approach, the AmCham Mentorship Program offers a dynamic, internationally-minded arena for leadership development. 
The program, entering its fourth year, pairs emerging corporate talent with seasoned executives from Patron-level AmCham member companies. The result: a collaborative arena that fosters innovation, prepares young leaders for the challenges of today's international business environment, and forges strong bonds between AmCham member companies.
With thirty-six mentor and mentee representatives from fifteen different companies and organizations, including AmCham– the 2019-2020 cycle is the largest participation to date.
Participating AmCham Patron companies are Pfizer, Jotun, Bristol-Myers Squibb, British American Tobacco, Janssen, Roche, AIG, Philip Morris International, Coca-Cola, MSD, Gambit Hill+Knowlton, KPMG, and Radisson, with the US Embassy also participating.