Mentorship Midway Meeting 2020
"When working with competent colleagues, be prepared that their solutions will be different than what yours would have been. If it is done with ambition and inspiration within the frameworks, that is leadership."
So declared guest leadership presenter Thomas Vogth-Eriksen, DNV GL's Global Director of Certifications, during AmCham's latest Mentorship Program gathering at Hotel Bristol. For the mid-point of the 2020 program, participants met in person – and in socially distanced fashion – to absorb leadership tips from Vogth-Eriksen, AbbVie Norway Country Lead Kirsti Nyhus, and one another.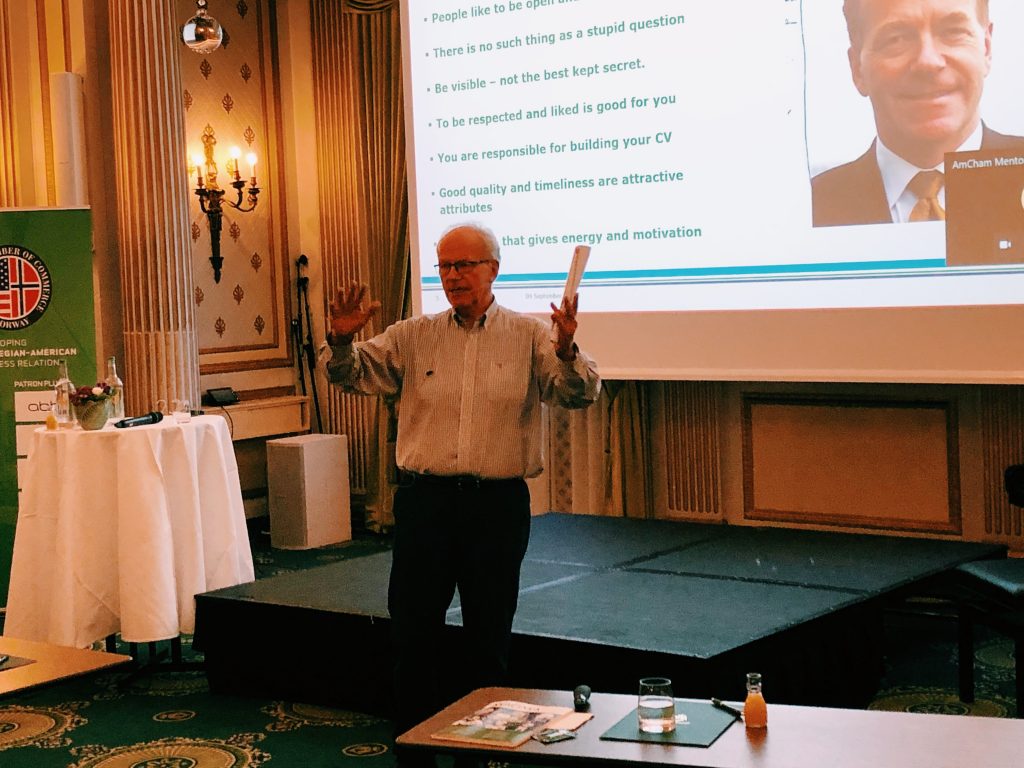 Focusing strongly on the importance of both career planning and communication with colleagues at varying levels, he highlighted the need for flexibility and personal challenges. As is unique to someone in Vogth-Eriksen's position, he was able to provide insights into topics applicable to both program mentors and mentees as they navigate their careers.
The baton of career development was swiftly picked up by Nyhus, who is at the helm of a company regularly top-ranked as a Great Place to Work in Norway. 
"Of primary importance to our employees, and to us as employers, is pride in what we are doing, and where we are working," she noted.
Contributing to that pride are AbbVie's five elements of talent philosophy: Performance, Behaviors, Differentiation, Accountability and Transparency. Nyhus illustrated the importance and implementation of each element, demonstrating how such a strong focus on company culture and personal growth has yielded such positive results.
After both presentations, mentors and mentees discussed a range of related issues including family onboarding for overseas postings, volunteering for new and challenging tasks, and how to sort out communication challenges amongst team members. The discussions represented the very best of the AmCham Mentorship Program – a cross-industry arena in which enthusiastic professionals hone leadership skills through collaboration!
About the AmCham Mentorship Program
With its unique cross-industry orientation and global approach, the AmCham Mentorship Program offers a dynamic, internationally-minded arena for leadership development. The program, now in its fifth year, pairs emerging corporate talent with seasoned executives from AmCham Patron-level member companies. The result: a collaborative arena that fosters improvement and reflection, prepares young leaders for the challenges of the international marketplace, and forges bonds between AmCham member companies.