AmCham Mentorship Program: Team Culture & Employee Voice
From a Team of All Stars to an All-Star Team
Sverre Tyrhaug, who has led the law practice Thommessen for the past eight years, has methodically worked towards building a team-centric culture as opposed to solely recognizing individual performance. One reason for a renewed focus on the team, Sverre explained, is that "the world is multi-disciplinary, and to thrive you must be able to collaborate." To illustrate this point, he used an analogy that resonated well with Norwegians; "we cannot be individual cross-country skiers.  Instead, we must collaborate in teams." Across his team, Sverre is instilling a sense of concern for the success of fellow colleagues in order for the team to perform well – as a unit. Besides the function of preforming well, teams offer the opportunity to share successes and celebrate victories together.
Within the competitive field of law, the industry standard has long been, and to a strong degree still is, to promote individual achievements – "the cost of changing nothing has not been high enough." High profits have acted as a barrier to the introduction of a shift in culture, though that sentiment is changing as Thommessen is ensuring the culture is promoted from the leadership level, which in turn affects the team, ultimately creating a firm wide change in the culture. By designing a team that prioritizes trust, support and open discussions, the firm corrects dysfunctions before they disrupt. Serre's last piece of advice was to ask colleagues new questions, as they will lead to new conversations with unexpected and useful gains.
Breaking the Barriers to Reach a Positive Voice Climate
How does one create a low threshold, or stor takhøyde, to voice opinions within an organization? This is one of the questions Mirha Suangic, PhD in leadership and organizations, addressed in her presentation. In simple terms, the answer is psychological safety. Voice climate is defined as the shared beliefs within a group about consequences. If an employee does not feel safe to voice their opinions, it is because they fear exclusion and negative future consequences. Another term that was introduced to participants was voice advocacy. This refers to the weight that a person's opinion or suggestion holds. Feeling a strong degree of psychological safety results in a lower barrier to voice opinions. A negative voice climate can lead to a fear for punishment and consequences, silencing the person who, in reality, holds valid and valuable insights.
Mirha also addressed the distinction between internal organization employee voice versus externally oriented whistleblowing. The benefits of a positive voice culture that welcomes employee engagement does, through her research, improve workplace performance. Moreover, a positive voice climate will contribute to ethics being upheld within the workplace. Mirha concluded with underscoring the strong effects of leadership style in the quest of a positive voice climate, echoed by Sverre's reflections on his role in defining the company's culture.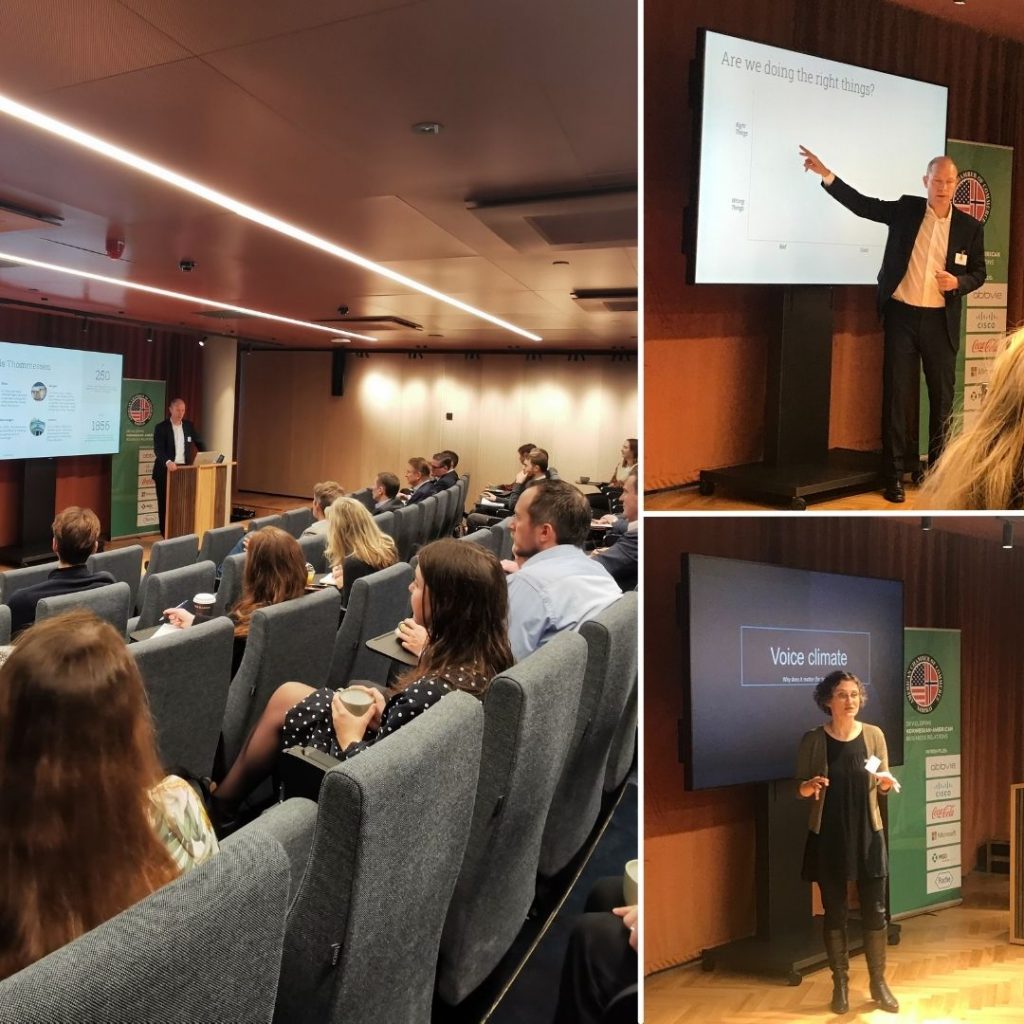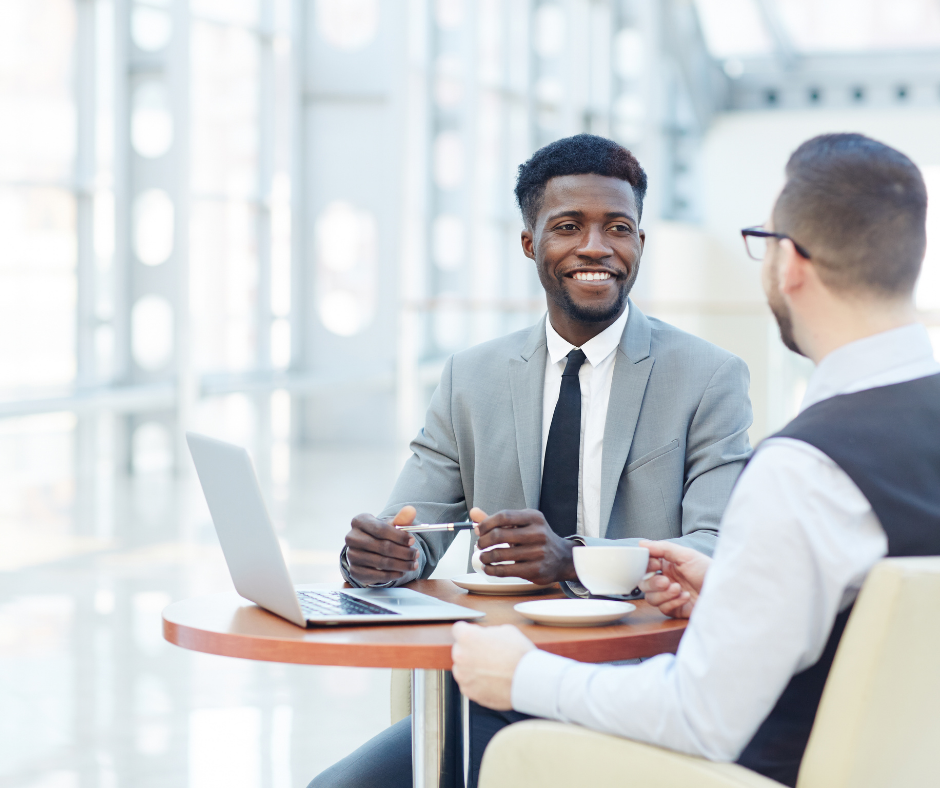 About the AmCham Mentorship Program
With its unique cross-industry orientation and global approach, the AmCham Mentorship Program offers a dynamic, internationally minded arena for leadership development.
The program pairs emerging corporate talent with seasoned executives from AmCham Patron-level member companies. The result: a collaborative arena that fosters improvement and reflection, prepares young leaders for the challenges of the international marketplace, and forges bonds between AmCham member companies.
If you are interested in participating in the mentorship program, please contact Madeleine Brekke at madeleine.brekke@amcham.no for more information.

Past Mentorship Program Events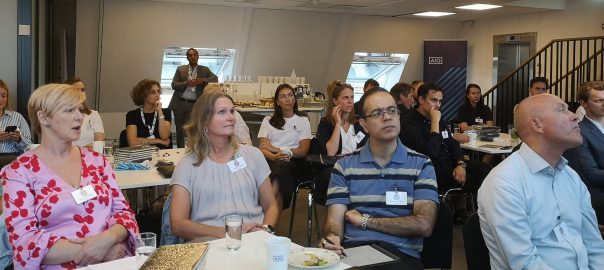 AmCham Mentorship Program Group Meeting: Work Culture & High-Quality Mentoring AmCham's latest Mentorship Program group gathering, graciously hosted by AIG, featured enlightening presentations and discussions
Read More »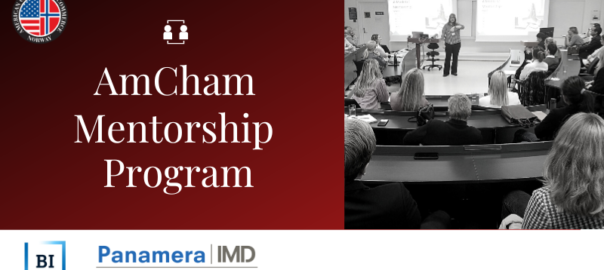 AmCham Mentorship Program Kickoff 2023-2024 – Ownership & Trust The 2023-2024 and eighth edition of the AmCham Mentorship Program kicked off at BI Norwegian Business
Read More »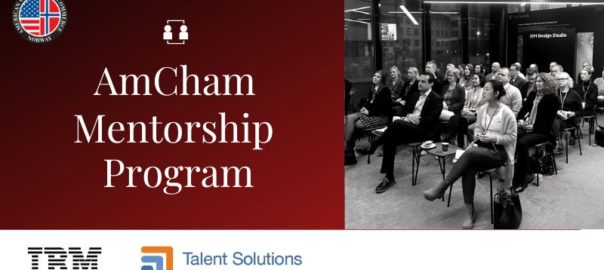 AmCham Mentorship Program Final Group Gathering: Change Management & Talent Trends Participants of the AmCham Mentorship Program attended their fourth and final group gathering; the
Read More »