AmCham Mentorship Program - 3rd Group Gathering
Leaders' commitment to sustainability and employee wellbeing were on the agenda as participants of the 2022-2023 edition of the AmCham Mentorship Program attended their third group gathering at BCG's Oslo office. There, presentations featured AmCham members BCG and Coca-Cola Europacific Partners Norway (CCEP).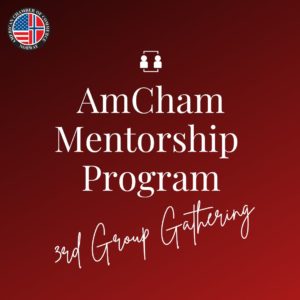 As one of the leading consumer goods companies in the world, with 33,000 employees across 29 markets, Coca-Cola Europacific Partners has made it their priority to map employee engagement locally whilst maintaining high awareness of their global impact. While the world was "set on pause," with many unknowns emerging from the pandemic, more credence was lent to questioning happiness, as explained by Carl Lescroart, Vice President & Country Director Norway.
To support the individual's wellbeing as an integrated strategy, Martine Bjørnstad Malterud, Head of Strategic Planning/ Assistant Director Strategy & Insight, showed guests how they have implemented concrete steps within the organization, including regular questionnaires. Moreover, conveying a sense of purpose, duty and service ultimately engages employees at a fundamental level. Lescroart elaborated, explaining that empathy and courage displayed in leadership will in turn encourage employees to raise their voice. The importance of purpose was illustrated by the following quote by Paul Polman, former CEO of Unilever. "When I will have died, there is no one who will say: he increased the market share of Dove."
Arguably, there is no larger leadership challenge facing both current and future leaders than steering towards sustainability pledges set by the international community. Partner Robert Hjorth leads BCG's climate and sustainability work in Norway and outlined the current state of greenhouse gas emission's effect on global warming, and the path towards net zero emissions by 2050. At the current trajectory, and without drastic action, the world will not reach the goal of 1.5°C by 2050, nor well below 2°C.
The corporate agenda for climate action can be broken down into: commit, act, and engage. In addition to proactive investments and innovations, all must actively seek opportunities to collaborate in order to move forward, together.
Hjorth then gave a synopsis of Norway's situation and projected development of emission targets through 2050. BCG's roadmap shows that a feasible and affordable pathway to net zero (and beyond) for Norway does exist, if a holistic approach to climate action, prioritization and capital allocation is taken.
As illustrated by both presentations, implementing ambitious sustainability targets is imperative to the goal of retaining talent within the organization, as it demands a purpose-led strategy, as well as stakeholders who are aware of the necessity of sustainable action in order to operate competitively.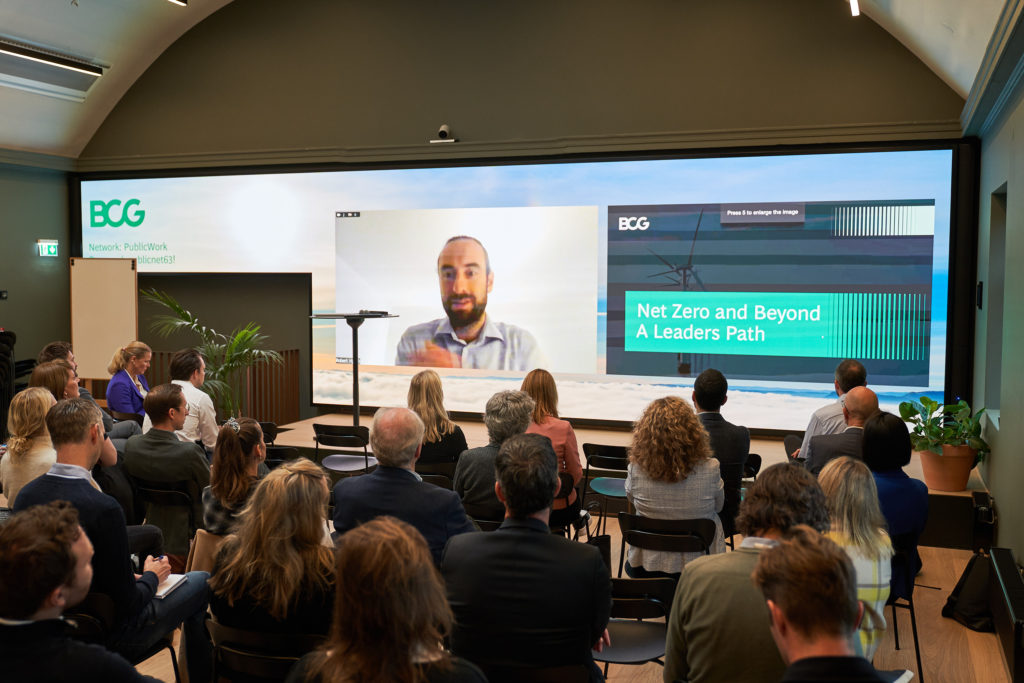 Participating Companies 2022-23: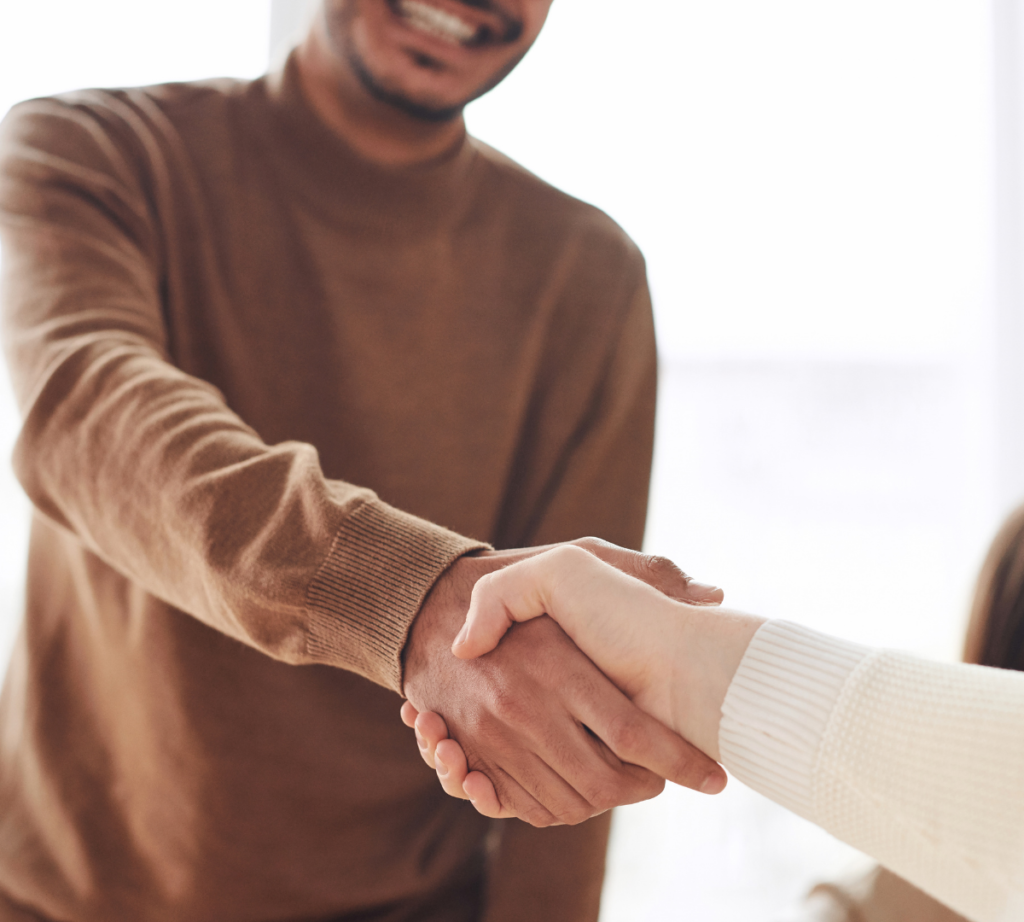 About the AmCham Mentorship Program
With its unique cross-industry orientation, the AmCham Mentorship Program offers a dynamic, internationally minded arena for leadership development.
The program pairs emerging corporate talent with seasoned executives from AmCham Patron-level member companies. The result: a collaborative arena that fosters improvement and reflection, prepares young leaders for the challenges of the international marketplace, and forges bonds between AmCham member companies.
The Mentorship program is available to Patron-level members of AmCham Norway. For further information and interest in the program, please contact Margrethe.Harboe@amcham.no.
Past Mentorship Program Events
AmCham Mentorship Program – 3rd Group Gathering Leaders' commitment to sustainability and employee wellbeing were on the agenda as participants of the 2022-2023 edition of
Read More »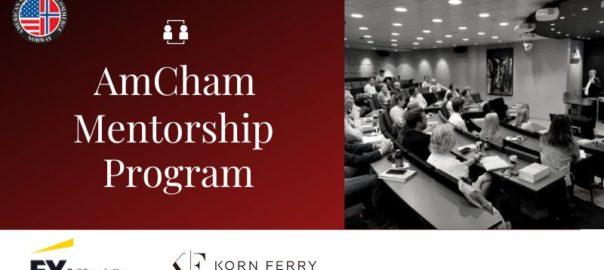 AmCham Mentorship Program – 2nd Group Gathering Participants of the 2022-2023 edition of the AmCham Mentorship Program attended their second group gathering at EY's Oslo
Read More »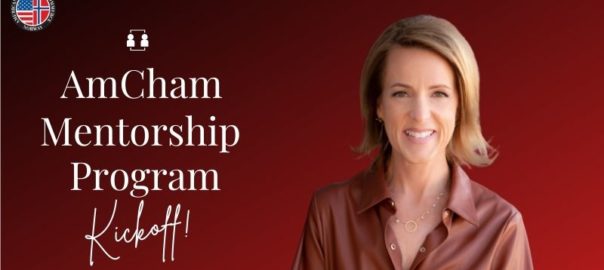 AmCham Mentorship Program Kickoff 2022-2023 – Harnessing a 'Growth Mindset' The 2022-2023 edition of the AmCham Mentorship Program kicked off at BI Norwegian Business School's
Read More »