Tech Talent Network at Oracle: SmartForest & Smart National AI Strategy
AmCham's Tech Talent Network (TTN) recently gathered at Oracle Norway's offices, with Managing Director Tore Bjelland welcoming participants and addressing evolving challenges and demands on leaders in a time of rapid development within the tech industry. He emphasized the importance of focusing on the next generation of leaders, as well represented in the room.
Oracle's Martin Johansson eagerly presented the NIBIO Norwegian Institute of Bioeconomy Research's SmartForest project, combining AI, ML, and cloud computing to improve the Norwegian forestry industry's efficiency, profitability, and sustainability. Using leading-edge and emerging technology such as drones, sensors, and satellites, important data can be collected to observe forest health and collect accurate harvesting information, enabling proper machinery and precise wood supply – creating a digital twin of the Norwegian forestry network.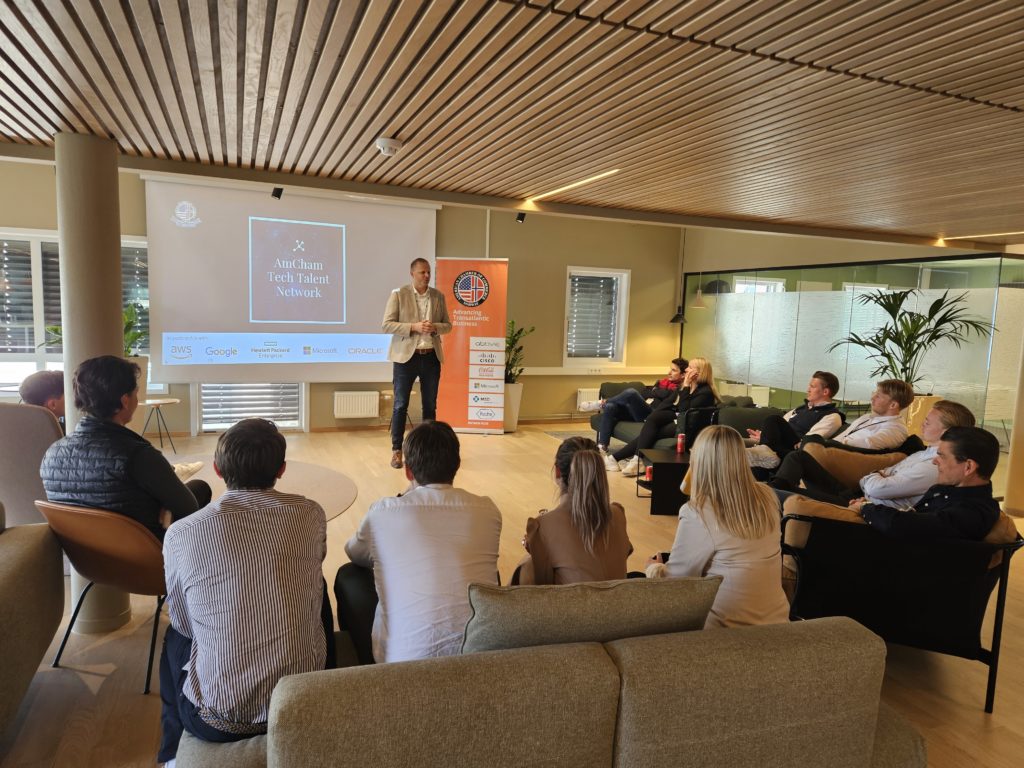 Høyre Stortingsgruppe Political Advisor Martin Willoch Olstad joined TTN'ers to share regulatory updates, challenges, political initiatives, and perspectives on Norway's national AI strategy.
Olstad explained that Høyre's newly formed AI working group will look at opportunities for the use of AI in the public sector for better and more efficient services, job, and value creation – identifying areas of competitive advantage and regulations to be put into place in addition to the EU's AI Act.
Norway's National Strategy for AI report, published in 2020, has both strengths and weaknesses according to Olstad. Although the strategy is only three years old, industry is moving much faster than regulation. With TTN participants contributing their commercial perspectives, the consensus was one of concern that strict regulation will hinder innovation and Norway's competitive advantage in the field. Making sure that decision makers have enough information and knowledge is crucial for revision, as well as clarifying language that can have a major impact on what is and isn't covered.

Following an engaging exchange, participants eagerly shared their ideas for future TTN topics and guest presenters.
About the AmCham Tech Talent Network
TTN is designed to be a non-competitive arena for knowledge sharing, professional development, and expanding international market insights. Exclusive quarterly sessions with industry leaders and external speakers create opportunities for collaboration and development of leadership skills. Read more about the program HERE.
For further information and interest in the program, please contact Madeleine.Brekke@amcham.no.