AmCham Mentorship Program: 2021-2022 Program Kick-Off
The sixth edition of AmCham's popular nine-month program kicked off virtually with a leadership presentation from Tine Austvoll Jensen, Country Manager of Google Norway. 
Austvoll Jensen began by commending participants for their "wise decision" to join the program, noting that she herself is both a mentor and a mentee. To get the most out of this opportunity, she advised participants to give their mentor or mentee concrete examples to work on together in order to achieve tangible results.
She encouraged those present to be open to, and aware of, networking opportunities that will ultimately expand and accelerate their professional circles. She also recommended daring to be vulnerable in order to establish and foster trust and connection in their mentoring relationships. 

Leading Through Transitions
Austvoll Jensen recently joined Google Norway from her previous position as CEO and Editor in Chief at Discovery Norway, where she, throughout her tenure, held roles as CFO and COO in the Nordic organization. She noted that transitioning between companies was much more challenging than moving internally, where she was already ingrained in the culture. Her solution? "Being prepared is half the battle," she insisted, emphasizing the need to be agile and adjusting your skillset to face a new role or company.
Not only did Austvoll Jensen touch on leadership transition between roles and companies, but also translating working methods. Transitioning during the pandemic, Austvoll Jensen relied on building relationships and leading people remotely from her home office over the course of the past year, a challenge that presented new issues of balance, communication, and a work culture of intent.
Austvoll Jensen concluded by highlighting the importance of daring to ask "stupid questions", being open to feedback and advice, taking time for self-reflection and remembering to be yourself.
The timely leadership insights openly shared by Austvoll Jensen resonated well with program participants, who expressed their enthusiasm for similar reflective dialogues over the coming months.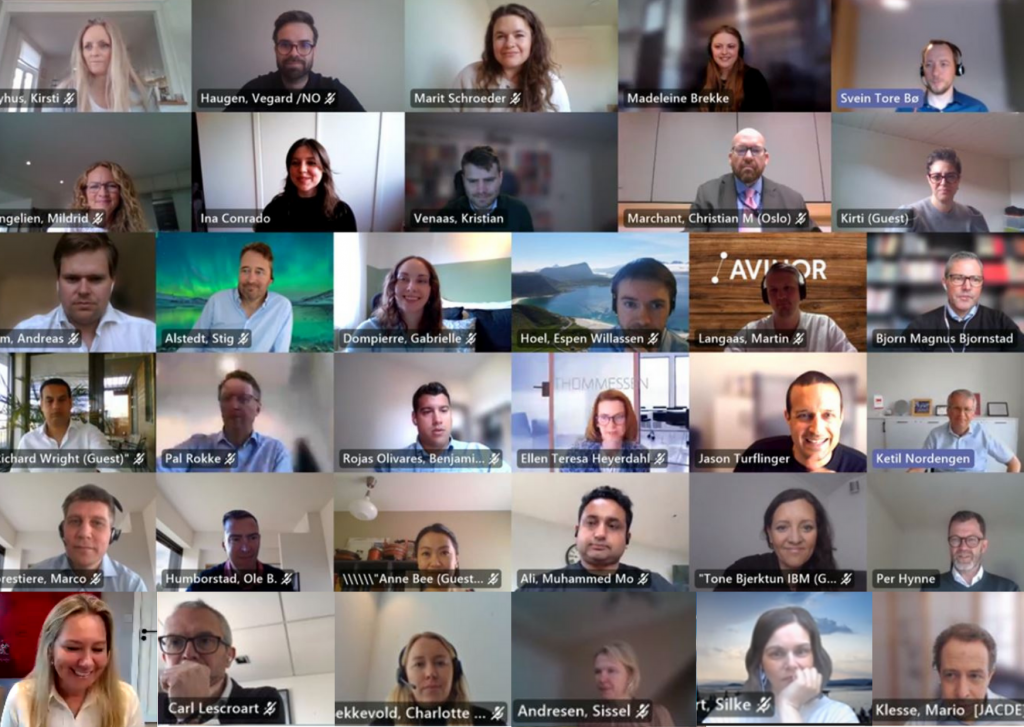 2021-2022 Pairings Announced
After the inspiring presentation, and based upon background input from all program participants, AmCham's Madeleine Brekke announced the cross-industry mentorship pairings handpicked for the 2021-22 program cycle. Including 74 participant from 29 different organizations, representing 12 industries, it is the largest program group to date.
Cross-industry pairs of executive leaders and up-and-coming talents were hand-selected from participating AmCham Patron companies, including 3M, Abbvie, AIG, Amgen, Avinor, AWS, BAT, Bristol Myers Squibb, Citi, Coca-Cola, DNB, DNV, US Embassy, Gambit H+K, GSK, Hewlett Packard Enterprise, IBM, Janssen-Cilag, KPMG, Merck, Microsoft, MSD, Pfizer, PMI, Roche, Sanofi, SAS Institute, Tailormade Consulting and Thommessen, with the US Embassy also participating.
For the last portion of the meeting, mentees were invited to make the first call to their mentor, introduce themselves and set up their first 1:1 meeting.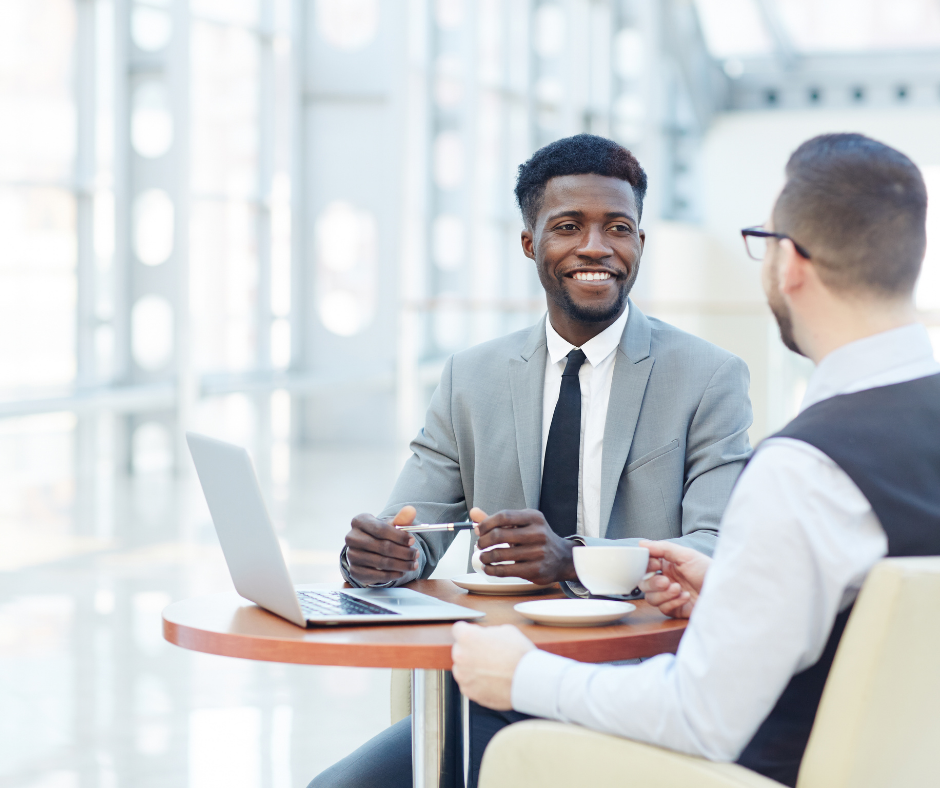 About the AmCham Mentorship Program
With its unique cross-industry orientation and global approach, the AmCham Mentorship Program offers a dynamic, internationally minded arena for leadership development.
The program pairs emerging corporate talent with seasoned executives from AmCham Patron-level member companies. The result: a collaborative arena that fosters improvement and reflection, prepares young leaders for the challenges of the international marketplace, and forges bonds between AmCham member companies.
If you are interested in participating in the mentorship program, please contact Madeleine Brekke at madeleine.brekke@amcham.no for more information.
Past Mentorship Program Events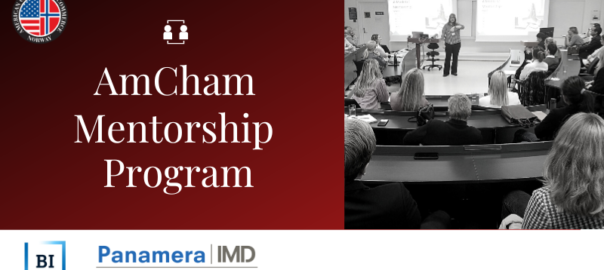 AmCham Mentorship Program Kickoff 2023-2024 – Ownership & Trust The 2023-2024 and eighth edition of the AmCham Mentorship Program kicked off at BI Norwegian Business
Read More »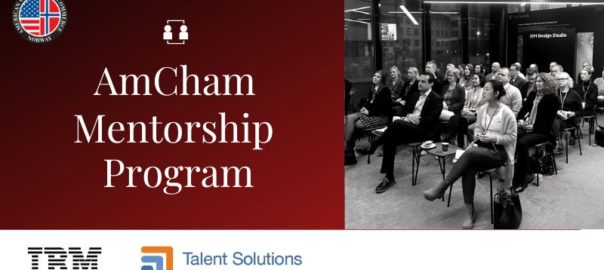 AmCham Mentorship Program Final Group Gathering: Change Management & Talent Trends Participants of the AmCham Mentorship Program attended their fourth and final group gathering; the
Read More »
AmCham Mentorship Program – 3rd Group Gathering Leaders' commitment to sustainability and employee wellbeing were on the agenda as participants of the 2022-2023 edition of
Read More »