AmCham Financial Forum: IPO Frenzy and Transparent Compensation
Leaders gathered at KPMG Norway's downtown offices for AmCham's quarterly Financial Forum. Reflecting on his own observations over the past years' "Norwegian IPO Frenzy," our forum was kicked off by Geir Bjørlo, Partner at Corporate Communications. With 100 listings since 2020, the pace has now slowed to only a handful due to current uncertainty.
Oslo Børs is hotter than Nasdaq and London. Oslo Børs holds a unique position internationally and is world-leading within the energy, shipping and seafood sectors, making Norway a preferred country for IPOs – as international stakeholders trust Norway's financial institutions and methods.
Most of the Norwegian IPOs are related to sustainable investments and "energy capital" considerations. More listings are expected to take place post-summer, with the next window occurring in September through October.
"Uplisting" has been a buzzword over the past 12 months, says Bjørlo, referring to the process of listing an existing public stock on a major exchange. For example, transferring the listing venue from Euronext Growth to the main list on Oslo Børs. Uplisting reflects the company's growth ambitions and shareholder base while contributing to increased visibility and access to a larger investor audience.
It has been very common for companies going public to announce targets for their projected earnings in 2025 rather than their actual past performance since a lot of companies still don't have meaningful revenues. This practice is not usual on the NYSE for example.
Bjørlo walked participants through the "IPO toolbox," illustrating how to build a trustworthy and credible company, as well as how to avoid post-listing value destruction. "ESG reporting is where accounting was in the 50's," suggesting there is still much work to be done in making ESG reporting more sophisticated.
Norway continues to be a preferred country for investments in seafood, shipping and energy, with the latter now branching to renewables in addition to "traditional" energy markets.
Empowering Talent: Structure, Values, Technology Enabled Processes, and Equitable and Transparent Compensation
Simona Vasile, KPMG Tax & Legal Partner and the Head of Technology & Innovation at KPMG Law, presented trends and methodologies on current pain points of talent retention, gender pay gaps, how the remote workforce is reshaping policy decisions, and compensation benefit strategies while preserving value.
Following the pandemic, many companies still allow their employees to work remotely, however, making sure the employees stay compliant becomes a bigger liability. According to Vasile, "the ability to work remotely looks amazing from the talent perspective but can be an absolute headache for companies." For employees looking to work from another country, this could mean that they need to be paid the local salary and pay taxes in the country they work from. Vasile also notes that there are differences between industries. Tech companies generally allow their employees more remote work than other industries.
Companies have tried to incentivize employees to stay in their positions (and some at their desks, or at least their country) through a variety of perks such as travel, bikes, and meals, but each incentive requires many layers of administration for the company. Many companies therefore opt for monetary bonuses according to Vasile.
Vasile also shared innovative technology insights using automation, AI and data analytics to both better understand employee preferences and customize the employee experience by creating seamless interactions with collaborators and partners. One such tool that KPMG uses is an Employment Methodology Framework to evaluate companies on aspects including employee retention, diversity and gender balance, and employee compensation.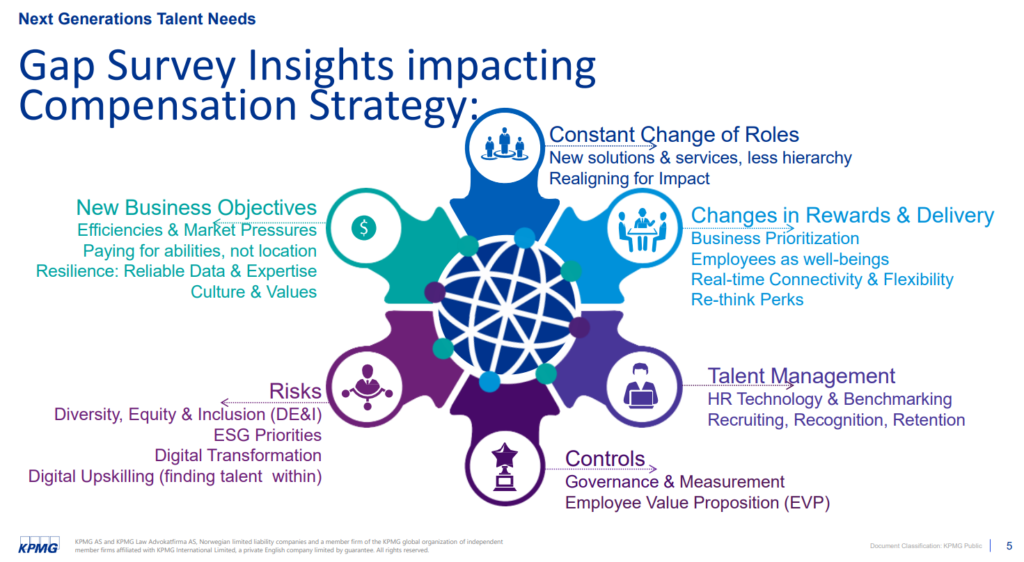 About the AmCham Financial Forum
The AmCham Financial Forum is a platform that provides member financial leads the opportunity to interact, share best practices, and learn from each other – building a better understanding of what it takes to run a successful international finance department in Norway. 
Read more about our Financial Forum and please contact Madeleine.brekke@amcham.no for interest in future meetings.