According to Kantar TNS, 57% of the Norwegian population regard health politics as the most important topic when deciding which party to vote for, while at the same time, cancer is the disease the Norwegian public is most concerned with. Only 36% believe they will get access to the best cancer medicines if treated in a Norwegian public hospital.

With those statistics presented by Vidar Pedersen at Kantar TNS, AmCham kicked off the Sustainable, Innovative Healthcare debate at Arendalsuka, as patients, politicians and industry experts delved deeper into how the Norwegian healthcare industry can provide better care. 
The discussion –divided into two sessions – started with panelists identifying and debating current healthcare challenges, before panel number two explored opportunities for the future.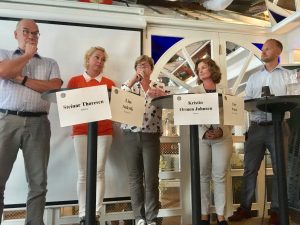 "One issue for us in the industry is not just gaining approval for new products, but the current reimbursement arrangement," Steinar Thoresen, Medical Director at AbbVie, said when highlighting some of the industry's current challenges.
"Clinical studies have changed too; we are still too focused on standard trials, when we actually need to assess the situation differently. In Norway, we have excellent health registers and we are at the forefront in this area, which should enable us to use medicines in different ways, to increase innovation and create jobs, but there is a small window of opportunity as other countries are collecting data and will surpass us," Thoresen said.
Wants to collaborate
According to Kantar TNS, two out of three voters think the government should spend a larger share of the GNP on health as compared to what is currently allocated. This despite that Norway has invested NOK 9 billion in new hospitals over the last few years, as MP and Health Committee member Kristin Ørmen Johnsen (H), pointed out.
"I would gladly double the nine billion NOK, but we need to consider the entire picture. If we are not innovative, if we just keep spending money, without creating jobs or being more efficient, we will consequently get less money to spend in the budget."
"We are depending on input from industry! How can we best organize the sector? We want more clinical trials, we want to create more jobs and increase innovation. The model today is not perfect, but give me some new methods, show me the solutions," Ørmen Johnsen replied to the industry's desire to increase collaboration and see real negotiations related to tenders and access to treatments.
The Danish Model
Ørmen Johnsen further pointed out that introducing new drugs takes too long in Norway, acknowledging that the current system needs improving.
Steinar Thoresen added that "in Denmark, they initiated the Next project to increase the number of clinical trials and became top of Europe in the field! We had the oil and we fell asleep! It is easy to implement the project and we have the infrastructure. We are ready, just tell the department to invite us."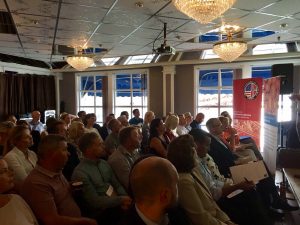 Lise Askvik from Helsepartiet, too, agreed that change is needed, stating that the current system, with Beslutningsforum making the decisions, is far from ideal.
"They have no connection to reality! There is no law, no Parliament ruling, no people in the forum with clinical expertise. The process is secret and their decision is final – it is a model made in hell! They need to listen to the doctors and experts, not the people guarding the budgets," she said.
A look ahead
61% of Norwegians think the healthcare system is divided into two, where personal economy is very likely to impact the quality of treatment received, according to Kantar TNS.
"The dilemma raised by politicians is access to the newest medicines versus cost, while at the same time securing the best total utilization of the healthcare budget."
"Whether it is politicians being too careful spending money, or the pharmaceutical companies charging too much, the result is less faith in the public healthcare system," Pedersen said.
Christian Probst, GlaxoSmithKlein's General Manager in Norway, thinks it is important to think of health "as a whole" rather playing the blame game, which occurs too frequently in this country.
"We have to ask, 'what do we want to achieve?' Of course, the pharmaceutical industry has a commercial interest, otherwise we would not be able to continue to invest in jobs, innovation and life-changing medicines. It is not just about cancer, we really have to see the larger picture," he said.
Both Ole Alexander Opdalshei, Assistant General Secretary, Norwegian Cancer Society and Jónas Einarsson, CEO, Norwegian Radium Hospital Research Foundation, seconded that opinion, highlighting clusters, new technology and digitalization as areas where Norway can improve, while also pointing to the Oslo Cancer Cluster success story.
Changing perceptions
Ørmen Johnsen, who admitted that Norway has not been good at taking care of and working with –  the pharma industry, concluded with her intent to more actively involve industry after Probst's plea.
"We have to accept that it is ok to make money and to be more open to pharmaceutical companies. We have to raise issues about health as an industry, not only as an expense, but to explore ways we can earn money from it and create jobs, while supporting an innovative industry," she said.
AmCham sincerely thanks all coordinators, panelists and guests who attended during a very busy week!
Panel I – "current challenges"
Line Walen, Director of Public Affairs, Roche Norge AS
Kristin Ørmen Johnsen, MP & Standing Committee on Health and Care Services, Høyre
Lise Askvik, Leader, Helsepartiet
Steinar Thoresen, Medical Director, AbbVie AS
Vidar Pedersen, Strategic Advisor, Kantar TNS Norway
Panel II – "a look ahead"
Christian Probst, General Manager, GlaxoSmithKline AS
Kristin Ørmen Johnsen, MP & Standing Committee on Health and Care Services, Høyre
Ole Alexander Opdalshei, Assistant General Secretary, Norwegian Cancer Society
Jónas Einarsson, CEO, Norwegian Radium Hospital Research Foundation