Date posted: 07.01.2020
Category: AmCham News
The global economy is changing more quickly than ever before. Emerging markets are rapidly developing the infrastructure, talent, and funding to compete with their established peers. Global economic headwinds and an uptick in political volatility have made investors and multinational companies decidedly more cautious regarding long-term investments.
In short, the global battle for investment and jobs will increasingly affect Norway in the years to come.
Source: AmCham
Published: January 7, 2020
More
Date posted: 02.09.2019
Category: AmCham News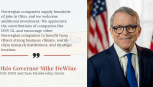 Offering a combination of low living costs, business-friendly policies, top-notch universities, and a talented, highly innovative population, the American Heartland, a region comprised of states such as Indiana, Michigan, Wisconsin, and Ohio, has become an increasingly popular place to invest for a growing number of Norwegian companies.
One such company is DNV GL. The Oslo-based provider of risk management and quality assurance services to the maritime, oil and gas, healthcare, and power and renewables industries employs 145 people in two of Ohio's largest cities, Cincinnati and Columbus.
Source: AmCham
Published: September 2, 2019
More