Wine journalist and Vinmonopolet experts participated as American wine expert, Keld Johnsen, presented an exciting list of American wines at AmCham's West Coast Chardonnay and Reds exclusive master class tasting hosted at the recently opened American-themed restaurant, Smokestack.
With wines from the states of Washington, Oregon and California, Danish sommelier Johnsen — who has been importing and working with American wines since the 1980s — eloquently guided the participants through 16 variations, ranging from full-bodied reds to light, crispy whites.
Vineyards represented included 1000 Stories, Black Stallion, Bonterra, Charles Smith, Donkey & Goat, Francis Ford Coppola, J. Christopher, Joel Gott, Marimar Estates, Red Car, Sandhi Wines.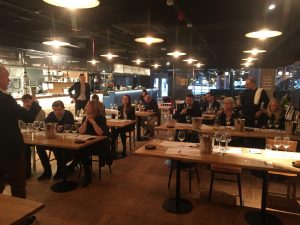 Particularly highlighting how American wines are increasingly popular in Europe, and especially Scandinavia, Johansen explained how US wines producers have benefitted from a varied climate and an eagerness to invest in wine production, which has seen their product competing with the best wines in the world.
"Americans have a mentality where they think 'if we want to put a man on the moon, we will go and do that.' And, 'if we want to make the world's best wine, we will do that.' Therefore, as seen in numerous blind tests around the world, US wines are now among the best in the world in many categories," Johnsen said. Increasingly, more and more capital expenditure is put into America's vineyards to help develop these wines.
New Wave of American Wines
While presenting, Johnsen emphasized how there is a new wave of American wines that are shifting from previously high alcohol content to more balanced flavors, which match very well with Scandinavian cooking.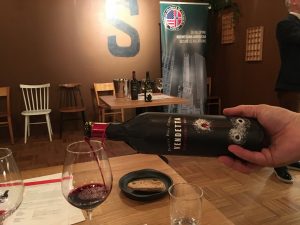 Additionally, many producers are now shifting away from the standard oak-weighted flavors, traditionally embraced in the production of US chardonnays, to experiment with flavors for a global market.
Johnsen also praised the Norwegian market, citing several of the tasting wines as very exciting products and difficult to find in Denmark. As one attendee pointed out, there are now better price points on Pinots from California than the French Burgundy for comparable quality.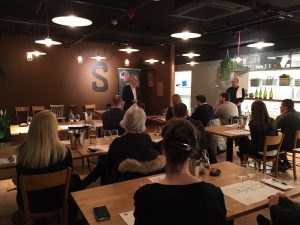 AmCham wishes to thank all of our dynamic wine import members for their contribution to this master class, as well as all attendees, presenter Keld Johnsen and Smokestack restaurant for hosting us.
Fun fact: while European labeling laws for wine allow the terms primitivo and zinfandel to be interchangeable, US wine labeling laws do not, maintaining a distinction between these two related, yet different grapes.
Complete Wine Tasting List
| | | | |
| --- | --- | --- | --- |
| Producer | Wine | Vinmonopol Nr |   |
| Marimar Estates | Albarino 2016 | 7162501 |   |
| Joel Gott | Pinot Gris | 8202901 (from May) |   |
| Francis Ford Coppola | Diamond Collection Chardonnay 2013 | 3281901 |   |
| Red Car | Sonoma Coast Chardonnay 2015 | 3633901 |   |
| Marimar Estates | Acero Chardonnay 2015 | 5692101 |   |
| Charles Smith | Eve Chardonnary 2014 | 9422201 |   |
| Sandhi Wines | Santa Barbara Chardonnay 2015 | 7882701 |   |
| Black Stallion | Chardonnay 2016 | 7374501 |   |
| Bonterra | Chardonnay 2016 | 4651601 |   |
| Red Wines | | | |
| Black Stallion | Los Carneros Pinot Noir 2014 | 7267701 |   |
| J. Christopher | Williamette Valley Pinot Noir 2014 | 2147601 |   |
| Marimar Estates | Mas Cavalls Pinot Noir 2013 | 5737901 |   |
| Donkey & Goat | Donkey & Goat Grenache Noir 2015 | 7807501 |   |
| 1000 Stories | Bourbon Barrel Aged Zinfandel 2015 | 7857701 |   |
| Charles Smith | Boom Boom Syrah 2013 | 9422301 |   |
| Francis Ford Coppola | Vendetta Cabernet Malbec 2013 | 5494801 |   |