How can a company be more successful through digitalization? Should we think "how can I solve this problem for a customer" or "I have created the technology, how can I sell it?"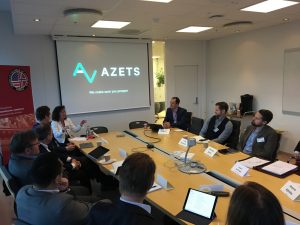 "Uber was created when someone wanted to share the cost of a taxi, not by someone who desperately wanted to disrupt the industry," Next Step CEO Jennifer Vessels said at AmCham's latest Digitalization Forum. Vessels, who is based in both Oslo and Silicon Valley, agreed with others that in California companies operate differently.
Presenting during the roundtable discussion, hosted by Azets and attended by 18 invited AmCham company and partner leaders, were Azets, DNB and Simula. Repeatedly highlighted was the importance of collaboration – between people, companies and even competitors.
Accountants No More
"Accountants, as we know them, will soon be a thing of the past. Most research suggests that in the future, employees will be working less with data entry and standardized task and more with problem-solving, communication and other ways of interacting with customers. Just one year ago, large retail invoices took an hour to manually tabulate, now it averages about three minutes," according to Azets' CSO Olav Abel Lindberg.
In his experience, the larger the company, the less aversion to digital change there is. "Norwegian labor costs drive innovation."
Managing Collaboration
"It is better to own a portion of something that works than 100% of nothing," DNB's Head of Digital, Trung Minh Tran, said, while highlighting how Norway's leading bank is collaborating with other banks in both the US and Scandinavia to ensure continued growth and innovation.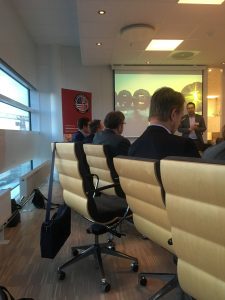 While Norwegians are generally perceived as well educated and tech-savvy — and digitally ahead related to everyday tasks such as banking, shopping and public transport — the road to digital leadership is vitally dependent upon active collaboration between management and employees.
"There are people in an organization, the more experienced ones, who might find the digital transformation difficult. Companies need to find a way to combine these employees' vast experience with the knowledge and eagerness to learn, normally possessed by younger employees. The younger generation may be very tech-savvy, but they need help to see issues in an experienced context."
Establishing concentrated cross-border, cross job-function digital initiative teams has been key for several of the companies present.
"Transparency and industry convergence," says Tran, "are the new digital realities – in shipping, banking, insurance, aquaculture and beyond. The biggest challenge for companies like ours is prioritization of the countless potential initiatives."
Start-Ups v Established Companies
"Who is leading the transformation race," asked Simula Garage Director Christian Bjerke, "established companies or start-ups?"
"In one way, digitalization is a buzzword for something that has been ongoing for decades, where at the same time it represents possibilities, the future and disruptive changes."
"The advantage with start-ups is that they can go from something absurd to dominant in a few years. However, it also appears that an essential part of success is generating hype. Even before they have managed to create jobs, generate revenue or pay any taxes."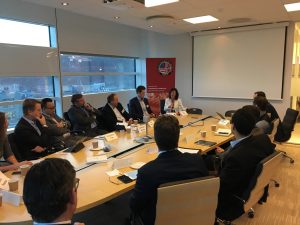 "One challenge for Norwegian start-ups is that very few of them have yet to develop into international, multimillion-dollar companies. It is easy to approach investors, companies or the public sector, but to get something to happen takes time and — more often than not — the involvement of established companies. The strength of the established companies is the enormous power they can generate when pushing a digital service," referencing Vipps as a prime example.
Key Takeaways:
Across all industries in digital future:
Understanding customer needs and directions critical for innovation which reduces inefficiencies and solves problems for customers.
Machine learning, or AI,  automation can do or reduce the repetitive tasks, using people / human intelligence to review, analyze and address the exceptions.
Collaboration is key to success – with others industry, alternative or complementary solution providers
Successful collaboration requires clear rules of engagement
Opportunities to team young digital native millennials with mature, experienced 'traditional' workers can lead to greater success of all.
Looking Ahead
AmCham thanks Azets for hosting, Jennifer Vessels for astutely moderating, and all Forum participants for an engaging, informative exchange during this final Digitalization Forum of the year. During 2017, these quarterly, cross-industry forums have proved to be a valued addition to our expanding program for members. We look forward to continuing to examine digitalization management methodologies together in the New Year!