Technology can be used in a smart way so companies can focus on streamlining strategic operations – not simply downsizing. This sentiment played a theme throughout AmCham's latest digitalization forum.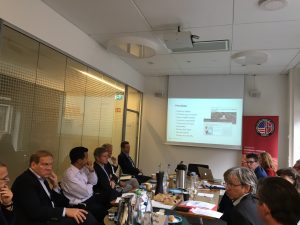 Hosted by public relations and communications firm Burson-Marsteller, 22 AmCham member directors from a range of companies and industries discussed what the term 'digitalization' actually means to them and their businesses, and how they view the road ahead.
After an introduction from Director Peter Gitmark, Burson-Marsteller's Creative Director Ann Elin Hvidsten explained how the process and results of communications campaigns were changing – and improving – with the pace of technology. Hvidsten further emphasized the importance of staying true to a company's goals over means, with respect to implementing digital strategies.
Session moderator and Next Step CEO Jennifer Vessels then provided an outline for how company leaders should consider the digitalization process of their business through a three-step process:
Reducing work, and thereby implementing cost savings
Using digital tools to create new and complimentary revenue streams by reaching new customer markets and segments
Integrating the first two steps for optimization of synergies
Vessels emphasized the need for continuous learning by leaders and managers – who then need to actively push knowledge, understanding and skills through to all employees. Truly understanding customer – and citizen – needs is therefore vital to deriving value from new digital services.
Progress and Challenges
Special guest Paul Chaffey, State Secretary from the Ministry of Local Government & Modernization, then presented progress made – and challenges faced – by his department.
Drawing from his experience in both public and private sector, Chaffey shared cases on best practices, and the specific need for better and more efficient information sharing across all sectors.
Citing the example of Narvik and Moss being the first communities to implement cloud applications and services, Chaffey identified both opportunities and challenges to pushing Norway into a more future-oriented digital landscape.
Often cited as the 'new oil,' the discussion progressed with many interesting examples of how business leaders are taking advantage of new information, and the critical success factor of the efficiency in doing so.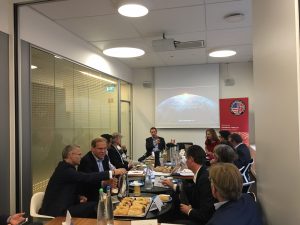 In addition to hosts Burson-Marsteller, senior representatives of the following AmCham members joined: Next Step, Adv. Bull & Co., Badenoch & Clark, Oslo Retail Association, Adv. Schjødt, MSD Norway, Korn Ferry, Fast Accounting, Adv. Selmer, GE Healthcare, Azets, Tine, US Embassy and KPMG.
The AmCham Digitalization Forum is a quarterly gathering organized to help company leaders discuss the impacts of digitalization on their business. To get involved in future meetings, please contact amcham@amcham.no.