How can companies best spark an innovative mindset? Helping to kick-off HP's Teknologidagen conference at Scandic Fornebu, invited AmCham member company leaders gathered for open discussion on this premise for successful implementation of digital initiatives.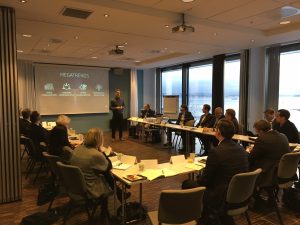 After a welcome by host Verner Hølleland, HP Norway's Managing Director, California-based Andrew Bolwell outlined global megatrends. Heading up HP's Tech Ventures in Silicon Valley, Bolwell's group looks to invest and collaborate with startups around the world, to leverage their knowledge in improving customer experience and people's lives.
"Gone are the days of competing only with large traditional companies, as globalization and agility now put new ventures on the competitive field within five years of launch," Bolwell explained.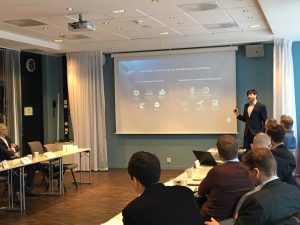 "With 1.6 million people around the world moving to large cities every 10 days, rapid urbanization is one of four deciding megatrends in the years to come. Others include changing demographics, hyper globalization and accelerated innovation.
Together, these factors will drastically change the way in which businesses must operate, and view their markets," he said.
Disruptive Technologies
Artificial intelligence and machine learning are hot buzzwords we are all reading about today, but Bolwell presented these in the context of commoditized aspects of our future lives, which we will only notice when they are not working.
"Much like we don't think about lights in a room when they are on, but notice something is wrong when they go out," he explained.
Bolwell continued, advising on blockchain and detailing business applications for the distributed trust mechanism.
"You should all be thinking about how, 'if someone wanted to compete with my business leveraging this technology in the future, how would they do so, and what can I do about it,'" he said.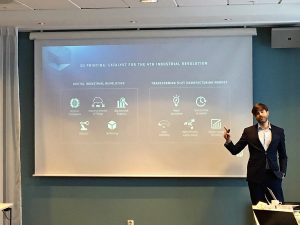 Discussing digital manufacturing, it was noted that today, manufacturing represents a $12 trillion industry and 90% of the world's shipping traffic, with high break-even points for new product launches.
HP's Yves Jamers, who oversees 3D printing operations for eight European countries, went on to detail how lower costs, shorter lead times, and greatly improved customization are all benefits of this game changing technology.
"Short-run product cycle costs will be greatly reduced, lowering warehouse inventories – and ultimately waste – when we are able to quickly and cheaply produce replacement parts for the goods we use every day," Jamers explained.
Digitalization in Practice
As the discussion continued, Telenor, MSD, Schjødt, Korn Ferry, Selmer, Statoil, Arundo Analytics, Baker Hughes – a GE Company, and others outlined what they are doing to facilitate digitalization and innovation initiatives internally – from how to build effective digitalization teams to including clients and partners in their unfolding digital initiatives.
As always, the session proved deeply informative and mutually beneficial for these leaders – facing similar challenges across their respective industries.
Key Takeaways:
It is not possible to avoid change as growth of megatrends and disruptive technologies is occurring at an accelerating pace.
Prepare for future by:
Learning and / or designating someone in your organization to become the internal expert on new technology such as Blockchain.
Exploring ways that Additive Manufacturing (3DPrinting) can speed time to market and increase efficiency / profitability for your company (possibly through use of 'as a service' offering)
Prepare leadership for the future – with commitment and development of leaders and managers.
Encourage and support people willing to take risks and sometimes fail.
Start small, move fast but take action.
Leverage small (3-7 person) agile teams to identify, design, develop, test and implement solutions – either internally to streamline processes or for new services to the market.
Support and seek diversity in thought and mindset.
Don't wait – take chances for success.