Members and partners turned out in force at Grand Hotel, raising a record NOK 75.000 for the Norwegian Church Abroad in Houston as AmCham hosted a tradition-rich Thanksgiving Charity Dinner.
Sponsored by AIG, ExxonMobil and First House, this year legendary American chef Craig Whitson collaborated with the renowned Grand Hotel kitchen to serve an unforgettable, authentic Thanksgiving meal.
On the menu were whole stuffed, free range turkeys, Norwegian ham, sweet potatoes with marshmallows, pumpkin puree, green bean casserole, local cheeses, sliced cured meats and individual pies, accompanied by Charles & Charles red wine from the state of Washington and California's McManis 2015 Chardonnay and Bogle 2015 Chardonnay.
Gathered in the spirit of giving thanks, the event was kicked-off with remarks by Egil Hogna, Executive Vice President of Extruded Solutions at Norsk Hydro.
Hydro, which recently acquired Sapa, is the largest Norwegian employer in the US. Hogna eloquently highlighted the company's burgeoning business and achievements across its North America operations.
As part of AmCham's Thanksgiving Charity tradition, members graciously donated prizes for raffle and auction. This year, AmCham's Board of Directors chose The Norwegian Church Abroad (Sjømannskirken) in Houston as recipient of the donation, towards their work in the local community following the devastating Hurricane Harvey.
In late August, 273,000 homes were damaged in Texas – with 80% of victims not having adequate insurance coverage. Hurricane damage is estimated at $198 billion – making it the costliest natural disaster ever in the United States.
As seen in video above, by the Norwegian Church Abroad in Houston, the damage was quite significant, and the church has been an active partner to both Norwegians and locals in the area who have lost their homes and belongings.
Jan Stellef Rønningen, Pastor and Head of Outreach and Support at Den Norske Sjømannskirken, was present to accept the donation and shed some light on how the church works to support the local community and Norwegians in Houston.
A Norwegian Version of the American Dream
The evening's keynote speaker, Serial Social Entrepreneur Javad Mushtaq, who has served as a trainee at the Norwegian Consulate in Houston and attended programs at Drexel University in Philadelphia and the University of Rochester in New York, shared his experiences from his time in the States.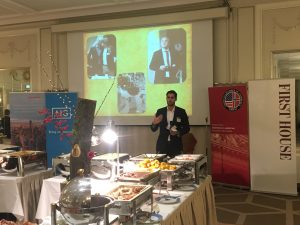 As founder and CEO of ImpactLab, and Founder and Chairman of MinMentor — a social enterprise focused on promoting higher education and decreased high-school dropout rates for young men with minority backgrounds, Mushtaq highlighted how diversity is an advantage in a workforce.
Moreover, Mustaq underlined how he — through MinMentor — has experienced how hard work and principles of the American Dream are highly applicable in Norway.
Raffle and Auction
Following the spectacular dinner, guests gathered for the raffle and auction. Among other prizes, lucky winners took home a travel weekend for two to Flåm, a signed Kygo hat, exclusive set of cutlery from Hardanger Bestikk, a Tesla Model X for a weekend, a one-night VIP stay at Grand Hotel, a corporate photoshoot with Nancy Bundt and a 100*150 print donated by International Corporate Art!
AmCham would like to thank all sponsors, prize contributors and guests for contributing to a record NOK 75.000 donation to the Norwegian Church Abroad in Houston.
Please see our Facebook page for many more pictures.