Organized by the US Department of Commerce, KPMG and AmCham, the SelectUSA half-day seminar presented unique insight about opportunities to invest and grow your business in the United States.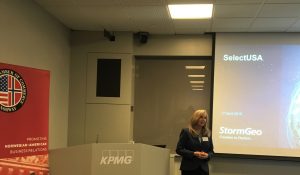 Representatives from U.S. Government and State officials from New York, Minnesota, Virginia, Iowa, Arkansas, Kentucky, and West Virginia were present for individual appointments and consultation.
Highlighting important issues, ranging from legal and tax issues to employment and visas, the event also covered success stories and business strategies, with AmCham members StormGeo presenting on their successful entry into the US market through an acquisition of Applied Weather Technology in 2014.
2018 Select USA Investment Summit
The US Ambassador, Kenneth J. Braithwaite emphasized case studies of successful bilateral trade in his opening remarks, underlining Yara's recently announced facilities in Freemont, Texas as a "great example of bilateral collaboration and trade between Norway and the US."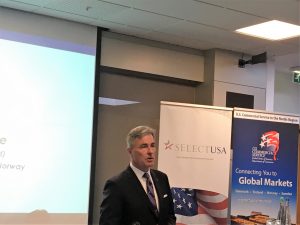 Ambassador Braithwaite will lead a business delegation from Norway to Washington DC in June. Hosted by U.S. Secretary of Commerce Wilbur Ross, the 2018 SelectUSA Investment Summit is open to investors and companies looking to grow their business in the U.S. market.
With an annual GDP of $18 trillion, the United States continues to represent attractive market opportunities for Norwegian businesses. The Summit is for investors and businesses of all sizes – including established multinationals, SMEs, high-growth tech firms, and start-ups. Companies can find the people, the resources, and the market insights they need to be successful and move investments forward.
"Cut the red tape"
"We have cut the red tape, decreased bureaucracy and introduced a new tax treaty. These are all important factors to us and a new emphasis, which should make now the time to establish or expand business in the US," a Department of Commerce and SelectUSA representative said.
To date, SelectUSA has directly assisted attracting over $26 billion in client-verified investments into the United States and there are approximately 10-20 Greenfield investments alone, from Norway to the US annually.