"If we are talking about how young professionals can stand out from the masses, I'd say that – by being accepted into this program – you have done so already," MSD Norge HR Director Kari Haugli told Rising Leaders Program participants.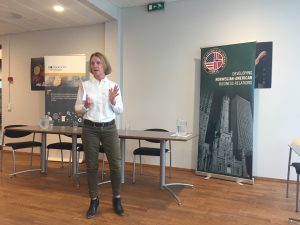 Hosted and thoroughly supported by Badenoch & Clark representatives, the meeting also included candid input from Associate HR Director Rachel Wilson Rugelsjøen of Cognizant.
"Make Ourselves Attractive"
Jan-Petter Westlie of Badenoch & Clark, a subsidiary of the Adecco Group, highlighted their leadership development program – CEO for a Month – enabling ten finalists to work as CEO interns within Adecco Group companies.
Two of the 2018 finalists, Zelia Moss and Ingvild Sandmo, presented the program as well as elaborated on how young and talented employees can makes themselves attractive for employers.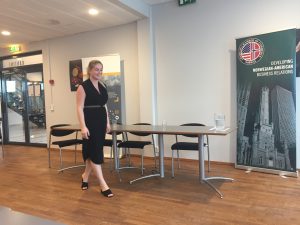 "Perfect academic results are not the most important thing. Do something outside your studies, show prospective employers that you are involved with activities and have gained some experience."
"Additionally, own up to mistakes! We all make mistakes, but the important thing is to learn from them and develop," Sandmo said.
Work for Life
Providing corporate talent management perspectives, Kari Haugli captivated the audience explaining how MSD, Norway's largest pharmaceutical company, works to attract talent, as well as how they strive to develop existing talent.
"One factor is to work on improving the company's brand. We have established www.workforlife.com, not only because it emphasizes our values, but it also resonates with the younger generation."
"Millennials are more values-based than previous employees. They want to work somewhere they can make a difference. Therefore, a company's values are important to ensure that qualified people are attracted to the company."
"By building a base of future leaders and qualified personnel, you ensure that the company has reliable access to a pool of talents," Haugli said.
Diversity & Patience
Before the panel debate and networking session, Rachel Wilson Rugelsjøen explained how Cognizant has grown to be a Fortune 200 company with over 260 000 worldwide employees.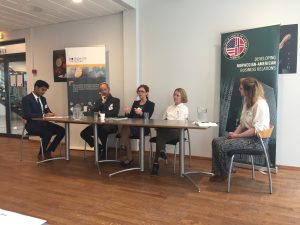 "By participating in a program like Rising Leaders, you are already standing out from the masses. I would further encourage you to play on your differences, your diversity."
"Many companies, such as Cognizant, are looking for diversity. All employees bring their whole personality to work every day, so focus on what makes you different. Diversity in personality is more important than diversity in background," she said.
Wilson Rugelsjøen also emphasized the importance of resilience in millennials' career development goals. "Do good work, be practical and patient at the same time!"
AmCham would like to thank hosts Badenoch & Clark, as well as all the speakers, participants and Rising Leaders, for continuing to develop and add value through this unique program.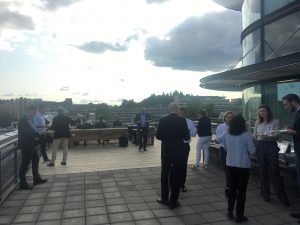 About Rising Leaders
Rising Leaders is an initiative of the US Embassy and AmCham to provide access for young, up-and-coming leaders from diverse backgrounds to high-level representatives of the established business community. AmCham Managing Director Jason Turflinger and US Ambassador Kenneth Braithwaite officially inaugurated the program in April of this year.
The 23 program participants — consisting of 11 women and 12 men between the ages of 22 to 32—have demonstrated leadership, entrepreneurial, and/or business excellence in their educational pursuits or careers thus far. Participants engage business leaders, learn about AmCham member companies, and gain business and leadership skills.