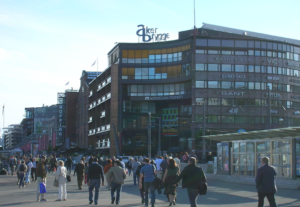 Aker Brygge is an area now thriving due to well-functioning transport plans, and is now an extremely successful location for businesses and residential space, driven largely by designated walking areas and accessibility for cars underground. 
—
Oslo is a city where big things are happening. It is one of the fastest growing cities in Europe and, with a number of attractive projects on the horizon like Lambda and the new National Museum scheduled for completion in 2019, Oslo is increasingly a tourist destination. In the first 11 months of 2015 alone, overnight stays in Oslo increased by 300,000 over the same period in 2014. These two factors together present a logistical challenge for the city.
With the shift to a new city government last fall came plans to introduce a 'car-free' center of the city within Ring 1. Car-free in this case means no private cars, while automobiles for delivery/business purposes would by-and-large continue to utilize the streets. While recognizing the potential benefits of reduced traffic and emissions downtown, an outright ban on private traffic is suboptimal for the 'life' of the downtown area. The biggest concern currently is that most details of such a plan are still missing. It not yet clear what the plans for a car-free Ring 1 actually will look like.
Businesses – which provide jobs, taxes, and destinations for visitors – make the downtown area vibrant. As pointed out by the Oslo Retail Association's Gunnar Larssen at ROM Eiendom's conference earlier this year, approximately 12% of revenues provided to businesses downtown comes from persons travelling by car only. In order to sustain presence in more pressing times, a smart solution needs to be found.
To ensure sound solutions, plans should be based on already well-functioning examples. In the cases of comparable cities like Munich or Brussels, which have introduced car-free zones, there still exists thoroughfares as a balance to the car-free walking streets. During the recent "Car-free Oslo – Utopia or Opportunity" conference, real estate developer Christian Ringnes pointed out that the environmentally friendly example of Frieburg, Germany, which maintains a car-free area of 500 hectares compared to Oslo's proposed 1900.
But here in Oslo, we don't need to look abroad for good examples of reduced traffic areas. Aker Brygge, in the 1980's, was predominantly composed of industrial space. The central waterfront area has now been transformed into an extremely successful location for businesses and residential space, driven largely by designated walking areas and accessibility for cars underground. Looking slightly East, Torggata continues to develop with a strong variety of businesses, restaurants, and healthy combination of walkways.
To echo Oslo Retail Association's efforts, the optimal solution for reducing automobile traffic in the city center must:
make effective use of the transport resources and parking areas that already exist
include a logistical plan for the city to continue to function efficiently in a commercially and environmentally sound manner
be established in conjunction with the businesses that occupy it to ensure the commercial livelihood which has driven the downtown areas success to date.