On Capitol Hill on Friday, Norway's Minister of Foreign Affairs Børge Brende, joined by Rep. Martha McSally (R-AZ), presented a report that might surprise a lot of people. Norway, a country with a population slightly larger than that of South Carolina, supports nearly half a million jobs in the United States.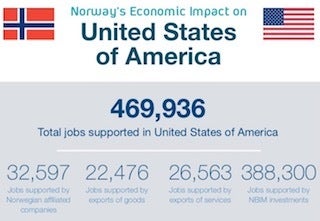 As one of the closest friends and allies of the United States, Norway stands shoulder-to-shoulder with its American friends on NATO missions and now in the fight against international terrorism. This cooperation extends to the economic arena as well.
I believe few relationships better illustrate the win-win nature of an open economic partnership than the relationship between Norway and the United States. Bilateral trade is strong — and growing. The United States is Norway's second most important export market, and third most important source of imports.
Exports of goods from the United States to Norway grew by 11 percent in 2015 and more than doubled in the last decade. The import of services to Norway from the United States also grew by more than 10 percent. Norway's exports to the United States grew in a similar fashion. The Norwegian public pension fund (The Government Pension Fund – Global) has more than $292 billion invested in American stocks, bonds and real estate.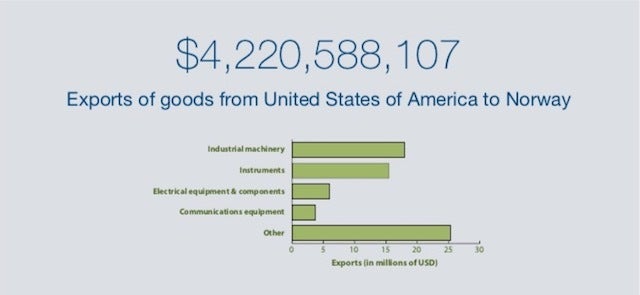 At the launch event on the Hill, Foreign Minister Brende highlighted the mutually beneficial relationship — on both the national and state levels — created by American exports to Norway and Norwegian investments in the United States. The launch was attended by members of Congress, Hill staffers and industry representatives.
The report shows that more than 300 Norwegian companies provide services to the energy sector in Texas and North Dakota, to defense manufacturers in Maine, Pennsylvania and Arizona, to auto parts manufacturers in Michigan and Tennessee, to innovative IT firms in Silicon Valley and Colorado, and to maritime companies in Louisiana and Florida.
Joining the minister at the launch, Rep. McSally said that Norwegian companies' presence in the United States is good for jobs, good for the U.S. economy and good for the companies themselves.
I was particularly delighted to hear how Raytheon, a major employer in her district, has benefitted from close partnerships with the Norwegian companies Kongsberg — an industrial conglomerate featured at the launch — and NAMMO. Kongsberg operates in 12 states at 14 different sites representing 12 different business units.
The president of Kongsberg's Defense Systems division, Mr. Vidar Skjelstad, spoke about the company's long American journey, which began with delivering rifles to the U.S. Army more than a century ago and extends to delivering components for F-35 fighter jets and IT systems for the energy sector today.
Trade and investments, including major investments from the United States, were essential in making Norway a modern-day economic success story. There is a longstanding, bipartisan political commitment to an open and rules-based international trading system which, I firmly believe, spurs competition and innovation, increases growth, and benefits both businesses and consumers.
With a medium-sized economy, there is no way Norway can efficiently produce all the products and services we consume. Rather, we combine world-class industries that compete globally with the import of goods and services to cover other important needs.
Moving forward, we welcome further growth in trade and investments between Norway and the United States and believe that this increase will create even more jobs and opportunities in both countries. Strong relationships — through security and defense cooperation, business investments and trade, family ties and travel — continue to benefit both the United States and Norway.
A PDF version of the report can be found on the embassy's website: www.norway.org/NCJ