Gender Equality in U.S. Jobs Might Not Be as Bad as You Think. Meanwhile, it's good to be a female worker in Norway. Just don't have a kid.
Women and men are not equal parties in the U.S. workforce. That can be qualified and quantified in any number of ways, but it's a simple, depressing national truth.
So it's comforting to learn that on a couple measures of gender equality, the U.S. is doing better than some global peers, a new report shows. The country has the highest ratio of women to men in legislative and senior positions, according to data from the World Economic Forum for the U.S. and 17 European countries, though it's still not a 50-50 split. It also scores near the top for the ratio of women to men in professional and technical positions: In those areas, women actually outnumbered men in the U.S.
That data is included in a report released Tuesday by Glassdoor Economic Research and Llewellyn Consulting, which ranked 18 countries on a dozen indicators of gender equality.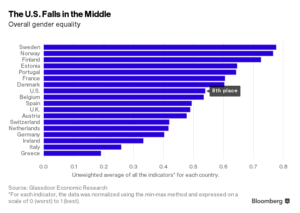 Unfortunately, the good news for the U.S. largely ends there. On the overall ranking of gender equality, the U.S. lands around the middle—ranking eighth among the 18 countries. Even worse, it's among the bottom three scorers on the gender gap in overall (full- and part-time) employment rates, measured for those ages 15-64.
"The U.S. is woefully behind when it comes to family-friendly policies like paid maternity leave, paid parental leave, paid sick leave, when it comes to some measure of recognition about women's leadership," said Vicki Shabo, a vice president at the National Partnership for Women & Families. "I think that has real consequences for how women are able to get into and advance in the workplace and in the economy."
And while the gender gap in employment generally shrinks with more schooling—and the proportion of U.S. women employed rises with higher educational attainment—the U.S. still doesn't perform well on leveling the playing field for more-educated workers: It scores in the bottom three for the gender gap in employment rates for 25- to 64-year-olds with a university education.
There's one region in particular to which the U.S. might want to look for guidance on how to become more equal: Scandinavia. "Sweden, Norway, and Finland can be a lesson for the U.S. in achieving gender parity," wrote Joe Wiggins, an analyst and head of communications for Glassdoor in Europe, in an e-mail. "In those labor markets there is very little difference in the proportion of men and women employed."
Shabo highlighted several obstacles to women's workplace equality in the U.S.: basic access to paid leave, better ways to know about and remedy unfair pay, and "scheduling, and lack of predictability in scheduling, particularly for lower-wage hourly workers." Then there's just the hard fact of how badly having a child can ding a woman's career. Shabo cited "culture and the persistence of the motherhood penalty in wages."
Indeed, the Glassdoor report looked at the "cost of motherhood"—the difference in the gender pay gap for women ages 25 to 44, employed full-time, with at least one child under 16 vs. without—using data from the Paris-based Organisation for Economic Co-operation and Development. The U.S. fared worse than most European countries measured: The pay gap in the country between men and women widens by 16 percentage points for mothers.
Then again, there's one particularly shocking country that falls into the bottom three scorers on the cost of motherhood: Norway. Yes, Norway, one of the shining stars on most indicators in the report. "This data suggests that no country is perfect," wrote Glassdoor's Wiggins.