"As a mentor, you give the most important thing you have to your mentee – your time. But one should not do it just to give back. In return, one should learn from the next generation of leaders to stay updated," special guest and Prime Minister Solberg's former State Secretary Sigbjørn Aanes said as he helped to kick-off AmCham's third edition of our popular mentorship program.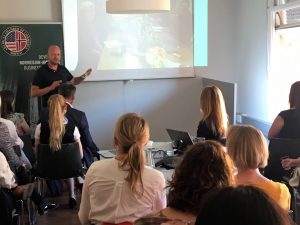 With a record 34 participants representing 15 organizations, AmCham is delighted to see both first-time participants and returning Patron-member companies partaking in the new nine month program season. "We are proud to offer a platform upon which member company leaders and young professionals can learn from one other— ultimately making better leaders of all participants," explained AmCham's Jason Turflinger.
"It's a great program designed for professional development and to gain insight from younger, up and coming professionals," Bristol-Myers Squibb's Hilde Bech noted during the kick-off discussion.
Across Industries
Mentors and mentees are paired across industries, based on interests and goals, to promote inter-industry dialogue and share best practices.
"Having participated last year, it is fascinating to learn about a different industry and being able to hear from a younger generation on topics such as digitalization and new trends," said Geir Chr. Lysberg of Radisson Hotel Group.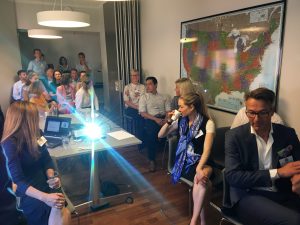 Through nine one-on-one sessions, mentees will develop decision-making and leadership skills and gain new perspectives by meeting executive leaders. Both mentors and mentees will learn from each other's personal experience and share their views on how to succeed in a top-level international business environment.
Importance of Leadership
Highlighting the importance of good leadership, Aanes displayed a photo of current Norwegian coalition party leaders.
"This picture would not be possible without solid and stable leadership and, as far as I am concerned, is a testament to true leadership at the highest level."
"Considering the changes in the world since the coalition was formed – the annexation of Crimea, slump in oil price and subsequent job losses, Syria crisis, terror in Europe, Brexit and a changing political landscape globally – to sustain through all of these challenges, requires true leadership. Perhaps Prime Minister Solberg's greatest strength is her patience. Her greatest success is being herself and honest – and it is working," Aanes said.
Challenges
Aanes, the soon-to-be partner at First House, was asked what challenges lie ahead for both the Norwegian government and internationally oriented business leaders.
"Increased protectionism – and seemingly decreasing interest in international collaboration – is a big challenge. Coincidentally, I also think that political risk and globalization are some the biggest risks for the private sector, too."
"It is important to remember, though, that for private sector companies looking to collaborate with the government or the public sector, the processes are very different. Digitalization is making people expect that decisions and processes go much faster, but government operates at a longer and slower pace."
Companies participating in the 2018-19 program are 3M, AIG, AmCham, Bristol-Myers Squibb, British-American Tobacco, Citibank, Gambit H+K, IBM, Janssen-Cilag, KPMG, MSD Norge, Philip Morris, Radisson Hotel Group, Roche Norge and the US Embassy.