It is the epitomization of a bilateral, transatlantic success story – founded and matured in Norway, expanding into large production facilities in the US, and servicing major commercial aircraft manufacturers in the US and Europe – Norsk Titanium from Eggemoen is changing the future of aerospace manufacturing.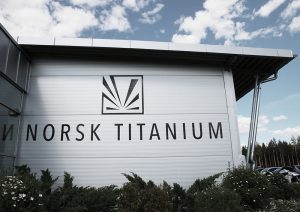 At first glance to the untrained eye, the titanium shape in the glass display by the front door looks like any piece of shiny metal. At least until Karl Fossum, Director of Boeing Programs at Norsk Titanium (Norsk), starts explaining the reason for its prominent placement and the background behind it.
"This is a model of the exact piece that landed us the agreement to produce aerostructure components for Boeing aircraft in 2016."
"Prior to this, the company had invested heavily in oilfield solutions with very limited return – now, we are nearly $300 million into our technology for aerospace applications," Fossum says.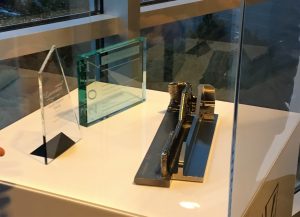 Made at their Norwegian headquarters and using a technology that can be best described as 3D printing with titanium, millimeter thin strings are layered to form near net shapes. Norsk has revolutionized the industrial approach to producing aerospace components for major commercial aircraft OEM customers.
A Transatlantic Organization
Norsk's Rapid Plasma Deposition™ Titanium Additive Manufacturing machines are developed at the Engineering and Technology Center in Norway. The same machines are being used at their Plattsburg, New York facilities as well as in Norway.
"We actively utilize the opportunity the employees have to travel between the countries and to work both in Norway and the US. American engineers come to Norway to learn and Norwegians, in turn, travel to the States to teach."
"As the production method is the same, it enables us to act as one engineering organization, despite being separated by the Atlantic Ocean," Fossum explains.
Groundbreaking Production Technology
Being added to Boeing's official Qualified Producers List, Norsk delivered its first titanium production order for the 787 Dreamliner in 2017, using a technology that honors the traditional forge-based production process but enables quicker production time and less waste material.
"Melting titanium wire with plasma torches, we are able to manufacture tailored components for customer need at an industrial scale. The ability to control our melt process within an unbroken inert atmosphere of argon gas enables us to deposit these near net shapes approximately 50 to 100 times faster than traditional powder-based systems."
"Additionally, with the process being so efficient, there is about 50-75% less waste material from our components, making our process more sustainable and less expensive," Fossum says.
Founded by Dr. Alf Bjørnseth, Norsk Titanium's success story from the modest Norwegian countryside to the state of New York – the global leader of on-demand manufacturing processes – is on route to fulfill the founder's ambition when he formed the company; to pioneer the next industrial revolution.