"Trust is the key component in leadership," US Ambassador Kenneth Braithwaite said during an exclusive roundtable discussion, which kicked-off AmCham and the US Embassy's latest joint program: Rising Leaders.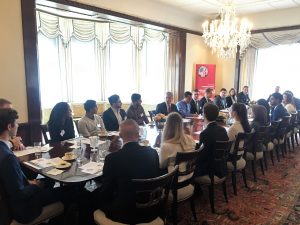 19 of the selected 23 Rising Leaders participants joined the discussion, hosted at the Ambassador's residence, Villa Otium, which was followed by a reception for AmCham members and partners in honor of the applicants.
Leading the engaging discussion, AmCham Director Jason Turflinger noted the support of partners University of Oslo, MAK, OsloMet and BI in assembling such a talented group of young professionals.
Increased Opportunities
"In Norway, there is a big entrepreneur and start-up scene, but many are not that well connected or known to the business community. A program like this can really help connect entrepreneurs with profiled and experienced business leaders, which can create opportunities and increased profiling for all parties," one Rising Leaders participant noted during the roundtable discussion.
While some of the applicants are at the very start of their careers and looking for opportunities to connect with representatives of established companies, some also noted the importance of learning from seasoned professionals when trying to commercialize their own ideas or initiatives.
"Many of us are starting to gain experience on how to be an entrepreneur or innovator, however, being given then opportunity to learn how to execute our ideas can prove extremely valuable," another participant noted.
About Rising Leaders
Rising Leaders is an initiative of the US Embassy and AmCham to provide access for young, up-and-coming leaders from diverse backgrounds to high-level representatives of the established business community.
The candidates — who range from ages 22 to 32 and consists of 12 male and 11 females — represent diverse backgrounds, and have demonstrated leadership, entrepreneurial, and/or business excellence in their educational pursuits or careers thus far.
The initiative will facilitate quarterly events that will allow participants to engage business leaders, learn about AmCham member companies, and gain business and leadership skills.
Leadership Development
The Rising Leaders Program is a new edition to AmCham's portfolio of leadership development initiatives.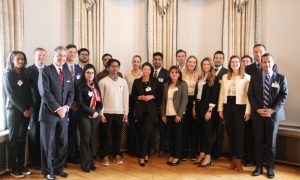 Through AmCham's related Mentorship Program, now entering its third consecutive year with increased member participation, to our International Leaders article series and the newly introduced Rising Leaders, we strive to offer members the ideal platform upon which to build for the future, while succeeding in the present.
For further inquiries or to express interest in getting involved with the Rising Leaders program, please contact didrik.ottesen@amcham.no