"For me, integrity, being true to your own convictions, principles and ethics is vital. Both related to what you want to achieve for yourself, but also for your customers. As a result, you create a trusting environment with your colleagues, teams, and customers. Trust is key in business."
Elyette Roux is the VP Strategy and Business Development at Schneider Electric in Norway. Before moving to Norway, Elyette has been in charge of projects involving partners and customers in over 20 countries.
How did you get to where you are today? Where did you start?
I started in a company called Dassault Aviation, which makes military aircrafts and business jets, where I was in charge of projects linked to the weapon systems. Quickly, I then became Program Manager for several projects, where I learned both the customer side – understanding what they expect, when and how – and the supplier's side.
For that kind of project, I was also specifically in charge of the complete "product" development (from the customer wish to the usage in real fighting situations), with international suppliers and partners. This is where I started to enjoy the international side of my work. Even though I was based in France, I was with our international partners very often as well as working on some missions for Afghanistan. That was in 2004 and I was there four years.
I wanted to work with sales because of this customer interest, but I was not able to do that as a young woman in that company. Unless, that is, I stayed for 20 years and then maybe I had a chance. At that point I said, "Ok I like you, but I need to go where I can be seen not as a risk or as a problem, but as an opportunity."
That is actually why I applied to energy companies; I thought the energy sector was highly interesting. You always have the need for energy, and, at the same time, there is the ethical part, which is where you want to bring electricity to the people who need it, and we know there are more than one billion people in the world who need electricity.
I started there as business manager, meaning that it is a sales management role where you have to do both the business development, the prescription, the bidding, and later the follow-up of projects execution.
I was in charge of twelve countries in West Africa. My first contract was big, several million Euros for the electrification of Freetown, Sierra Leone with Japanese contractors and Guinean partners. Therefore, as you can imagine, it was a very international context and very demanding in terms of how to handle the cultural backgrounds and differences.
Approximately two years later, I actually started a new department in Schneider Electric, which was linked to buildings, infrastructure, and security, including airports and pumping stations, in Europe, Middle East and African zones. Some of the projects I worked for were the new International Airport in Senegal with Saudi Bin Laden Group, or a new water pumping station in Doha, Qatar with VINCI group.
One interesting aspect about that role is that I managed diverse people. Although not through direct management, but being responsible for all the people that are supposed to reach the same goals, which is first to win the project, and then to be able to execute it.
Since I started my professional career, I have been doing a lot of functional management. After the previously mentioned role, I moved to a global management position. I was Global Account Manager for Saint Gobain (Glava in Norway) in more than 100 countries, meaning I have also been around in larger countries, such as the US, Russia and Brazil. Moreover, I was managing a team of Key Account Managers in countries like China, India, Japan, Brazil and France.
These experiences made me travel to around 50 countries in 6 years.
As a result, international environment and culture is key to my leadership style and to who I have become as a person and as a leader.
I have become who I am because of those experiences. If you are used to leading people from the same background and same experience, in the same context, cultural or environmental, then, in my opinion, you tend to have a narrow vision because of the lack of differences and diversity.
Many leaders may not have been given the opportunities to do what I have been able to do. I have had to adapt to everything and everyone, while, at the same time leading. For instance, when your home is in France but your work is happening in China – how do you do it?
Leading with influence is a skill I have been developing, both by experience and by education. I am educated as a general engineer, but specialized in project management. The remains of my education is towards sales – solution selling, value selling, coaching, mentoring, and also leading with influence and working with CxOs.
In 2014, my daughter was a few years old and I wanted to be able to settle in one place. I lived in France, but was hardly ever there. My husband, who is also an engineer — working in strategic marketing — also wanted to settle down.
We therefore decided to look for jobs elsewhere, and that is how I became the Vice President for Industry Business here in Norway. My role here was to restructure the business, which was declining, by rebuilding the team, rebuilding the P&L and restructuring after the oil and gas decline.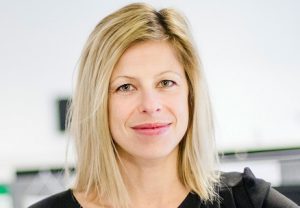 At the end of 2015, we changed our CEO in Schneider Norway, and I was asked to become his COO. A role dedicated to strategy and business development.
I'm involved in many transformation projects, such as digital transformation, commercial transformation, customer care transformation, in addition to customer satisfaction and quality, logistics, marketing, and communications. The fun part of my job is that I have the strategy, the vision, and the implementation. It is very cool, but at the same time very demanding. However, I have help from many different and skilled teams.
My leadership style has been transferring from international management, to local and cultural management with people of the same age, same experience, and same way of behaving, to a very diverse team. My team is one of the most diverse in Schneider Norway, in terms of age, gender, and experience.
What are the important decisions you make as a leader of your organization, and how do they impact the global presence?
I think the answer is in the question. The most important is actually to take decisions and apply them. Being decisive is essential. Then action is key. A recent example, in terms of customer care, is that we wanted to bring a better customer support to our customers in the Nordics. Our customers in the Nordics are mostly regional, so we decided to merge our customer care centers, which we had everywhere in the Nordics, to one big regional customer care center which is now located in Poland.
Would you use the same leadership style in a different organization?
My leadership style is to be adaptable. I can lead by influencing if the people are reporting to me directly, or I can do inclusive leadership by bringing in the stakeholders and identifying a common goal and working together to achieve it.
As you can imagine, leadership cultures vary in different countries. Therefore, the way to communicate or manage should be concluded accordingly.
So how important is it to tailor your leadership style?
I would say that is of utmost importance. In Schneider Electric, we talk a lot about tailoring our operations to the customers, becoming even more customer centric. Being able to predict what a customer wants is one of the key sciences in which we are trained. It is not easy, but in the world of data it is becoming increasingly possible and exciting.
There are enormous opportunities, but at the same time challenges. We know that the business models of our industry are changing or disappearing and being replaced with new ones. This is a very good time for innovation!
How do you build team morale and maintain creativity in very diverse teams?
In Schneider Electric, we want to have people that are open for change while also being team players, meaning they can adapt to whatever situation they are in and that they are able to fail without fearing the failure. This trust environment allow them to experiment and thus innovate.
If you do not have this culture of allowing testing and failure, it is impossible to promote innovation or creativity.
A vision is usually creative and ambitious and cannot be achieved with people who are not willing to take risks and transform in order to fulfill the vision.
What do you believe are shared traits among leaders?
I believe in the culture of failure, or learning from failure. I also think the coaching and mentoring culture is used increasingly by the most successful leaders. Additionally, I find that leaders that are role models are usually very accessible. They are authentic and they have integrity. All of which are key traits of good leadership.
Any common mistakes?
One, which is very significant, is to not listen enough or in the right way, and this relates to both employees and customers.
What is unique about being a leader in Norway, compared to leading an organization in another country?
In Norway, this flat company structure is quite unique. Generally, global companies are very hierarchical because they are so big. Having worked a lot globally, working in Norway has been quite interesting because anyone can come to me and say "I don't agree with you, what about…" and this is something I truly like.
Other countries have a filter between the leadership and the employees that may lead to frustration and lack of commitment and engagement of the employees.
How does technology affect your day and help you to develop?
I am 36 year old, and as a millennial, I am connected. For me, technology is just a natural part of my life. I am connected most of the time. This can sometimes be a challenge, but I am always looking and getting information and ideas from my network, both socially and professionally.
How do you continue growing and developing as a leader?
I continue to learn and to listen. I am lucky to have great development opportunities in Schneider Electric, where I am going through a digital education and transforming my leadership accordingly.
In addition to having mentors and sponsors, I shadow senior leaders to see how they work.
I have also been a mentor for the past six years. I do reverse mentoring where I show mentees in their 50s what a millennial could be expecting.
How does your leadership style translate in your company's services and core competencies?
With my inclusive leadership style, I deal with all the alliances and partnerships activities, too. One of my key strengths is to create partnerships with our customers .
What are some of your recent projects and developments you are excited to share?
We have been leading the reshaping of our website in Norway and have launched that recently.
Secondly, two years ago we had improvement potential in terms of supplying product data in the energy sector, as most sales happen via the web. Our sales could have suffered from not having the right product data. My team transformed this situation and we have become the best digital data provider in Norway as of last year.
Where do you see yourself and the company in the next five years?
I would like to become a branch CEO in one of the countries Schneider is based or in a role with similar complexity and needs for transformation. Whereas for Schneider, I believe we will continue to be the market leader in energy management, automation, and software. I see us surfing on the IoT Wave and I am sure that we will have even more success.
What would you say to the next set of leaders aspiring to run an international organization?
I would advise three things related to "soft-skills". Firstly, humility. Being humble and to listen is key to learning. Second thing is authenticity. You should not be different from who you are in your personal life compared to your professional life.
Thirdly, integrity. For me, integrity, being true to your own convictions, principles and ethics is vital. Both related to what you want to achieve for yourself, but also for your customers. As a result, you create a trusted environment with your colleagues, teams, and customers. Trust is key in business.
What is the latest time you responded to an email last night?
I actually disconnect from emails quite early. However, I connect to social media until I sleep. I try to balance my job and personal life. But at the same time, I cannot survive without being connected to world wide web and its sources of information and ideas.