"As a leader, you shouldn't think that you and your leadership team must have all the ideas and answers, there are clever heads all around you within the team. Utilize them — that's how you encourage creativity and teamwork!"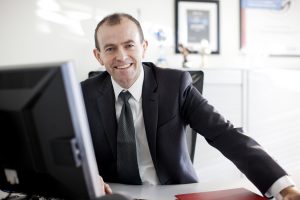 Kåre Nygård is Managing Director for SAS Institute Norway as well as Healthcare Industry Lead in the Nordics. Following his studies at the University of Oregon, he has enjoyed several consultancy positions, before becoming country manager for the world's leading provider of data analytics, SAS Institute.
Where did you start? International experience? Brief description of your path to where you are now?
I have always been interested in business. As a kid, my parents owned a sardine factory in Stavanger, and I used to fish and smoke mackerel, pack them in bags and sell them in the neighborhood. There is a commercial pattern throughout my life, which eventually took me to the University of Oregon, where I did my bachelor's degree, before completing a master degree at BI, here in Oslo.
After college, I started working with Sopra Steria, formerly known as Bull Worldwide Information Systems, where I also started working with international companies, helping them implement IT systems. I was inexperienced, but was still provided permission to work with numerous different aspects, including larger projects in the public sector and project management.
In 1998, I started working for PwC in Oslo. Six years after joining PwC, their consulting services division were bought by IBM, where I spent my next three years, learning how a truly global company work. It was quite a difference from the PwC culture, but nonetheless a unique and really good experience.
During my PwC & IBM years, I worked as Key Account Manager and program/project lead for several years, focused mostly on Telecom. My leadership career started at PwC and was accelerated while at IBM, where I was heading up the CRM, HCM and Oracle practice teams.
Late 2005, SAS Institute contacted me with the request to head up their professional service, which I did for five years before becoming the country manager in 2011. As SAS has continued to evolve into a more Nordic region, I've also assumed responsibility for the Nordic Healthcare Industry line of business.
What are the most important decisions you make as a leader of your organization and how do they impact its global presence? Share any recent examples?
My most important decisions are the ones related to people and culture, as it is the team you are surrounded by, who are the backbone of the company's success. I always look for ways to help the team I already have in place to be successful. To do so, I strive to create a strong understanding for future direction of our company, with a clear vision and sense of purpose, followed by strategies people can understand. This is the basis for success. Equally important is the value of building relationships with your team and to trust that each and every one will do the jobs they have signed up to do.  This is especially important in knowledge-intensive companies such as SAS Institute.
I also believe the decisions I make when hiring new team members are among the most important decisions I make.  At SAS, we emphasize having clear hiring strategy to guide ourselves to select the right candidates.  When we have made our selection, we take great pride in being consistent and professional with our onboarding strategy, and we start from day one to plan how we should develop people over time.
Lastly, decisions that affect work/life balance and our culture are also on my top three list of importance. Everything from being flexible with respect to where we work, arranging fun parties, engaging in our society, celebrate successes as they come, and nurturing and open and transparent work environment are things that make people stick around for some time. As an example of employee engagement program, SAS Institute has a global initiative called "Data For Good," aimed at finding opportunities where data analytics can used for good purposes. Consequently, a few years back, we decided to sign up as a member of Oslo Cancer Cluster, where our aim has been to engage in different ways which can help both patients, families and those who treat or research on a disease that affect all of us in one way or another.
At SAS, we have a long history of being recognized as a Great Place to Work and people tend to stay onboard for quite some time. After all, everyone should look forward to going to work the next morning. Otherwise, you have lost. This idea of being people-oriented has shaped our culture for 40 years, and will probably do so for the next 40.
How do you build team morale and maintain the creativity of a diverse team within an international organization?
Good question! My number one rule, to build team morale and creativity, is that it becomes strongest when you involve people as early as possible. So I tend to seek out individuals who can help shape how we should execute from day one. With that said, team morale is dependent on a common view/belief in what we aim to do. It is therefore critical to define a vision and purpose, which is understood in the team. A good vision should be followed up with a clear strategy, broken down in understandable goals and directions.
Moreover, frequent and consistent communication with the team is vital. Be transparent! I mean, people are clever and they want to be informed, so why not just involve them? Transparency and openness are essential factors as it increases team morale and creativity. Also, as a leader, you shouldn't think that you and your leadership team must have all the ideas and answers, there are clever heads all around you within the team, utilize them — that's how you encourage creativity and teamwork!
Would you use the same leadership style in a different organization? In a different country? How important is it to tailor your leadership style to your team and environment?
We work closely with northern Europe and the UK. One of the major differences is that here in the Nordics, perhaps even most notably in Sweden and Norway, is that we tend to listen and include colleagues in decision-making to a larger extent than in Denmark, and most certainly in the UK.
Generally, in the Nordics, I think we tend to be more inclusive, to listen to co-workers and ask them for advice, before final decisions are made by the leaders. This is quite unique, and I think that can be a beneficial and powerful tool, if we can manage to exploit that close relationship.
In a different organization, I would probably apply similar leadership style as I apply today, but I would be conscious of how to work well with the new generations coming into the work force. I would challenge myself to not be tricked by conventional wisdom thinking, also on leadership thinking. Anything else would be naive!
We are in 2017 and people are well educated and very clever. An example of what does not work is micro-management. People thrive best when given trust and freedom to perform their job without a boss supervising progress. It is important to trust your co-workers and to empower your teams to do their jobs. This does not mean that everyone are left to himself or herself, however. Leaders and managers do play an essential role in following up the individuals in the team on a frequent basis. At SAS, we expect managers to have 1:1 talks on a bi-weekly basis to ensure we "stay in touch" and can guide/coach early on.
Where do new ideals and exciting proposals come from in your organization? Has your international experience helped you 'think outside the box' in your organization?
We get lots of inspiration from our "mothership" — our headquarter — in Cary, North Carolina. Ideas on how we best should take new value propositions into the local markets often come from our staff, a process that is also encouraged by the leadership.
We have recently established a process to make it easy to capture good ideas that may be important go-to-market focus in two years' period or more.  Many ideas may be innovative and will require investments in what we call "incubation projects". All staff can suggest ideas, and the Go-To-Market Board evaluates the ideas. The selected candidate proposals are subsequently placed into our "revenue plan" for coming year(s). The teams behind selected innovative proposals are invited to present their idea to the Nordic Management team, as a means of both learning and recognizing passion and employee engagement.
How do you ensure that your team and your company's services are aligned to your company's core vision?
We allocate time for leaders to attend leadership training as one fundament to understand our strategy and staying aligned when we execute those.
Furthermore, we are implementing a framework we call 'Our Success Model,' which will involve all staff. Here, we work to define our purpose, to be clear on the relevant measures on which to focus and to define what we aim to achieve with our customers.
Additionally, we use that information to define what competencies, skills and behaviors we need to adopt ourselves. Finally, we look at what leadership conditions we need to put in place to ensure we make the whole orchestra come together and feel inspired, so that you really want to come to work the following day.
What do you believe are shared traits among leaders? Any common mistakes? What is unique about being a leader in Norway compared to leading an organization in another country?
I think some shared traits among leaders anno 2017 must be that they care more genuinely about people, they (want to) spend time on strategy and strive not to become operational (but it is often hard not to), and they tend to be results-oriented and impatient.
Common mistakes I see, is newly-appointed leaders misunderstanding the authority given to them.  The notion of being a boss versus leader has been a popular topic on e.g. LinkedIn over the past years. I see some new leaders ending up in the "boss" trap some times, but I also see the older generation falling for the same trap. Being bossy simply does not work anymore. All managers should study what it means to truly be a leader and then ask if they truly want to be a manager. The leaders of the future will be those who genuinely care about developing people.
I believe we have more involvement from all layers in the organization in the Nordic region than we see in most other regions in the world. Whilst this is a huge strength, we could probably have use of a little more organizational structure and streamlined operations, as we can see many American companies successfully implement. Another area we can learn from abroad is the art of performance management and nurturing a good feedback culture. Although we are improving, I think we are behind what many other counties achieve in institutionalizing strong performance and feedback cultures.
How does technology affect your day to day and help to develop your leadership style?
I am quite digitally savvy and have made a deliberate choice to stay on top of things. I am on most commonly used social media channels, and I have a personal ambition to become more active going forward. For my own learning, I have recently started using different apps for my personal development and learning, such as edX, Lynda.com and Learning (LinkedIn app). I can highly recommend some of these, as they contain topics for all roles and interests.
How do you continue growing and developing as a leader?
There are several factors that are important, but I focus on a few more than others.
Firstly, I seek feedback and I am open to feedback, so that I learn from my peers and my team.
Additionally, I attend some leadership training courses from time to time, but equally important is my self-study time. As mentioned before, I recently started using apps and websites offering courses, such as edX and Learning — several of which are free too!
I also speak with other friends and/or former colleagues in similar positions to exchange experiences and discuss challenging issues.
Generally, I believe that some time to reflect is very valuable. So I try to meditate (infrequently, I must admit), go running or skiing are also good methods to reflect.
How does your leadership style translates into your company's services/core competencies enjoyed by your clients?
I am concerned with direction setting and taking care of people whom I depend on, to ensure that we deliver on the vision we aspire to achieve and goals we want to reach along the way.
Generally, I think I provide people with the right trust and empowerment to use themselves to maximize their potential. Subsequently, I think our clients meet curious, creative and innovative people from SAS, who are not afraid of challenging conventionality or practices.
You could argue that analytics is very much art, because you really need both creative and soft skills to understand which business problems to solve, but you also need deep technical skills to really reap the potential to realize the impossible.
What are some of the recent projects and developments that you are excited to share?
I am excited to see that leading hospitals and managers in the Norwegian healthcare sector are starting to use data analytics – both for efficiency gains but increasingly also working with patient-specific issues, such as preventing hospital-induced infections. In the long term, I fully believe that we will have a better healthcare system when predictive analytics can be part of prevention rather than cures and when full data transparency helps avoid unnecessary procedures such as extra blood work or paperwork you must fill out again and again. We as a nation are generally aware that we need to prepare for a new "after oil" economy and a reality with lots of elderly Norwegians who will need top notch care at the best possible price point. I see no way that we can solve these issues without data analytics, so I can already see that we will have a lot of challenging and exciting projects ahead of us, working with our clients in the Norwegian public sector and across the Nordics too.
Where do you see yourself and SAS Institute in the next five years?
I think SAS is considered as the analytical engine many large companies and organizations have taken to heart, because they see the immense value our company provides. Not only from a technology standpoint, but equally important is the expertise our people possess. The rise of AI, machine learning, deep learning and other fancy terms are what SAS has been founded upon and been doing for forty years. So, SAS' future looks very bright.
Personally, I will be able to look back with pride on how my company and team helped shape the digitalization of Norway, to allow us to remain on top of the lists ranking the most digitally advanced countries in the world.
What do you see in the next generation of leaders aspiring to run an international organization? Any advice to them?
Define your values and trust them in guiding your decision-making. I also think it is important to adopt a continuous and lifelong learning attitude. You are never finished learning and should be open to accept new ideas and work hard to continue to develop. Also, be open, think positively and believe that people are well intentioned!
What was the latest time you responded to an email last night?
I watched the latest episode of Game of Thrones last night and did not send mails! However, other days, I typically avoid working or responding to emails after 21:00.