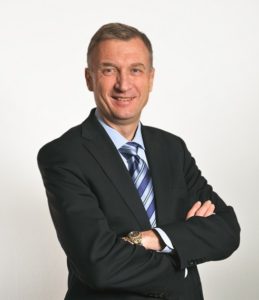 'If you expect creativity to come from the top down, you limit the space of ideas and opportunities in an organization tremendously.' – Jon Erik Reinhardsen, CEO of Petroleum Geo-Services.
Jon Erik Reinhardsen has been the CEO of Petroleum Geo-Services (PGS) since 2008 and, before that, has held various positions in the oil service and aluminum industries in the United States and Norway. AmCham met Jon Erik at PGS' office in Lilleaker to discuss his international experience and how it has influenced his leadership style and career.
—
Where did you start and how did you get to the position you hold today?
By education, I'm actually a geoscientist and a mathematician but I have worked for most of my life in the oil service industry.
After a few years working as a geoscientist, I moved into the business side of oil, working for Bjarne Skeie who has been the main entrepreneur in Norway within drilling equipment. I was in his group of companies for a few years before it was taken over by the Aker family of companies, where I was until 2005.
I lived six years in the United States, three of which in Houston and three in New York, where I worked for the American aluminum company Alcoa. My wife is from the Bronx so that's also a part of my international background.
For the last eight years I have been here at PGS.
What are some of the important decisions you make as leader of PGS?
Number one is to build a strong team that has an international ability and attitude.
It's not only the top team. My focus is also on the pipeline of leaders coming up through the system, which is probably 85% non-Norwegian.
Number two is decisions around strategy that put us in the position to be winners in our segments.
Number three is how we execute our strategy. In that, there are a number of operational features and a customer focus.
How do you keep such a diverse group motivated, creative, and productive?
We have a set of core values that are the foundation of our team.
We want loyalty when we have made decisions, but before we make decisions, we want people to speak up, have different views, and be strong and knowledgeable in their field.
We welcome as much diversity as possible so we can capture all ideas and opportunities from our teams.
Would you use the same leadership style in a different organization or country?
There is a big element to tailoring what you do. A good leader can sense what motivates different people in a big organization. You have to be able to interpersonally adjust.
That being said, when you look at a large organization and how you address issues, there is not a big difference because you need to have the whole global mosaic in mind.
Where do the exciting ideas at PGS come from?
If you expect creativity to come from the top and down, you limit the space of ideas and opportunities in an organization tremendously. We want everyone to be creative and come up with solutions to their day-to-day problems.
PGS has created products that the industry said could not be done but today are part of mainstream business. That's the kind of creative stimulus we would like to be. Our GeoStreamer cable listening device has changed the game for the seismic industry.
What do you believe are shared traits among good leaders and some common mistakes?
There is a belief in some circles that a leader has to be the ultimate alpha prime, and I completely disagree.
I take pride in recruiting people that are better than me because getting as much input as possible is how I maximize the value of my team.
How does new technology affect your day-to-day and leadership style?
The new digital reality has come as a revolution. It enables much quicker turnaround on information and decision-making, and it allows us to be a flatter organization.
There are fewer layers between the CEO and the people producing things, and that creates even more competitive organizations.
Personally, how do you develop as a leader?
It's having a team that can help you, and an organization that takes value from the latest technology out there.
I also spend a lot of time with people, specifically clients, which is another key element in becoming a better leader.
Are there any new projects or developments at PGS you are excited to share?
The GeoStreamer technology is being accepted as the leading product in the industry and has been one of the key elements in big discoveries like the Johan Sverdrup oil field.
The flow of innovation into commercial product is exciting and PGS has been very good at this for many years.
Where do you see yourself and PGS going in the next 5 years?
We have very high ambitions. We play in a relatively small niche in the oil service industry, so we aim to be number one globally in all the segments where we play.
This means we need to have the best people and the best assets – primarily our fleet of vessels. We need to have the lowest production unit costs, and we need to continue to stay on top in terms of technology.
Do you have any advice to the next generation of leaders that aspire to reach leadership positions in this and other organizations?
What I would look for is international experience. We would like people to work outside of their home country to get that flavor of different cultures and what it takes to be a leader in a global organization.
Number two is to embrace and exploit the new digital reality. You need to bring the full value of this digital reality.
It is also about having the guts and courage to build a team that can challenge you and push you and the organization further.
The last trait is having a customer-centric focus.
What was the latest time you responded to an email yesterday?
It was 23:05 last night.