"What defines our competitive advantage? Digitalization enables innovation, and innovation empowers digitalization" said Kai Erspamer as Equinor hosted a fully-subscribed AmCham Digitalization Forum.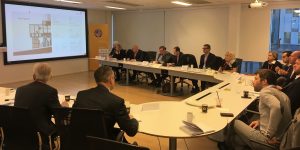 Addressing how Equinor is responding to digital challenges via innovative ecosystems, Equinor's Digital Program Leader focused on why young founders, companies and new ideas are important to Equinor, how Equinor can benefit from collaboration, as well as what they have gained from the various collaborative processes.
"The industry – and particularly this company – has undergone extreme transformation since 2012. One of Equinor's main strategic goals has been – and remains – to develop digital leaders, which is an important strategic move if we are going to reach our goals of competitively engaging broader energy markets."
"One of the results of our digital journey is the establishment of our Digital Center of Excellence, where we work on projects that enable, improve or transform business by leveraging digital technologies to turn data into actionable knowledge," Erspamer continued.
Digital KPI's, data trove accessibility, risk appetite within safety vs. digital initiatives, and Equinor's new data center collaboration with Microsoft were also openly addressed by participants.
Techstars Collaboration
Following roundtable discussion, Jens Festervoll, Equinor Liaison to Techstars Energy, presented the largest Nordic company's collaboration with the Colorado-based seed accelerator.
Having kicked-off in September, the Techstars Energy Accelerator involves ten carefully selected global start-ups, aiming to fast-track their development through an intensive 13-week program.
"If I remember correctly, I think the participants have had a combined 1100 meetings in the last few weeks. Equinor and program partners will utilize this platform to help the company innovate."
"It is naïve for us to think that Equinor's people have all the answers. This program helps us to be at the forefront of technology development and innovation in the energy sector," Festervoll said, while explaining the win-win situation for all involved.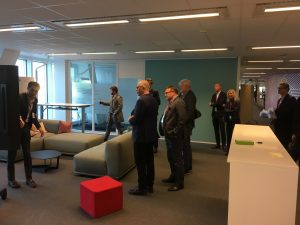 The session – moderated by AmCham Director Jason Turflinger — concluded with an open Q&A session before AmCham member company representatives enjoyed a tour of the dedicated, fresh digital center in the middle of Equinor's Oslo headquarters.