"It is 2018, yet it is as if the 2016 US election campaign never ended," Dan Renberg, a top Washington DC lobbyist and former US Senator Deputy Chief of Staff, said as AmCham and The Norwegian Atlantic Committee hosted The US Midterm Elections: Economic and Political Implications.
Taking attendees through some of the key talking points ahead of the US Midterm Elections, Renberg pointed out how the political situation has changed in the nation's capital.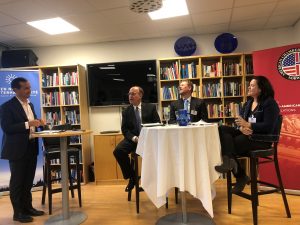 "It used to be a six-day news cycle, which got reduced to a two-day news cycle and has now become a 'government-by-tweet cycle,' making it difficult to remember that there is actual policy being made every day and that the political institutions of our country are bigger than one person," Renberg said.
Changes
Renberg, who prior to his current role at Arent Fox LLP, worked for both Democrat President Bill Clinton and then Republican Senator Arlen Specter, noted that despite rather comfortable Republican congressional margins after the 2016 Election, it has proven difficult for the party to move legislation through as nimbly as expected. This trend, he forecasted, is likely to continue after the Midterms, regardless of results.
"Congress is no longer as pragmatic as it used to be. Remarkably, 70 out of the 435 representatives are not opting for re-election. They are either retiring or running for other offices, while several others are leaving due to changes in their electoral base. This is an unusually high number."
"Imagine, if almost 25% of a company's work force was replaced on the same day. It would take some time before the company was up and running at normal speed. This factor alone does not bode well for January, regardless of who wins in the elections," Renberg said.
Expectations
Looking forward to the election itself, Renberg emphasized how difficult it is to predict the outcome and highlighted how the divide in the Democratic Party – between the younger, liberal left and the older guard – might cause further complications.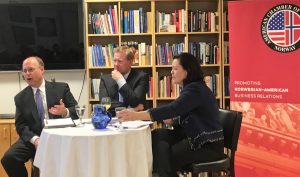 "You need 218 out of 435 seats to win a majority. Even if the Democrats reach this number, they might not agree on who should be their Speaker. And in terms of President Trump, if the Democrats win the House, that will give him something to campaign against in 2020. He is more suited to campaign against something rather than for something, which could actually help his re-election," Renberg said.
Policy Issues
Before guest speakers Anders Romarheim from IFS and Elisabeth Holvik from Sparebank1 addressed the audience, Renberg highlighted some of the key policy issues the two parties will emphasize, ahead of – and after – the elections.
"For the Democrats, they agree on a stricter gun control, protection for 'DREAMers' and healthcare reform.
"The Republicans will continue to focus on reassessing international trade policy as they have been with NAFTA, China and the world. Remember, the current President said before elected that he would 'tear up NAFTA' and people laughed at him. He has now actually done just that. One shouldn't be dismissive of what he says," Renberg concluded.
Trade
Looking ahead at the Midterm Elections from a financial and Norwegian point-of-view, both Holvik and Romarheim suggested trade policy as a key factor in the Norway–US agenda.
"The meeting between President Trump and Prime Minister Solberg went so well that diplomats from other countries have contacted Norwegian representatives asking for tips," Romarheim said.
"The reason is that we focused on trade. Solberg brought forward numbers proving how much Norwegian companies and the Norwegian state – particularly through the oil fund – are investing in each US state. Norway will do well to continue focusing on trade in their relationship with the current administration," he summarized.
Elisabeth Holvik, who is Chief Economist at Sparebank1, noted that since the US introduced the trade war with China, the Chinese stock market has dropped about 20%, while the US stock market remains strong with the creation of many new jobs. "Economists are genuinely surprised with how well the US economy has performed."
Her biggest concern however, is the trade war's potential ramifications for consumers. "Looking back to when similar tariffs were imposed on Japan in the 80s, a direct consequence of that was consumer price inflation," she said.
Big Questions
The session, moderated by Atlantic Committee's Kate Hansen Bundt and AmCham's Jason Turflinger, concluded with an open Q&A, where the decreasing number of foreign exchange students to the US, the veracity of polling data, along with steel and aluminium tariffs were addressed.
Conclusively, all panelists agreed that there are a few key questions looking ahead to the November 6th election:
If the Democrats win the majority, who will be the new Speaker?
Normally, the sitting President is "punished" in the midterm Elections; will Trump's base remain loyal?
Is the US' trade war footing maintain congressional and public support?
If the Republicans lose the House majority, will the President remain as effective?