European AmChams Unite for Annual US Conference
AmCham
Date posted: 04.05.2018
Category: AmCham News
Managing Director Jason Turflinger joined 32 fellow European AmCham executives in the US from 16-20 April. The annual conference began with two days in the nation's capital before transferring to this year's second city, Chicago.
The Washington DC agenda started with the Transatlantic Business Works Summit, hosted by the US Chamber of Commerce. The conference highlighted the importance of the world's largest bilateral trade and investment relationship — that between the US and Europe. Summit participants also identified ways to fortify commercial ties going forward.
Further, the delegation received timely US Administration insight through a series of high-level briefings from government officials, organizations and several leading political experts. Briefing sessions featured speakers from the US Chamber of Commerce, US Department of Commerce, Pew Research Center, CBS Corporation, US Senate and the Obama Foundation.
Chicago
Continuing onward to the Windy City, the delegation met with both member companies and key stakeholders, including Chicago Mayor Rahm Emanuel and a company briefing and tour of Abbvie's cutting-edge labs and production facilities.
The Chicago leg of the conference also included meetings with executives at 1871, Chicago's expansive center for technology and entrepreneurship, UL (Underwriters Laboratories), Motorola Solutions, and Northern Trust Corporation.
To cap off the high-paced week, executives had an opportunity to attend a session featuring former Secretary of State Madeleine Albright, organized by the Chicago Council on Global Affairs.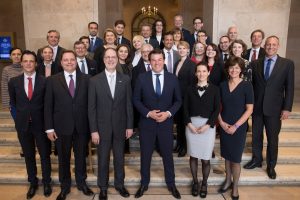 Source: AmCham