Delicato Family Vinyards Named USA Wine Producer of the Year
Business
Date posted: 05.12.2018
Category: Food & Beverage
Delicato Family Vineyards announced today that it is the exclusive recipient of the International Wine & Spirit Competition's USA Wine Producer of the Year award.
Based on the winery's sustained excellence, Delicato received the esteemed award for the fifth time since 2001.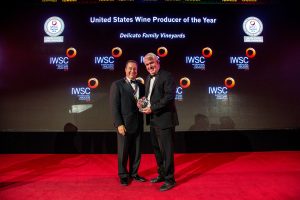 The trophy was received November 14, 2018, at the IWSC Annual Awards Banquet in London. Last year, Delicato's halo luxury winery, Black Stallion Estate Winery received the award, and three previous years Delicato was honored with the achievement.
Ten wines from Delicato Family Vineyards received individual awards this year, with the 2014 Black Stallion Estate Winery Limited Reserve Cabernet Sauvignon, earning Gold medal honors. Delicato is now the fifth largest exporter of branded wines in the U.S., moving up two spots from last year's list.
"Winning the IWSC USA Wine Producer of the Year award is an honor," said Chris Indelicato, CEO, and president of Delicato Family Vineyards. "This award is a testament to the quality of our wine and the amazing vineyards in California and other top wine regions in the U.S."
Now in its 49th year, the prestigious International Wine & Spirit Competition remains more relevant than ever, known for its strict submission guidelines and judging process. More than 400 global experts from 30+ countries judge samples for seven months each year, evaluating wines according to their class. Winners are selected based on organoleptic judgment (taste, color, aroma, etc.) in addition to undergoing chemical analysis.
Source: Delicato