According to data from Apeland and Norstat, only 5% of the population in Norway considers the pharmaceutical industry to be trustworthy, with only 52% of Norwegian survey respondents reporting any familiarity with the industry at all.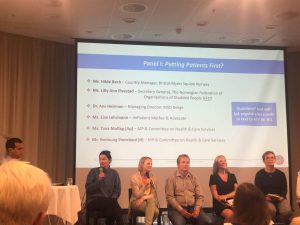 With these statistics as a starting point, a panel consisting of senior representatives from the pharmaceutical industry, politicians and patient organizations, delved deeper into pharmaceutical industry perceptions in Norway and what the future of medicine holds.
The discussion – divided into two sessions and led by AmCham Managing Director Jason Turflinger – started with panelists' views on putting patients first, before the second panel explored the future of medicine.
Putting Patients First
Dr. Ans Heirman, Managing Director of MSD Norway, directly addressed the pharmaceutical industry's reputation: "We do not have a history of communicating with the public, but rather with healthcare professionals and government officials. It is important that our industry starts communicating with people."
Lisa Lehrman, a profiled patient representative, strongly agreed that there should be more communication. "The lack of contact between the pharmaceutical industry and the authorities is worrying." As a mother of a child suffering with spinal muscular atrophy (SMA), a rare neuromuscular disorder, Lehrman found there to be seemingly limited negotiations between the two sides, leaving dependents helpless.
With only one drug treatment currently available on the market, SMA patients found themselves in the crossfire of a 10-month long price negotiation between the government and producer over what was publicly deemed by the Minister of Health as an 'unethically high price.'
As a result, during this time-period, one of the patients in need of this vital medicine passed away. In order to reduce tragic consequences and expensive legal battles, Lisa is a proponent of increased dialogue and cooperation between the pharmaceutical industry, healthcare providers, and the government.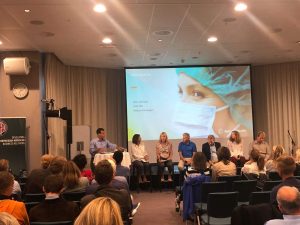 Addressing the perception that pharmaceutical companies are seeking unethically high prices, Hilde Bech, Managing Director at Bristol Meyers-Squibb in Norway, asserted the importance of research in the pharmaceutical industry's priorities and planning.
"We are a research intense industry. If we were only concerned with profits, none of us would work in an industry which aims to improve and save lives. If we were merely concerned with revenues, we would focus on producing medicine for the masses. However, we develop treatments for rare diseases, which are costly to cultivate."
Sveinung Stensland, Member of Parliament for the Conservative Party, shared similar views, "The pharma industry is the most intensive when it comes to R&D, nearly 30% of their revenue goes towards R&D. It's a high risk to run a pharma company." He acknowledged that there had been difficult debates when it comes to pricing in recent times.
Tuva Moflot, Member of Parliament from the Labor Party, welcomed increased dialogue between the government and pharmaceutical industries, and stated that she looks forward to having many more meetings with industry representatives. "It is important to learn to have a dialogue and find new ways to optimize working together."
The Future of Medicine
Rajji Mehdwan, Managing Director of Roche Norway, pointed out that tremendous progress in technology and medicine has allowed them to personalize treatments. She noted that this was largely made possible through the availability of data on a mass scale.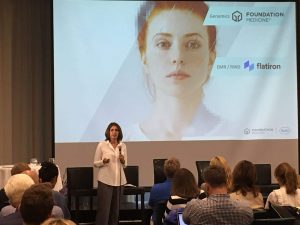 This availability, and coming advancements in technology and analytics, would allow them to use collected data to create customized, personalized solutions, rather than the one-size-fits-all approach of the past.  This is achievable through comprehensive genomic sequencing, machine learning and digital data that intelligent systems will use to suggest treatments that are most likely to be successful for the individual patient.
Roar Johansen, Medical Oncology Subject Matter Expert from IBM Watson Health, highlighted the technological advancements which can be achieved through IBM Watson. These include clinical trial matching, which screens patient profiles against available clinical trials, thus enabling a faster workflow for vetting patients for eligibility, and ultimately a chance to accelerate trial recruitment.
Similarly, Watson for genomics is able to take the status of individual genes and provide associated drug treatments by taking large volumes of genomic data from an individual patient and matching that with available literature.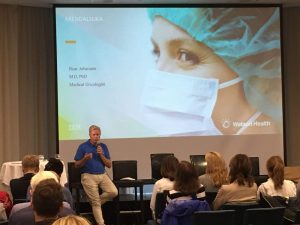 In addition to technical advancements in medicine, Lena Nymo Helli, Managing Director of Abbvie Norway, emphasized three aspects which will be critical when addressing the pharmaceutical industry's future in Norway: First, there is a need for policies that address the entire health industry value chain. It is important to see the bigger picture, and part of this is recognizing that there is a strong home market in Norway.
Second, there is a need for incentivizing good public-private cooperation. Third, Nymo Helli emphasized the need to make Norway an attractive destination for healthcare investments, and thus innovation.
Norway's Role in the Future of Medicine
Nearly all panelists acknowledged that Norway is already lagging in ambition, strategy and measurability. While all welcome the new whitepaper on health anticipated to be published in 2019, the panelists all underscored that greater measures are needed to tackle the challenges ahead.
Ole Alexander Opdalshei, from the Norwegian Cancer Association, asserted, "We'd like to be optimistic when it comes to personalized medicine. So far, we have promising signals from the Minister of Health regarding personalized medicine. However, the problem is that this must be achieved within today's budget limits. If we want to be serious about personalized medicine, we need to invest additional funding."
Mehdwan stressed that not everything needs to be achieved at a domestic level. She stressed the need to Co-Create with other countries: "We don't have to build everything from scratch in Norway, we should focus our efforts on what needs to be done here, and for the rest, borrow with pride from other countries". She further stated: "The international race is on, and let's make sure here in Norway we are leaders."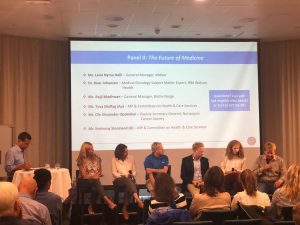 AmCham sincerely thanks all coordinators, panelists and guests who attended during a very busy week!
Panel I – "Putting Patients First"
Hilde Bech, Country Manager, Bristol-Myers Squibb Norway
Ans Heirman, Managing Director, MSD Norway
Sveinung Stensland (H), Committee on Health & Care Services, Norwegian Parliament
Tuva Moflag (Ap), Committee on Health & Care Services, Norwegian Parliament
Lilly Ann Elvestad, Secretary General, The Norwegian Federation of Organizations of Disabled People (FFO)
Lise Lehrmann, ImPatient Mother & Advocate
Panel II – "The Future of Medicine"
Lena Nymo Helli, General Manager, Abbvie
Rajji Medhwan, General Manager, Roche Norge
Ole Alexander Opdalshei, Deputy Secretary General, Norwegian Cancer Society
Sveinung Stensland (H), Committee on Health & Care Services, Norwegian Parliament
Tuva Moflag (Ap), Committee on Health & Care Services, Norwegian Parliament
Roar Johansen, Medical Oncology Subject Matter Expert, IBM Watson Health