A fully-packed flight of players relished in spirited competition and networking as Team Global Blue claimed the coveted Søderstrøm Cup and US voyages from Lufthansa at AmCham's 18th annual golf tournament.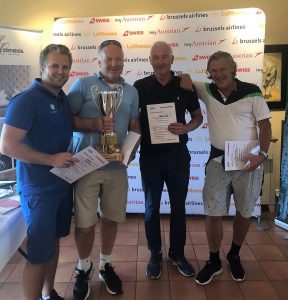 In a tantalizingly close Texas Scramble competition – where only three strokes separated first and 14th place – team Global Blue kept their nerve on the final nine holes at Bærum Golfklubb to claim the trophy ahead of team Aker and team Grant Thornton, with teams Elavon and PwC following just behind.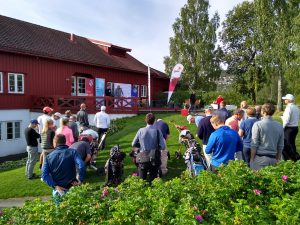 Their efforts were rewarded with four overnight stays for two at Hotel Continental for those in second place; lounge access at Gardermoen airport, courtesy of Avinor, accompanied by Losby green fee tickets from PwC for third place; fourth place secured individual Google Chromecasts and green fees to Drøbak golfklubb, and fifth place landed American wine courtesy of AmCham.
True to tradition, the tournament also included individual prizes. Kenneth Austad from team PwC saw his shot land merely one meter from the pin in "closest to the pin" contest, which rewarded him with a Tesla for a weekend, and an overnight stay at the destination charging partner hotel, Losby Gods. Rune Danielsen from Orkla won Tesla's own competition at their hole for the same prize.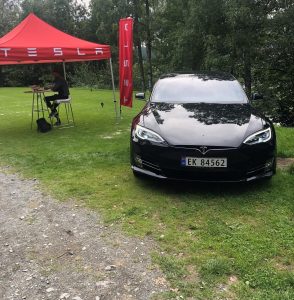 Recipients of American wines for winning the "longest drive" for men and women respectively, were Ole Morten Hauge from team Google and Catharina Aasheim from team PwC.
The putting competition, where each player qualifies by sinking a challenging Coca-Cola qualifying putt during their round, followed the barbecue dinner and awards ceremony.  Ten players managed to reach the final, competing for American wines, with Richard Greenidge from team Ask Mr. Cruise eventually claiming the honors.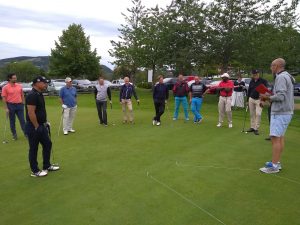 Generously sponsored by Elavon, Lufthansa, Google and PwC, AmCham is delighted that the tournament remains a prominent and enjoyable event on the AmCham calendar.
We would like to thank all participants and sponsors for their sportsmanship and support in what has become one of the country's largest corporate golf tournaments.