For future success, you must ensure that you are running a sustainable business – for people, planet and profit. Sustainability is not simply a check box in the annual report. It is something that affects your business – and creates opportunities.
Many AmCham companies have been on the journey for some time, while others are trying to find their way to a sustainable future. Though our members are represented through the full specter, we know that several are at the forefront of their respective industries.
Business Sustainability Study
Joined by senior representatives of Coca-Cola, Fast Solutions, Gelato, McDonald's, Philip Morris, Radisson Hotel Group and Roche, Gambit Hill+Knowlton presented key findings from their 2018 Business Sustainability Study of 26 of Norway's largest companies as AmCham hosted the first meeting of our new cross-sectoral Sustainability Forum.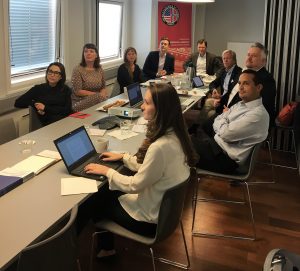 The focus of the initial meeting was for invited participants to openly discuss opportunities and challenges, share best practices and determine how AmCham companies can best play a role in the Norwegian sustainability agenda going forward.
One of the key report findings was that increasingly conscious customers demand action on sustainability issues. Participants agreed, however, that few customers are willing to pay a premium for such products and services.
"It can be difficult to sell in to the top management that the company might need to accept a loss today to cash in tomorrow. But the fact remains, companies with well-planned sustainability initiatives will eventually see the results on the bottom line as well," said Per Olav Myhre from Gambit H+K.
Best Practices
Roundtable participants welcomed the opportunity to share sustainability related challenges of operating within the Norwegian market. In fact, another of the report's key findings was that cooperative networks and alliances are critical to driving such business process transformations.
Several participants agreed that the Nordic branches of their companies were, in fact, leading their respective headquarters on sustainability initiatives. Parent companies are, however, quickly catching up.
The importance of government's role in driving sustainability initiatives was also underscored by the group. Clear and predictable frameworks provided by the government incentivize both public-private partnerships as well as private sector change.
Looking Ahead
Based upon overwhelming participant consensus, AmCham will continue to manage and cultivate the Sustainability Forum on a quarterly basis. Please contact us for interest in future forums.