AmCham Norway Christmas Party Write up
AmCham
Date posted: 21.12.2016
Category: AmCham News
On Monday, the AmCham Christmas Party was fully booked with members and partners, as AmCham hosted their annual holiday Christmas event, serving unwimpy Zinfandels from Ravenswood in Grand Hotel's newly refurbished roof top bar.
AmCham also took this opportunity to thank US Ambassador, Samuel D Heins for his efforts and cooperation in 2016, as this was the last AmCham event he could attend before returning to the US.
Introduced by AmCham chair, Pål Rokke, both Heins and Rokke highlighted the fundamentally close cooperation and bond between Norway and the US, further displayed through AmCham's collaboration with the embassy.
The evening, generously sponsored by Ravenswood, also included a Kahoot quiz, where a fully packed room of people competed in a wine and Grand Hotel knowledge showdown, the top prizes going to representatives from Coca-Cola, FirstHouse and the US Embassy.
AmCham would like to thank everyone who attended the last event of 2016 as well as the event sponsor, Ravenswood and hosts Grand Hotel, who emphasized how they are looking forward to hosting this event with us for years to come.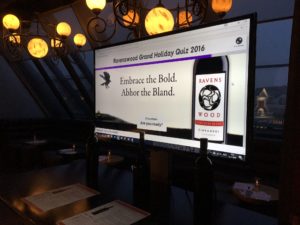 Thank you all for good cooperation in 2016 and we look forward to seeing you in 2017!
Source: AmCham