By combining strategic alignment techniques with the ability to boost organizational performance in new terrain, Management Alignment Partners (MAP) provides analyses and measurements that enable decision-makers to anticipate how their teams and business units will excel in new environments. Once MAP clarifies the landscape ahead, they deliver insight and follow-through to align leaders, operations and strategy for rapid execution.

Having worked with companies like Airbus, Allianz and Yara, Founding Partner Knut Revling and his team of senior partners begin an engagement by working directly with the CEO, interviewing the company leader about his or her expectations and defining the company's critical success factors.
"Fifteen years ago, MAP's partners observed that many advisory firms worked exclusively with a client company to augment its strategy, or to help streamline its operations, or to assess its talent, or even to project market conditions. MAP concluded that such vital processes couldn't be scrutinized and acted upon separately."
"Instead, the overarching problem of execution had to be examined: CEOs, division presidents and institutional investors needed evidence on how their businesses would likely perform in new terrain; and they needed evidence that their leaders, operations and strategies were aligned to confidently execute the company's mission," Revling says.
Ensuring Alignment
With 25 partners worldwide, all of whom have substantial international experience, MAP can pull from a wide breadth of knowledge to execute operational tasks for their clients.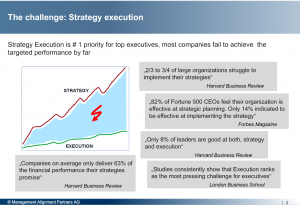 "We provide the analyses and measurements that enable decision-makers to anticipate how teams and BUs will excel, and then we deliver the insights and follow-through to align leaders, operations and strategies for rapid execution."
"As an example, when working for a client with over 30.000 employees, 10 MAP partners interviewed each executive and ran their answers through our own software tool. We found that this particular company had several challenges beyond organizational and process definitions. Within six weeks, we could deliver the entire analysis and suggested strategy going forward."
"With only 25 partners worldwide, we have the ability to be very agile and ensure alignment in our analysis, as well as for the company leaders we work with," Revling explains.
International Network of Experts
Management Alignment Partners is a globally-deployed firm with deep roots throughout the Norwegian market, with extensive experience within defense, production, services, IT, finance, healthcare, shipping and digitalization.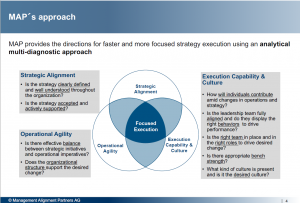 "How can CEOs, Boards and other top decision-makers determine the future performance of their enterprise – as, for instance, its capacities for innovation and creativity, its flexibility and tempo, and its overall ability to execute? Is it possible for a CEO to achieve that insight within weeks rather than over many months or years of meetings, town halls and travel?"
"These are all questions we consider when conducting our analysis, with the end goal being the client company's strategic alignment and coaching for senior staff," Revling says.
MAP is based in Norway, Zurich, Singapore and Washington DC, with partners around the globe for a fully functioning international network of experts. MAP has been an engaged AmCham member company since early last year.