AmCham Executives Gather in Israel for Annual Conference
Business
Date posted: 09.11.2018
Category: Trade
On October 14-17, executives from 33 AmChams in Europe gathered in Tel Aviv, Israel for the annual European conference, devoted to the sharing of best practices and knowledge exchange.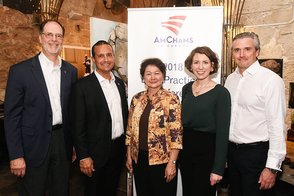 During the conference, AmCham executives shared best practices within the areas of Member Retention and Acquisition, Governance, Communications, Committee Management and Staff Management / KPI's. Additionally, the five finalists for the 2018 Creative Network award delivered inspirational presentations – with AmCham UK (BAB) as the winner for their Finding Your Way program.
The conference dinner featured speeches from Garty Yaniv, Chair AmCham Israel (Intel Israel), Ireas Cook, Counselor for Commercial Affairs (U.S. Embassy), Myron Brilliant, Executive V.P. (U.S. Chamber of Commerce) and Patrick Mikkelsen, Chair, AmChams in Europe.
This conference was the second of two annual gatherings organized by the European Council of American Chambers of Commerce (AmChams in Europe).
AmChams in Europe is the umbrella organization for executives from 44 AmChams throughout Europe and Eurasia. AmCham Denmark's Executive Director Stephen Brugger serves as Vice Chair and host of the Council's Secretariat. To read more, click here.
A special Thanks to AmCham Israel for hosting an exceptional conference.
Source: AmCham Denmark