"We sell products that are personalized. When someone in Myanmar watches YouTube on their phone and runs out of data, we need to know that and be able to offer them an immediate and easy way of upgrading their plan," Telenor's VP and Head of Future Customer Service Programs, Geir Olav Guttuhaugen, said as they hosted AmCham's Digitalization forum.
Highlighted were his company's lessons learned within Digital Ambition & the Role of Simplification.
Taking 25 invited executives through some of Telenor's most complex digital change processes, Guttuhaugen explained that fundamental to each undertaking is some level of customer experience evaluation.
"It is difficult to integrate all services for improved customer service. We have to focus on what customers are saying to truly improve their experience, and then ensure that top management – along with our best people – are involved to support the implementation."
"At a certain point in the digitalization process, you get to a stage were significant investment is needed to drive forward momentum and to make the next leap. At that point, it is important to avoid a cost-only focus and trust your customers," Guttuhaugen further explained.
Customers Driving Digital Transformation
"Most digital transformation projects fail to deliver. When it comes to digital projects, we have determined that merely 1% are deemed successful or exceeded set expectations," Bain & Co. Partner Henrik Poppe showed during the morning's second presentation.
Having collaborated in Telenor's transformation processes, Poppe agreed that customer feedback – often in the form of Net Promoter Scores (NPS) – should form the platform upon which to develop digital change.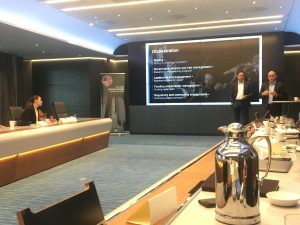 "If you look at some of the world's largest companies, like Uber, Domino's Pizza or Netflix, they are offering customers something that was already available, only now it is in a different format more customized to their customers' needs," he explained.
"Data, and the ability to measure and analyze it, is critical to enabling risk-taking and determining who will capture value chain control points."
Collaboration
Moderated by Jennifer Vessels, CEO of Silicon Valley-based Next Step, the subsequent group discussion highlighted the importance of larger companies collaborating with – and even spawning – smaller companies to gain fresh perspectives.
"It is important to work with start-ups without cannibalizing one's own business model. Through collaboration, you think critically about current company processes, gain access to new data, and test new products, thereby learning along the way," said a ranking participant.
"It is like the smaller boats surrounding a large ship. The speedboats can get somewhere faster, but the tanker is going to be more powerful," another participant noted.
Simplification Before Digitalization
Regardless of internally or externally-oriented digital change plans, several participants have experienced that current processes need to be boiled down to their core components before success can be attained.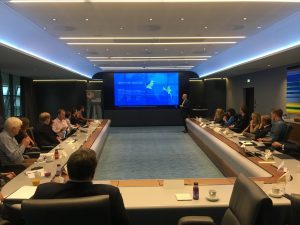 Vessels noted that successful directors often guide the direction of such long-term initiatives, freely admitting that they don't know precisely how the organization will finally emerge as a truly digital actor.
"Directors need to ask themselves 'what the market – and our company – will look like 2-3 years from now if we stay the same?'"
"Get started, and then the process will direct the solution," noted an experienced director.
Another director participant noted finally that "some of our customers and partners consider themselves digital, but…"