Diplomatic Immunity headlined AmCham's Christmas Party 2017 at Hard Rock Cafe and did justice to the venue name, as members and partners gathered for a festive evening of American wines, guitar solos and high spirits.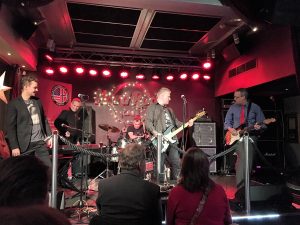 The band, consisting of — among others —US Chrage de Affairs Jim DeHart on lead guitar and Canadian ambassador Arthur Wilczynski on drums, provided the perfect atmosphere for rolling in the Holiday Season.
Prior to the band's performance, members and partners enjoyed a Kahoot! quiz highlighting the evening's wine sponsors, Charles Smith, provided by Strøm. A packed room competed through eleven questions, covering everything from US wines to American Christmas traditions, before the guests moved downstairs to enjoy the band's performance.
Try the Kahoot! quiz and test your own American Wine and Christmas knowledge here!
The ever-popular end-of-year event also marked AmCham's final Board meeting of the year, where esteemed members listened intently as Snapchat's Steffen Rabben explained why his company's services are so popular in Norway – Snapchat's second largest market per capita. According to Rabben, "70% of the expanding company's 3,000 worldwide employees have started within the past year."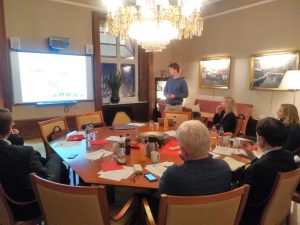 AmCham wishes to thank Diplomatic Immunity, the evening's sponsors Strøm and Hard Rock Cafe, as well as all participants and members, for making the last event of 2017 an unforgettable experience.
Thank you all for the excellent collaboration in 2017 and we look forward to continued business development in 2018!