Hosted by Radisson Blu Plaza, AmCham Norway's Annual General Meeting and Transatlantic Assembly highlights included the election of a renewed Board of Directors, as well as a panel debate and keynote remarks from Ambassador Kenneth J. Braithwaite in his first meeting with the US-Norway business community.
We are delighted to welcome leaders Rajji Mehdwan, Roche Norge; Jan Åge Hansen, ExxonMobil Norway; Ans Heirman, MSD Norge; Charlie Lea, KPMG; Sven Thaulow, Cisco Systems Norway and Lena Nymo Helli, AbbVie as new additions to the Board.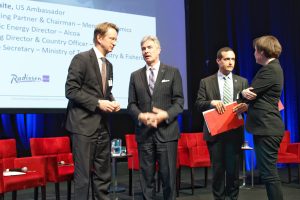 The AmCham Board of Directors now consists of 11 Norwegians, three Americans and one Belgian. There are five women and ten men, representing seven key AmCham industry groups.
AmCham would, at the same time, like to express our gratitude and appreciation to former Board members Morten Mauritzen, formerly of ExxonMobil; Elizabeth Jeffords of Roche/Genentech; Erika Ahlqvist of Hydro Extruded Solutions and Bjarte Bogstad of Adv. Bull & Co.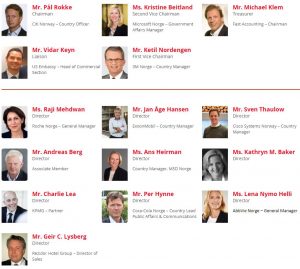 Transatlantic Assembly
Sponsored by 3M, Alcoa and Radisson Blu, the event included keynote remarks from US Ambassador Kenneth Braithwaite, Ministry of Trade State Secretary Magnus Thue and Leo Grünfeld from Menon Economics.
The Ambassador, who participated in his first address to the Norway-US business community, underscored his primary objective, which is to reassure Norwegians on the close bond and trade relationship between the US and Norway.  This was exemplified through Norway's recent record purchase of 52 F-35s from Lockheed Martin.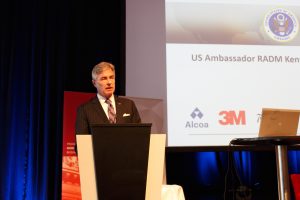 "We are coming off a great trade year and I am looking forward to working in tandem with Norwegian decision makers to further leverage opportunities in existing industries as well as prosperous new opportunities within energy, defense, e-health and maritime."
"Norway's future looks great, and paradoxically, the downturn in the oil sector looks to have initiated Norwegian companies to look at other opportunities," the Ambassador said, who also mentioned that he will lead a Norwegian business delegation to the SelectUSA Summit in Washington DC this June.
US Companies in Norway Report
Ambassador Braithwaite, Secretary Thue and Grünfeld were joined by Alcoa's Nordic Energy Director, Toini Løvseth and Citi Norway's Managing Director, Pål Rokke, for an engaging panel discussion on the transatlantic trade relationship and key findings in AmCham's new US Companies in Norway report.
As highlighted in this exclusive new report from AmCham Norway and Innovation Norway, there are 655 US companies in Norway, employing more than 45,000 people and accounting for NOK 153 billion in equity – or close to 4% of all Norwegian business sector equity.
The report goes on to survey American companies' direct contribution to Norway through value creation, taxes paid, jobs and direct investments over time. Top industries, Norwegian-US corporate collaboration, knowledge transfer and future growth imperatives are also illustrated throughout.
AmCham Norway wishes to thank all panelist participants, 3M, Alcoa and Radisson Blu as well as all who attended.