AmCham Sustainability Forum: Urban Mobility & Sustainable Devices
Convening digitally for the latest AmCham Sustainability Forum, participants welcomed Kathrine Strøm, Development Manager, Transport & Urban Design at COWI and Jonas Bergersen, Social Impact Sales Lead Norway at Dell as session presenters.
As a prelude, Kristian Noll, senior at St. Olaf College in Minnesota, presented key findings from his research report Fueling the Green Transition: The Scope and Impact of Norwegian Environmental Policy in a Decade of Change. A former AmCham intern and recipient of St. Olaf's Rand Scholar Award, Kristian became aware of the prevalence of sustainability as part of social and corporate discussions in Norway. He posed and answered the questions: "To what extent are civil and corporate attitudes toward environmental sustainability influenced by governmental policy" and "to what extent do these attitudes reflect a genuine commitment to sustainable practices?"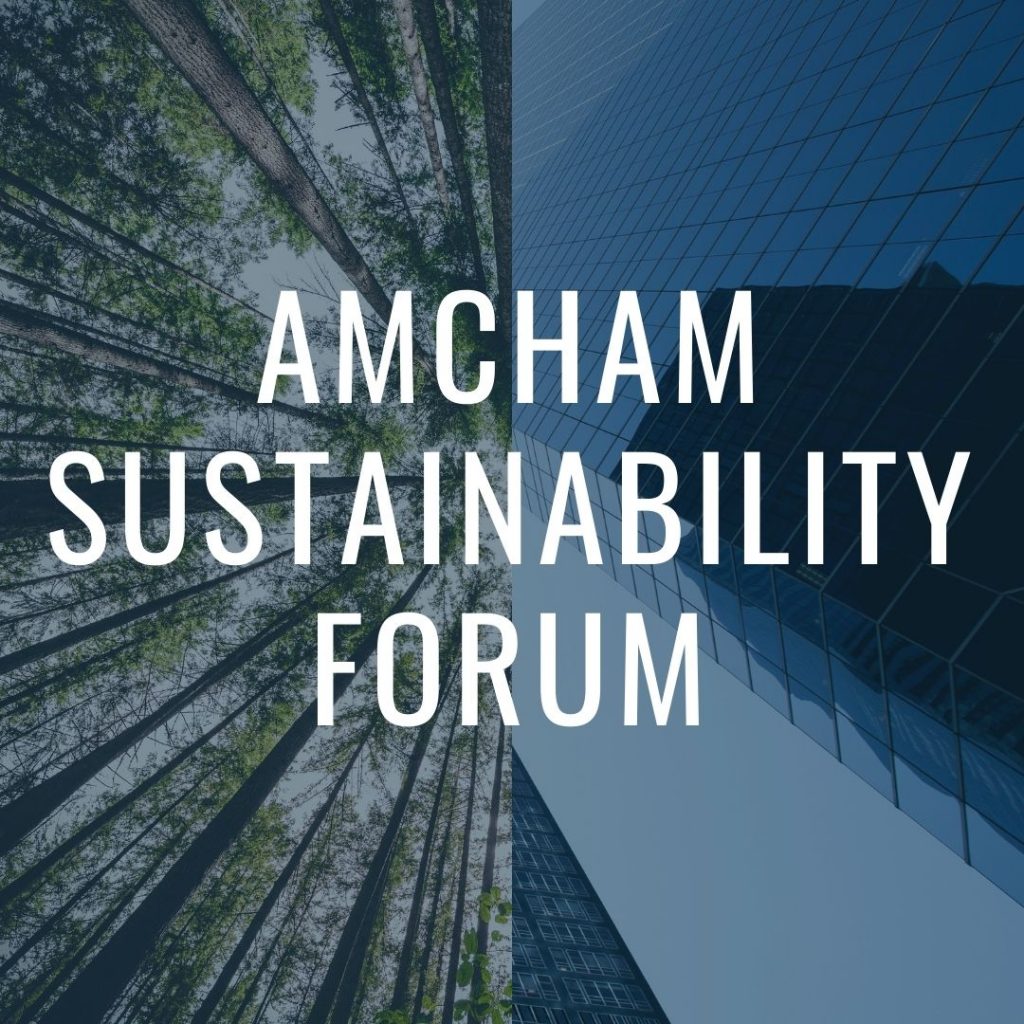 Kathrine Strøm from COWI presented The Green Shift in Urban Mobility, focusing on their green city and green mobility strategy in collaboration with Oslo municipality. COWI is an international consulting group specializing in engineering, environmental science, and economics. On the consolidation of varied consulting expertise under one roof, Kathrine remarked that she "finds the synergy effects we can make between us very effective when it comes to making a more sustainable city."
Strøm described how, in 2019, Oslo was named the European Environment capital, providing accelerated incentives for the municipality to pursue environmental action. With Oslo's road traffic constituting approximately half of Co2 emissions in 2020, an apparent opportunity to reduce emissions lies in reducing of emissions through traffic. For the first time in Norway, a public body, namely Oslo's municipality, is dismissing the time is money paradigm as it pertains to transportation, as the roads are no longer merely designed around cars but also non-motor-driven transportation.
In addition to the strategy and design of Oslo's urban roads and spaces, Strøm presented a project where COWI contributed to a more sustainable construction site, where building was performed with electric digging machines on cable and battery, replacing diesel engines, which consequentially meant a less noisy building process to the benefit of construction workers and city dwellers. One unresolved aspect of the project was that not all materials used were emission-free, and some trees were removed due to an intricate process of planting on such fundaments. Taking learnings and inspiration from this project, all buildings and constructions sites in Oslo municipality shall be emission-free from 2025. The named initiatives have contributed to a healthier, safer, more beautiful city to live in and visit, with less emissions and a reduction of flooding hazards.
Design Innovations and Consumer Responsibility
Jonas Bergersen outlined the goals, strategies, and design behind Dell's devices, including their work with sustainable materials and packaging innovation, noting the need to make products as repairable and interchangeable as possible. Dell develops, sells, repairs, and supports computers and related products and services and has adopted new innovations at each step. Notable is their sustainable approach to material usage, including reusing and reforming metals that may previously have been discarded, and utilizing airplane carbon fiber surplus production in their devices, as well as ocean-sourced plastics. The goal is that materials, where possible, are reclaimed and recycled, and will enter a closed-loop system to ensure longevity for the life span of their products.
In addition to the devices themselves, another aspect of sustainability is to reduce energy intensity both when being built and when in use. Although sustainable packaging is an important step on Dell's quest for sustainable offerings, the device itself constitutes the most energy required and represents a higher carbon footprint, making the significance of the device's life span an important aspect to communicate to users.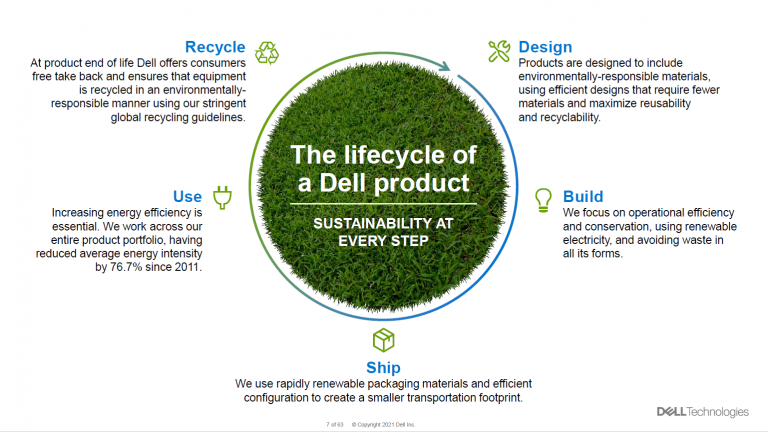 In addition to Dell's own efforts, they rely on their partners to support their sustainable mission and have made it a priority to educate on the importance of taking sustainable steps. Bergersen was also adamant about the responsibility that we as consumers have to perform our own due diligence with suppliers when procuring devices.
On a corporate level, the selection and discarding of electrical equipment can help companies reach their own sustainability goals if opting for sustainably viable solutions. "Don't only measure the last mile" Bergersen said in response to client requests for device delivery to their offices, for example by EV's. Such an initiative is positive; however, it doesn't take into consideration the entirety of the device's production process.
To conclude, Bergersen shed light on the world's vast data volume, namely data stored in clouds, which is forecast to increase exponentially by 2025. The storage requires energy currently generated from non-green production. Again, we as consumers and individuals can help reduce data volume by deleting unnecessary files from the cloud to contribute to more sustainable energy consumption.
About Sustainability Forum
Future success is dependent upon running a sustainable business – for people, the planet, and profit. Hence, AmCham brings select, cross-industry member company representatives together on an ongoing basis to discuss opportunities, facilitate open exchange and determine how AmCham members can best contribute to Norwegian and US sustainability agendas going forward.
Read more about our Sustainability Forum and please contact Margrethe.Harboe@amcham.no for interest in future meetings.
Recent Sustainability Forums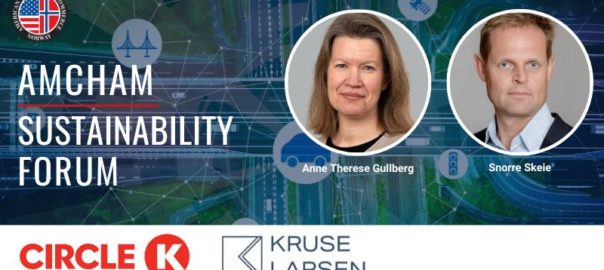 AmCham's latest Sustainability Forum hosted by Kruse Larsen brought together members representing diverse industries to learn about the new EU Directive on Green Claims and lessons learned from Circle K's ambitious EV buildout in North America.
Read More »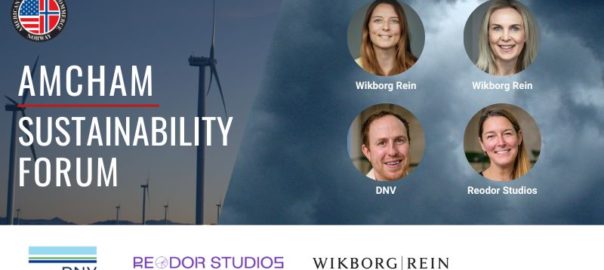 AmCham Sustainability Forum: CSRD-Reporting Standards & Wind Turbine Decommissioning Overlooking the Oslofjord, AmCham's latest Sustainability Forum hosted by Wikborg Rein convened members for a timely
Read More »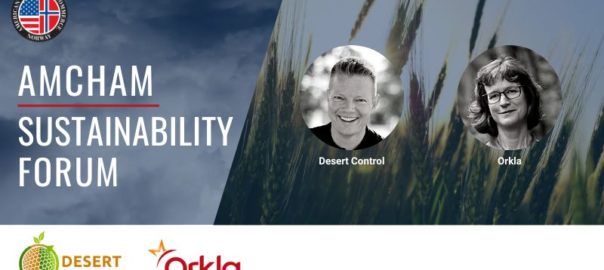 AmCham Sustainability Forum: A Norwegian Agriculture Technology Innovation & Transparency for Positive Change AmCham members representing ten diverse industries convened at Orkla's Oslo headquarters to
Read More »