Foreign Minister Børge Brende opened for a tailor-made panel to discuss transitions and transatlantic changes and challenges, as AmCham hosted a combined Annual General Meeting and Transatlantic Assembly, nominating and selecting a new Board of Directors in the process.

The AGM also served to review AmCham's activities and accomplishments for the previous year, and projected plans for the year ahead.
The new AmCham Board, composed of executive member company leaders, features 13 representatives and includes ten Norwegians, one Swede and two Americans, representing nine Patrons, two Corporates and one Associate-level member.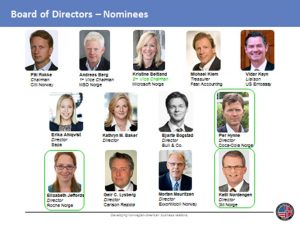 As Per Hynne of Coca-Cola, Elizabeth Jeffords of Roche and Ketil Nordengen from 3M enter the board, AmCham would like to extend our sincere appreciation and gratitude to Tim Keane, Stein Rømmerud, Kimberly Lein-Mathisen and Lauren Cody as they step down, with Keane and Rømmerud having served for nine and eight years respectively!
Transatlantic Assembly
Following the AGM, AmCham Chairman Pål Rokke and University of Oslo Rector Ole Petter Ottersen proudly welcomed Minister of Foreign Affairs Børge Brende who, after recently returning from the US, kicked off the 90-minute session, sponsored by AmCham members Yara and BDO. On the agenda was transatlantic challenges and opportunities, examining why transition is at the forefront of AmCham member agendas.
Minister Brende, who is the first Nordic minister to have met with US Secretary of State Rex Tillerson, and first European minister to meet with US Commerce Secretary Wilbur Ross, said both highlighted the strategic alliance Norway holds with the US.
"It is clear from these meetings that increased emphasis will be place upon bilateral trade relationships as opposed to multilateral," stated Brende. According to Secretary Ross, "TTIP is being assessed, not dropped" by the new US administration.
Brende, who emphasized that cooperation with the new US administration is developing very well, could confirm that both Secretary Tillerson and Secretary of Defence James Mathis had both personally underlined the US' continued commitment to NATO.
The minister also highlighted how the close connection between the US and Norway is due in part to similar cultures, values and ideas. "Big changes also mean big opportunities. That's a very typical American way of thinking and something we're adopting in Norway as well."
"We share many of the same ideas. We have the same values, we are both strong supporters of democratic principles and we support private ownership," the Minister said.
The Foreign Minister was succeeded by US Chargé d'Affaires Jim DeHart, who later joined DNB's new Chief Economist Kjersti Haugland, Andrew Lloyd, Statoil's Vice President for Global Politics & Public Affairs and IBM's Managing Director Arne Norheim, in a panel discussion focused on emerging trends and challenges affecting business between the two countries.
Chargé DeHart provided candid perspectives on the new US administration's transition, current US foreign policy challenges and the road ahead for US-Norway relations.
"Norway is a popular destination for US officials," stated DeHart, while discussing the recent bipartisan visit by Speaker Paul Ryan and the House Armed Services Committee.
DNB's Kjersti Haugland, while referencing headwinds due to energy challenges, noted that Norway's GDP growth was in fact even stronger than that of the US, with stable fiscal policy and unemployment figures. This despite the growing "toxic cocktail" of increased protectionism, nationalism and populism in international trade relations.
For his part, IBM director Arne Norheim noted that his company's successful 80-year track record in Norway had not been impacted by recent political change.
"Digital transformation and attracting and developing the best talent" are at the top of his ambitious agenda, regardless of daily political soundbites.
Statoil's Andrew Lloyd emphasized how his company's $30B in US investment – and positon as a top CCS investor there – was not being reassessed. Lloyd also optimistically discussed long-term NCS development, while noting that "smart companies will continue to invest in low-carbon technologies" regardless of short-term policy pivots.