AmCham Names New Chair & Board Members, Highlights Strong 2019 Performance, and Charts Ambitious Path Forward at 2020 AGM
AmCham member company representatives joined Managing Director Jason Turflinger and the AmCham Board of Directors for this year's Webex-based AmCham Annual General Meeting (AGM).
In the most notable Board change in several years, Roche Managing Director Rajji Mehdwan will take over for Citi Managing Director Pål Rokke as Board Chair.
In his outgoing speech, Rokke noted he was proud of all that AmCham achieved during his tenure as Chair, highlighting AmCham's considerable expansion and the "combined efforts of the AmCham staff to ensure that member companies received all the assistance an AmCham should provide, from expanding market access to business assistance to professional development."
Rokke, however, concluded his speech by looking at the future, highlighting the critical role AmCham will play in assisting the international business community through the COVID-19 crisis.
"In a crisis like this, long-term relationships are important, and that's what AmCham will continue to focus on – the long-term cultivation of commerce and collaboration between our two countries and governments."
AmCham would like to thank Rokke for serving as Board Chair for the past seven years and is pleased to announce that he will continue to play an important role in AmCham's future development by continuing to serve on the Board.
Incoming Chair Mehdwan then made her first remarks to digitally assembled member company representatives, noting her excitement to lead AmCham given its unique position as the meeting place for international business leaders in Norway.
"AmCham has unique, very compelling role as a leading organization advocating for international and transatlantic business. And that's particularly true in an extraordinary time like we all are in now."
Notable AmCham Board Changes & Additions
Roche Norge – General Manager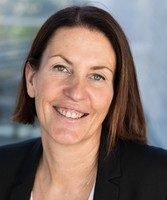 Cisco Norge – Managing Director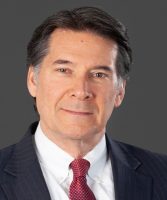 DLA Piper Norway – Partner
Like Rokke, Mehdwan touched on the evolving COVID-19 situation, highlighting that AmCham member companies will play a key role in helping local communities tackle challenges presented by the virus.
"I have heard many stories about technology and equipment companies lending their expertise to help other organizations and the public sector. It is really cool to see member companies pitching in and doing their best to help our community."
Other Board changes included the departures of ExxonMobil Managing Director Jan Åge Hansen and Geir Christian Lysberg, and the additions of Cisco Managing Director Trine Strømsnes and DLA Piper Partner Stan Stewart. AmCham would like to thank Hansen and Lysberg for their extensive contributions to AmCham during their respective periods on the Board.
In addition to Board changes, AmCham Treasurer Michael Klem highlighted a robust non-profit year for AmCham in 2019. This will give AmCham a strong foundation for sustained growth and success through 2020.
In the year to come, AmCham will publish a wide range of reports and business publications, headlined by the release of our coming Multinational Companies in Norway report in cooperation with Abelia. AmCham will furthermore continue to expand our business services and advocacy initiatives in the wake of recent global and domestic economic developments, solidifying our position as the voice of international business in Norway and playing a key part in Norway's economic dugnad in response to COVID-19.

Expanding upon AmCham's strategic priorities, Turflinger noted that "collaboration with and trust in AmCham's exceptional member companies is a must for their further expansion in Norway and the US. We will do our part build upon all public-sector collaborations, and reinforce the hard-earned trust in our dynamic, long-term oriented member companies."
In addition, member initiatives such as the AmCham Mentorship Program, Rising Leaders, our various industry-specific working groups, our timely cross-industry forums, and popular US Election series will continue – all carried out by AmCham's capable, engaged staff.