Safe Spaces: Hospitality in the Time of COVID-19
During this challenging period, several AmCham hospitality industry members are adapting their strategies to continue to provide guests with temporary stay options. This includes offering retreats from the "home office" while ensuring operations within the Norwegian authorities' safety frameworks. At the core of this new operating reality are solutions and initiatives that put the health and safety of guests and employees first.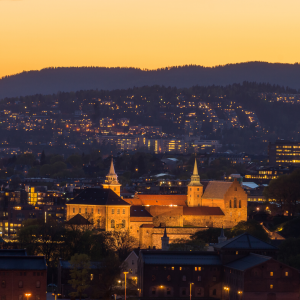 Hotel Amerikalinjen is conveniently located right in the city center. Situated across from Oslo's central station and the rejuvenated waterfront neighborhood Bjørvika, the location is normally bustling this time of year. Instead, central Oslo is eerily quiet, and the hotel has had to take tough measures and focus on the future – keeping the end of COVID-19 restrictions and the resumption of travel in their sights.
"Soon we will clink glasses. We will exchange hugs. We will travel again," says Amerikalinjen General Manager Wilhelm Hartwig "Until then, the main priority has to be to stay healthy and continue to obey the advice provided by the local authorities. We are confident we will return from this stronger than ever – when the time is right. Not only as a company but also as a society as a whole."
"We look forward to welcoming our guests back to Amerikalinjen to continue the journey!" he adds, noting that, "the team at Amerikalinjen sends their warmest thoughts to everyone in this challenging time, and would like to extend a special offer to their most loyal friends and AmCham's members." For further details and booking, click HERE.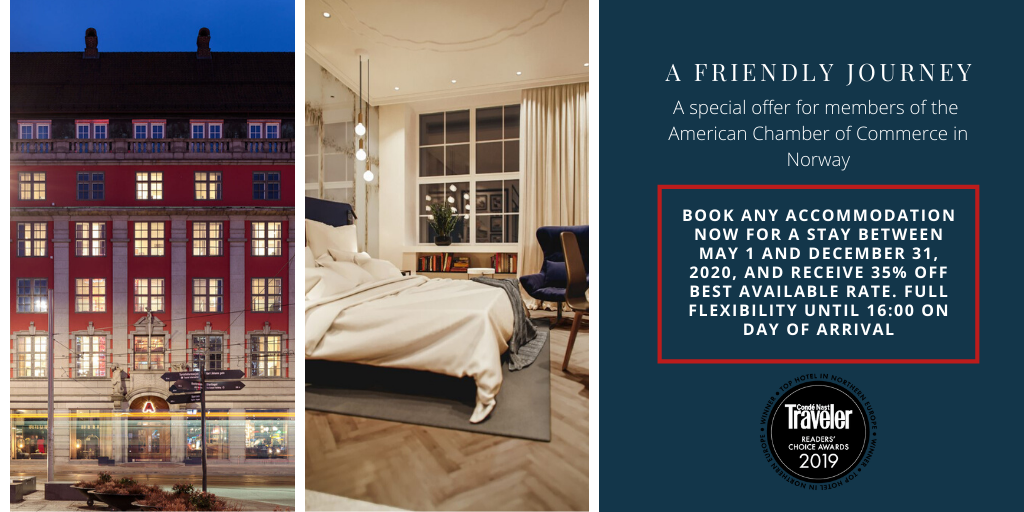 With a mission of stealing you away from everyday life, modern boutique hotel The THIEF sits on the aptly named Tjuvholmen (Thief Islet). Adapting to the current situation, hopes to help their guests make a break from the home office by allowing them to book rooms for remote work. All rooms are equipped with a working desk, Nespresso machine, floor to ceiling windows, balconies, and best of all – peace and quiet to help you focus!
Commercial Director Daniel Setekleiv notes that "in addition to the home office solution we are currently offering  guests, we are also increasingly focusing on long stays. That has been a growing market, especially since AirBnB entered the landscape. Now we are offering great rates on week-long stays since we now have the ability to accommodate these requests. We are also now offering our food and beverage services as take away menu items."
Please contact stay@thethief.com or 24 00 40 00 for more information and to make your reservation.
One of Oslo's most iconic hotels, Hotel Bristol is open for guests and continues to serve customers breakfast and lunch in their historic restaurant, Vinterhaven, every day from 11:00 to 21:00.
Hotel Bristol is famous for their Afternoon Tea and their celebrated hot chocolate – said to be one of the best in town. At this time, they have decided to move away from their traditional breakfast, sandwich, and cake buffets to dishes that can be ordered from an à la carte menu. There is significantly reduced capacity in Vinterhaven & Bibliotekbaren and Bristol Grill – serving no more than 50 guests at a time. To comply with the Norwegian Institute of Health's guidelines, the Bristol Spa – including the sauna, ice bath, and training areas – will remain closed until further notice.
"Safety for our guests and employees is our main priority. We follow all national guidelines and advice regarding the COVD-19 situation and ensure that our guests keep a safe distance from one another," says General Manager Lars Petter Mathisen. "We hope our guests can find needed rest and relaxation with us in our elegant rooms during a difficult time." If you would like to book a table or have any questions, please call 22 82 60 00 or email post@bristol.no.
How can you support the hospitality industry?
The travel industry has survived many difficult situations in the past and will inevitably come roaring back. You can now support your favorite hotels, however, by postponing your existing reservations instead of canceling and requesting an immediate refund. The travel industry will undoubtedly offer incredible deals during the later part of 2020 and into 2021, reflecting a trend of increased flexibility and innovation in the industry as Norway and the world navigates the aftermath of COVID-19.