AmCham Norway's 21st Annual Golf Tournament – August 26, 2021
Generously sponsored by Oracle and PwC, the AmCham Golf Tournament celebrated its 21st anniversary at Hauger Golf Club, bringing together the AmCham community for a very welcome, in-person day of spirited competition and socially distanced fun.
The winning teams were awarded bountiful prize packages from Hotel Continental, Tesla, Helly Hansen, Avinor, Shades of Norway, Johnny Rockets, Mondelez, Hotel Bristol, Hauger Golf Club, and IC Scandinavia.
Gathering for the second time at Hauger's demanding yet scenic course, the weather provided an additional challenge with gusts that sent hats flying. Despite the hurdles, our 28 teams braved the 18 holes, partaking in special competitions along the way. Players were able to enjoy fresh milkshakes at the third hole provided by Johnny Rockets, and refreshing beverages throughout the day, courtesy of Coca-Cola.
At the end-of-play, PwC Team 1 captured the Søderstrøm Cup, with each team member winning a weekend at Hotel Continental, Helly Hansen duffle bags, giant Freia milk chocolate bars, and AmCham Tournament glasses.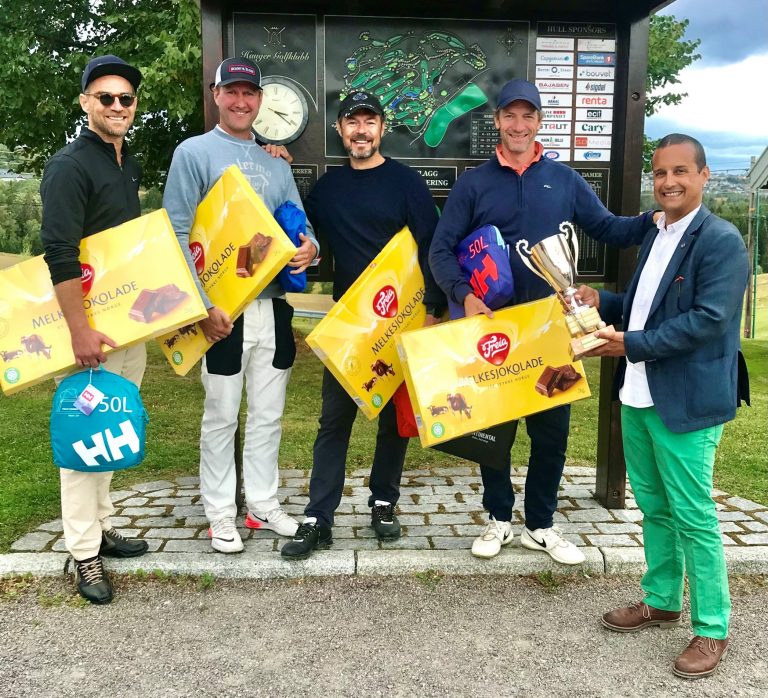 Team Ask Mr. Cruise finished in second place, receiving Tesla weekends and merchandise, signature cross-country sunglasses from Shades of Norway, and a complimentary round at Hauger Golf Club. They were followed by Team NATO / GE Healthcare Norway, who took third place after a fantastic round and received OSL Lounge passes courtesy of Avinor, and signature sunglasses from Shades of Norway.
As in previous years, several individual prizes were also up for grabs. PwC's Karine Bolme earned the closest-to-the-pin prize, taking home American wines and signature sunglasses from Shades of Norway.
Barbara Jaeger won the women's longest drive, taking home an Eleni & Chris hair and skincare set from IC Scandinavia. Google's Espen Rustad captured the men's prize for longest drive, coming away with a ROAM hair and skincare set from IC Scandinavia.
Five players competed for the final putt off with the US Embassy's Walter Grant taking home American wines and a complimentary gift card from Hotel Bristol for afternoon "tee" for two.
With special guests and former AmCham Director Rolf Roding and his wife Wendy joining us, the tournament ended with a delicious BBQ buffet dinner. As one guest put it, "This is the greatest day I've had in the office since Covid!"
We look forward to seeing everyone at next year's tournament!
For questions about participation or sponsorship for the AmCham Golf Tournament, please contact Madeleine Brekke at amcham@amcham.no