How American Public Opinion Will Shape the Next US Administration with the German Marshall Fund's Bruce Stokes
Preceded by a week that featured perhaps the most contentious debate in US history and the stunning revelation that the President himself had contracted COVID-19, Bruce Stokes, Non-Resident Transatlantic Fellow at the German Marshall Fund, joined AmCham members from across the Nordics for a masterclass on how surging US demographic transformation will affect the upcoming presidential election – and the coming administration. The event was a part of the Nordic AmChams US Election Series.
Full recording available on the right
State of the US Presidential Race: A Look Behind the Numbers
Before joining the German Marshall Fund, Stokes served as the director of Global Economic Attitudes at Pew Research Center, and he drew upon his extensive polling and analysis expertise when presenting a broad spectrum of recent polling. The polls highlighted various trends, ranging from Trump's job approval to increased partisanship.
Stokes then explored the factors driving these trends. A particular focus was the tremendous rate of change in the US, which he explained by noting the increasing rapidity by which the House, Senate, and White House change party hands.
"Between 1960 and 1979, the House, Senate, or White House changed hands three times. In the twenty years to follow, from 1980-1999, it happened four times. However, between 2000 and now, it's happened eight times."
A critical factor in understanding the American perception of change, Stokes added, is demographic development. The US is rapidly becoming more diverse, with more than 38% of the US population having a non-white background. Simultaneously, middle- and lower-class wages have stagnated, and regardless of background, fewer and fewer Americans can claim to have realized the American dream by earning more than their parents.
All in all, Stokes concluded, these trends have coalesced to create a demographically divided, highly partisan electorate.
American Views on Trade and International Issues
Despite the emergence of a divided, partisan electorate, trade is one issue where Stokes noted agreement. 79% Americans agree that trade represents "an opportunity for economic growth" rather than a "threat to the economy." The agreement on trade, however, did not extend to other international issues, with both Democrats and Republicans holding decidedly different conceptualizations of international threats, cooperation, and opportunities.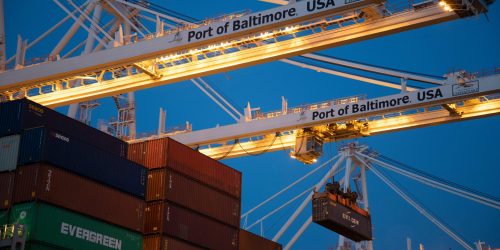 Countdown to Election Day
To conclude, Stokes discussed the various trends around voting and voting difficulties that are coming to define the American political discourse with the election looming on the horizon. Nearly half of American voters plan on voting early or absentee, a trend almost certainly driven by COVID-19. National debates around voting access, Stokes added, have led to an increasingly partisan divide on the difficulties of voting in America, with many Biden supporters expressing concern over voting procedures and Republicans expressing concern over voter fraud.