American Wine Club: Bonterra Tasting
Visiting organic wine pioneer Bob Blue led the American Wine Club and AmCham members through an exclusive tasting of Bonterra Vineyards diverse range of organic and biodynamic wines. Founded in 1987, Bonterra is a rising star in the American wine industry and was named Wine Enthusiast magazine's American Winery of the Year in 2016.
Amerikalinjen's courtyard, Haven, provided a picture-perfect setting for the tasting, with Blue, Bonterra's founding winemaker, taking attendees through the evolution of organic wine in the United States and Europe, in addition to highlighting the growth of sustainable practices in the American wine industry.
"We started very small, but that actually led to all types of endeavors around sustainability early on. In the years since, it's just been amazing to see people move with us," he noted while discussing how Bonterra has established itself as one of the United States' foremost producers of organic, sustainable, and biodynamic wines.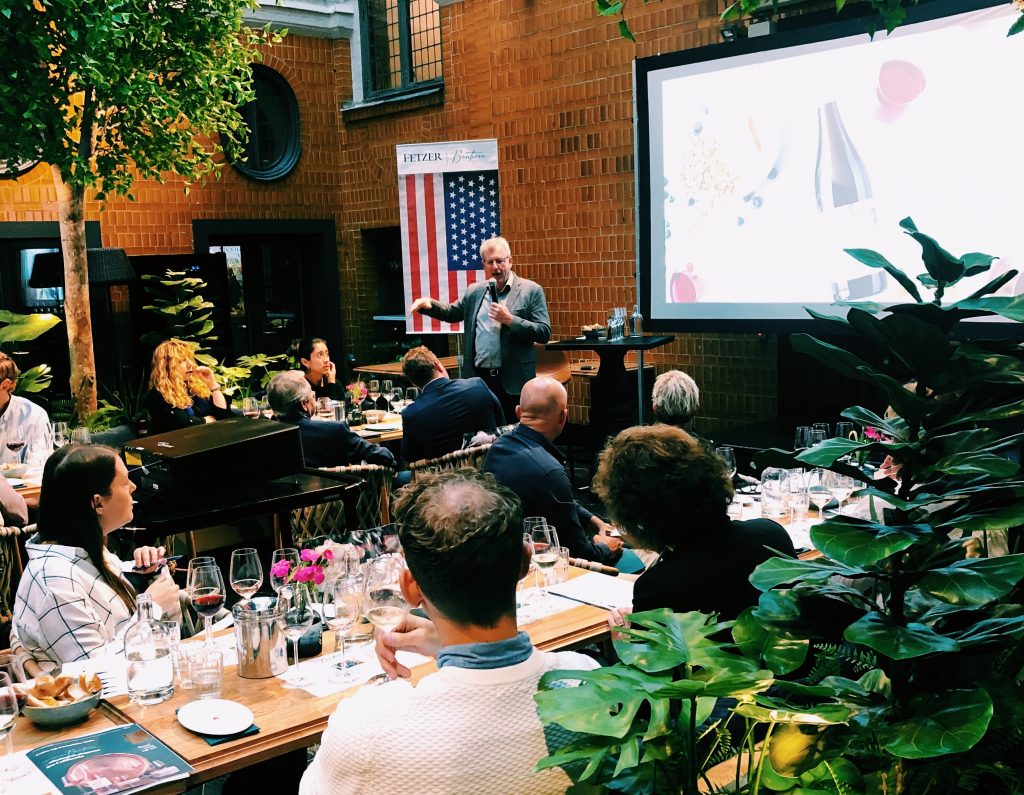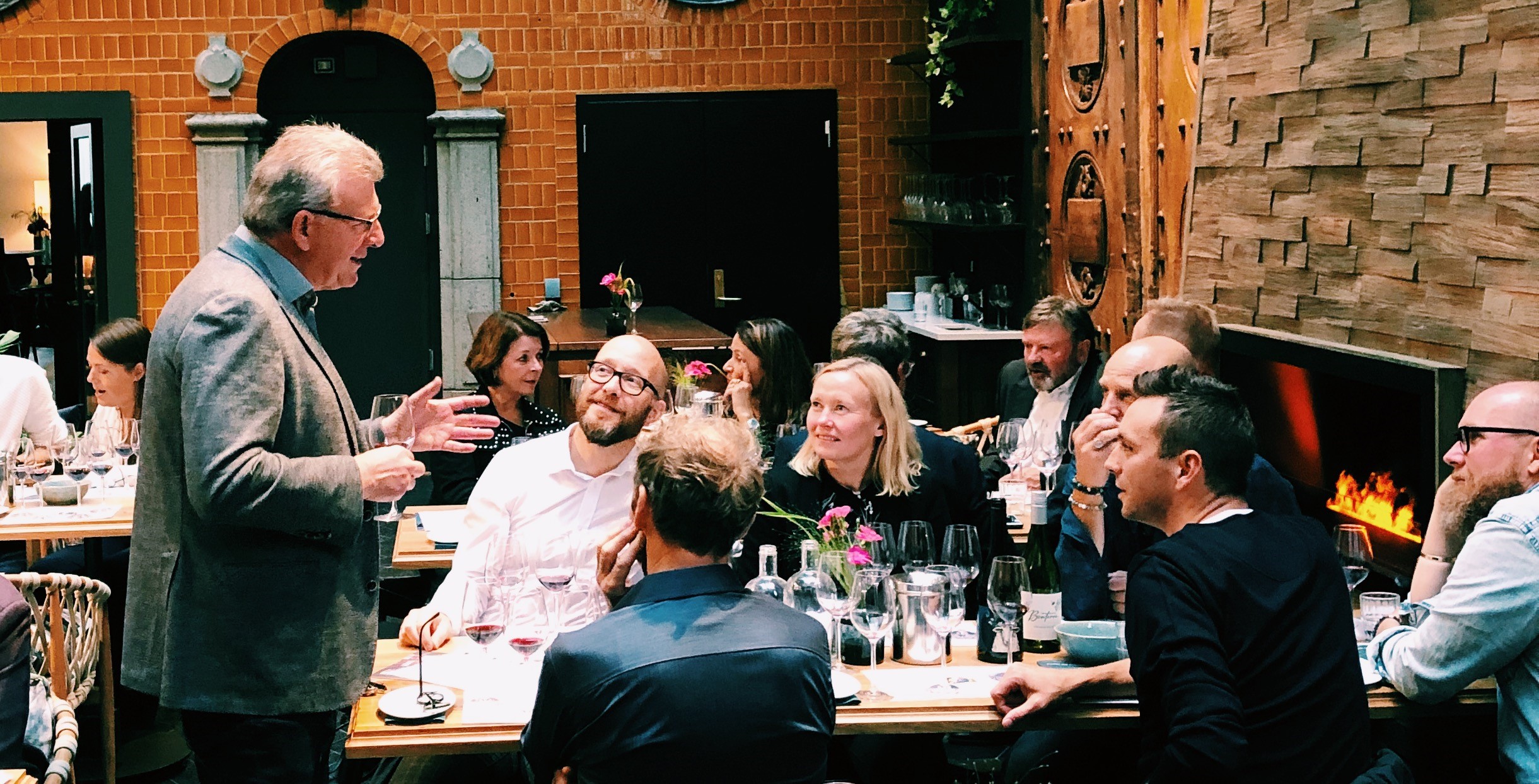 In the course of the tasting, attendees had the opportunity to sample the following vintages:
Bonterra Organic Sauvignon Blanc 2018
Bonterra Organic Chardonnay 2018
Bonterra Organic Rosé 2018
Bonterra Organic Young Red 2018
Bonterra Organic Zinfandel 2016
Bonterra Elysian Collection Merlot
Bonterra The Butler 2013
Bonterra The McNab 2013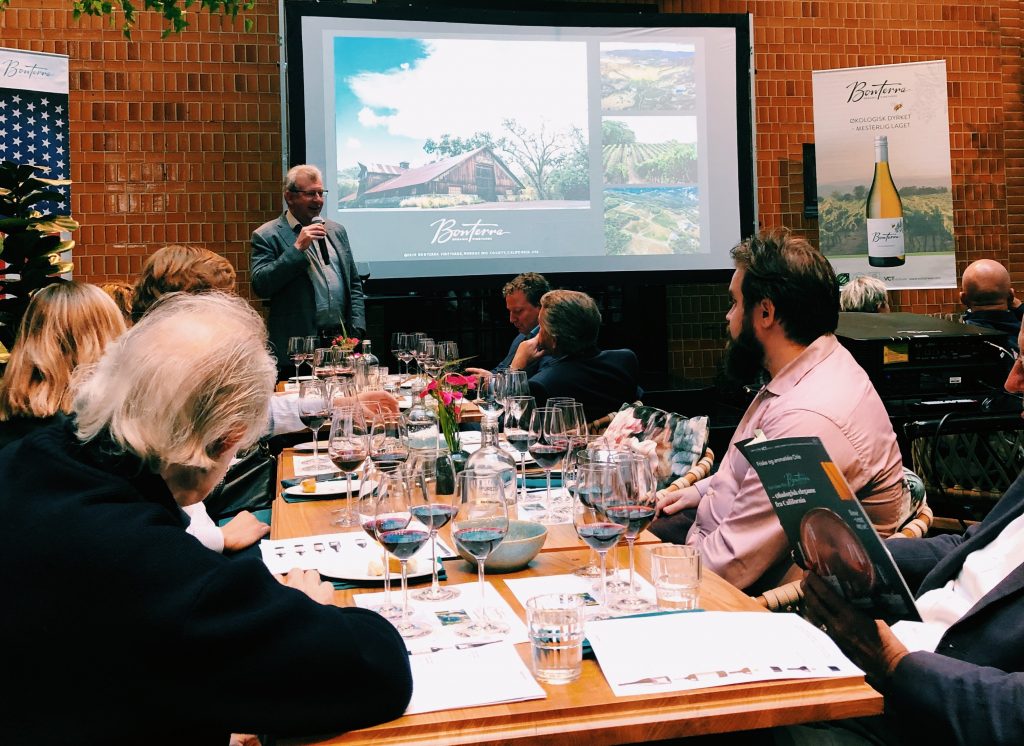 Bonterra Vineyard's Bob Blue
Bob Blue is a pioneer in the organic wine arena and the founding winemaker for Bonterra, with deep roots in Mendocino's vineyards. Ironic, given that he grew up in a family of teetotalers in Lake County, California.
In 1988, Bob joined what he now calls "Fetzer University," where he apprenticed and was mentored by legendary California winemakers Paul Dolan and Dennis Martin. As General Manager of Fetzer's Hopland Winery, he continued to influence winemaking and was made Red Varietal Winemaker before being named Winemaker for Bonterra.
About the American Wine Club
The American Wine Club is a joint AmCham / member wine importer initiative. Founded in March 2019, the club is a testament to the excitement American vintages are inspiring across Norway. The club's Facebook group is a digital meeting place for American wine lovers from all over the country, featuring relevant reviews, wine-oriented news articles, and food pairings.
Would you like to be the club's next member? Sign up HERE today!