2019 AmCham Ambassador's Reception
A capacity crowd of member company leaders and partner representatives joined US Ambassador Kenneth J. Braithwaite, AmCham Chairman Pål Rokke and Minister of Digitalization Nikolai Astrup at AmCham's annual member reception at the US Ambassador's Residence, Villa Otium.
It was a night that celebrated longstanding economic ties between the US and Norway – and AmCham's continued work to develop, expand, and deepen Norwegian-American business relations.
"I couldn't say greater things about AmCham and their work to create jobs and strengthen economic ties between the United States and Norway," noted Ambassador Braithwaite in his opening remarks, highlighting how AmCham plays an instrumental role in coordinating the transatlantic business community.
The Ambassador was followed by AmCham Board Chairman and Citi Country Manager Pål Rokke, who underscored how technology companies have become AmCham's largest and fastest growing member industry group – a sector that will not only be a catalyst for expanding public-private partnerships but will also help Norway realize its tremendous untapped potential as a global innovation hub.
Rokke's speech focusing on the tech sector and private-public partnerships was also a perfect segue to Minister Nikolai Astrup's remarks. Minister Astrup, Norway's first ever Minister of Digitalization, touched on how countries must adapt and evolve to thrive in the digital global economy of the 21st century, noting "Many like to say that the pace of change has never been this fast, but I'd like to point out that the current pace of change will never be this slow again. That means countries will have to change."
In Norway's case, he argued that the country must embrace radical digitalization, "Norway's doing yesterday's digitalization, but what we really need now is radical digitalization – solving challenges and finding opportunities in completely new and better ways."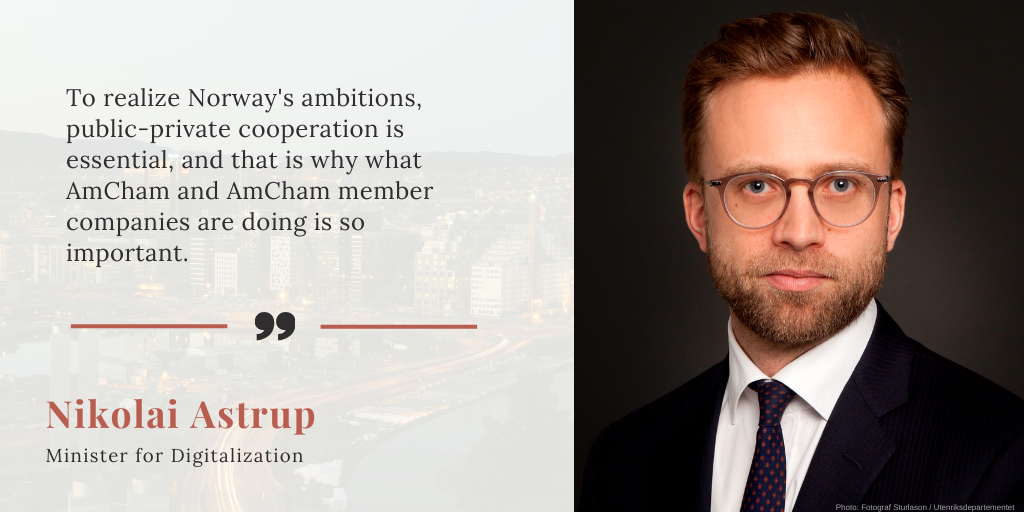 Minister Astrup then emphasized that AmCham and its member companies would play a critical role in this evolution, bringing together the expertise and resources necessary to turn Norway into a global leader in digital solutions. "To realize Norway's ambitions, public-private cooperation is essential, and that is why what AmCham and AmCham member companies are doing is so important," he concluded.
Guests then enjoyed Norwegian-themed hors d'oeuvres and a notable assortment of wines from Charles Smith, Beringer, and Robert Mondavi. In addition to Ambassador Braithwaite and the US Embassy, AmCham would like to sincerely thank Strøm and Treasury Wine Estates for their generous support!