Cross-Industry Collaboration Gives AmCham Members a Competitive Edge
As capital, technology, and ideas increasingly flow between industries, the importance of cross-industry dialogues and collaborative partnerships has never been greater.
Collaborating for the Greater good
As Capgemini's Country Manager for Norway, Jens Middborg, notes, the benefits for cross-industry collaborations are twofold. "On a broader level, it's for the greater good. We're developing something outside of our own space, and, in the case of programs like the Techstars Energy Accelerator with Equinor and Kongsberg, we're developing things that are innovative and more sustainable – things that generate positive change within our own industries and also for society as a whole."
It was a sentiment echoed by his colleague, Capgemini Invent Norway Executive Vice President Gunnar Deinboll. "Collaboration is a way of accelerating innovation – it's much faster than innovating alone. You get to be at the forefront of what's happening, not only with leading companies but also with groundbreaking startups."
Cross-industry collaboration reenergizes company culture, offering new perspectives, ideas, and approaches, according to Jens Festervoll, Equinor's Corporate Liaison for Techstars.
"Through Techstars Energy we get to meet smaller, nimble and agile startups with the passion and drive to solve a challenge. For us, such cross-industry collaboration can be a bit of a cultural journey. To see how the culture of a startup and a big corporation blends together and shapes the way we work to find sustainable solutions for the future is truly energizing."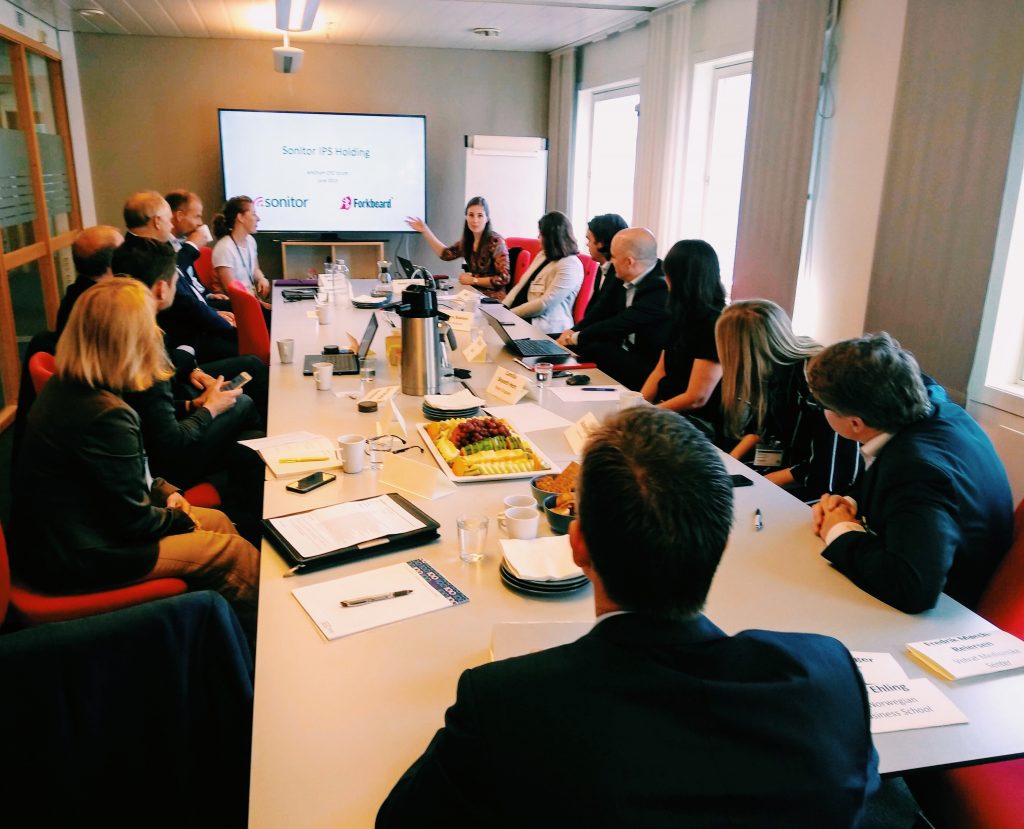 Few people appreciate the real value of cross-industry collaboration, and the critical role it plays in enhancing Norwegian competitiveness, better than Techstars Energy Accelerator's Managing Partner, Audun Abelsnes. Abelsnes brought together 130 representatives from 31 different companies, including eight AmCham members, to serve as mentors for the program's startup participants in 2018.
Abelsnes sees Techstars as more than just positive for the program's corporate sponsors and mentors, arguing that the collaborative program puts Norway on the map globally, showcasing the country's energy expertise.
"Techstars chose to have their first energy program based in little Norway – that says something about us as a country. The startups we work with have a lot of opportunities to be successful elsewhere, but they chose to come here because Norway is known for advanced energy technologies."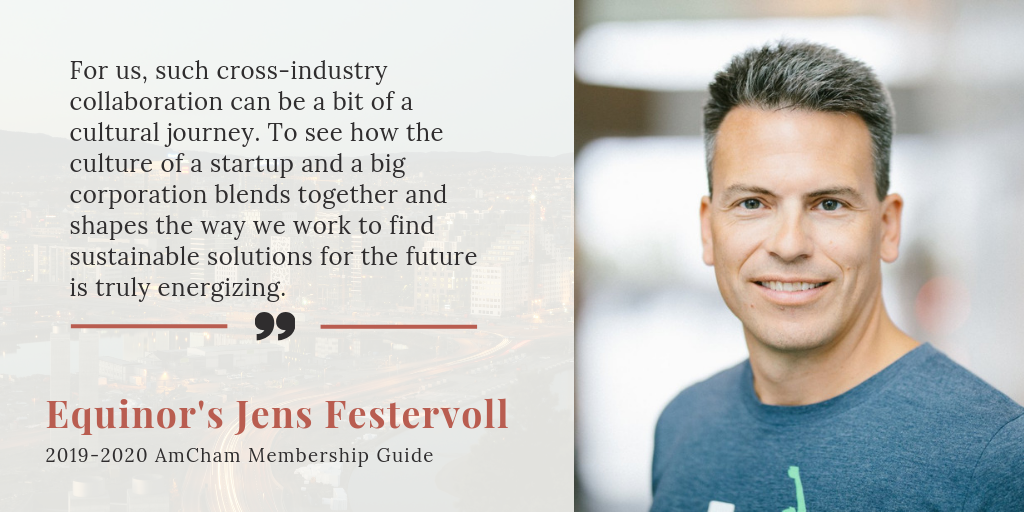 The Value of Cross-Industry Forums
Cross-industry programs are not exclusively limited to the Norwegian energy sector. Across Norway, companies in a wide range of industries increasingly see the value in collaborative partnerships and in participating in cross-industry forums such as AmCham's Sustainability, CFO, and Digitalization Forums.
"We have a large number of intra-industry partnerships with law firms in other jurisdictions, and we also have cross-industry partnerships specific to each practice group," notes Kaare Risung, Partner and Head of Digital Innovation, Telecom, Media, and Technology Markets at Schjødt.
"Cross-industry partnerships bring us closer, allowing us to share real-life experiences, and, in regard to our legal practice, to continuously improve our services to clients, who appreciate well-tailored personal recommendations when they themselves enter new territories and form their own partnerships," he concludes.
Capgemini, Equinor, and Schjødt believe organizations such as AmCham play a critical role in facilitating these cross-industry dialogues and building platforms for cross-industry value creation.
"AmCham's Digitalization Forum has proved to be of particular value in helping us stay on top of current and future issues, something I attribute to an atmosphere of open and frank debate combined with top-notch speakers with intimate knowledge of their fields," notes Schjødt's Risung.
Equinor's Kai Erspamer, Digital Project Leader in the Digital Center of Excellence, sees cross-industry forums as playing a vital role in their future preparedness efforts, observing that, "Engagement beyond the core organization is essential for long term success in the dynamic, digital future that we see in front of us."
"There's a need to raise awareness and get the word out," add Abelsnes about Techstars. Quality is paramount, and we hope that working with the Chamber not only connects us with American energy companies who are interested in contributing on the mentor side, but also startups for us to work and partner with."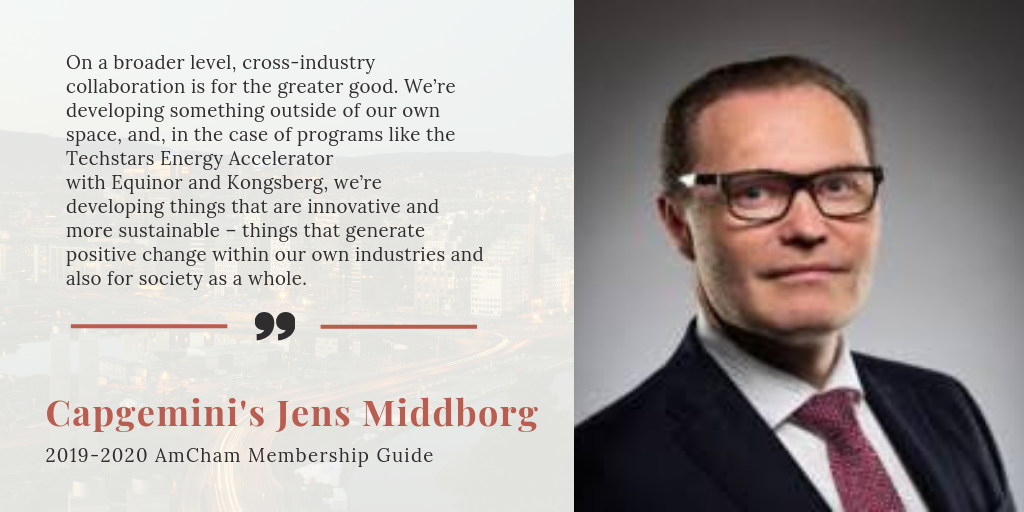 The most valuable contribution that cross-industry forums, dialogues, and partnerships provide, however, is their crucial role in enhancing Norwegian competitiveness, according to Risung.
"I had an interesting discussion recently on arguments for favoring Norway over our neighbors. We quickly came up with a list of more than twenty arguments, many of which addressed cross-industry collaboration. Norway has done a great job of communicating its competitiveness in the oil and gas industry, but there is still a lot of potential to export these experiences to new industries. Government, NGOs, utility companies, banks, lawyers, recruiters, marketing firms, and others should work to cooperate together to communicate this competitiveness, especially in these new industries."
In sum, from building Norway's global brand to facilitating partnerships, the willingness of companies to engage in programs such as Techstars Energy and arenas such as AmCham's cross-industry forums gives Norway a decided edge compared with regional and global competitors – a collaborative spirit that will power the future of the Norwegian economy.