Space Programs and Infrastructure: Creating Value Across Industries
An Executive Roundtable with Dr. Tess Caswell
Jointly hosted and coordinated by AmCham Norway and the US Embassy, an exclusive roundtable discussion with Dr. Tess Caswell was held at AmCham's office on October 29.  The agenda focused upon how increased investments in space programs and infrastructure will create value across industries as well as barriers for broader collaboration and engagement in the space industry.
Member and partner participants discussed the warp-speed pace of the modern space race and the benefits of the ever-growing ease of space access as well, in addition to some of the challenges that come with regulating space activities, legal responsibilities, and sustainability. 
Earth-Based
Challenges and Space-Based Solutions
NASA spinoffs and technologies developed for space missions have often benefited those of us on Earth. From energy systems and storage to the defense, maritime, and agriculture industries, participants openly shared how associated spinoff technologies are abundant and expanding.
While working at mission control for the international space station as an environmental and thermal operation systems officer, Dr. Caswell was responsible for the air and the water aboard the International Space Station (ISS). This included making sure there was enough oxygen, removing CO2, and recycling onboard water. In other words, "making yesterday's coffee into tomorrow's coffee for the astronauts."
One participant noted that, "in Norway we are good at finding solutions, but not always so good at generating the business. They say in Norway there is one salesperson for evert nine scientists, and in the US it is the other way around. The US knows how to scale up businesses and turn them from an idea into reality."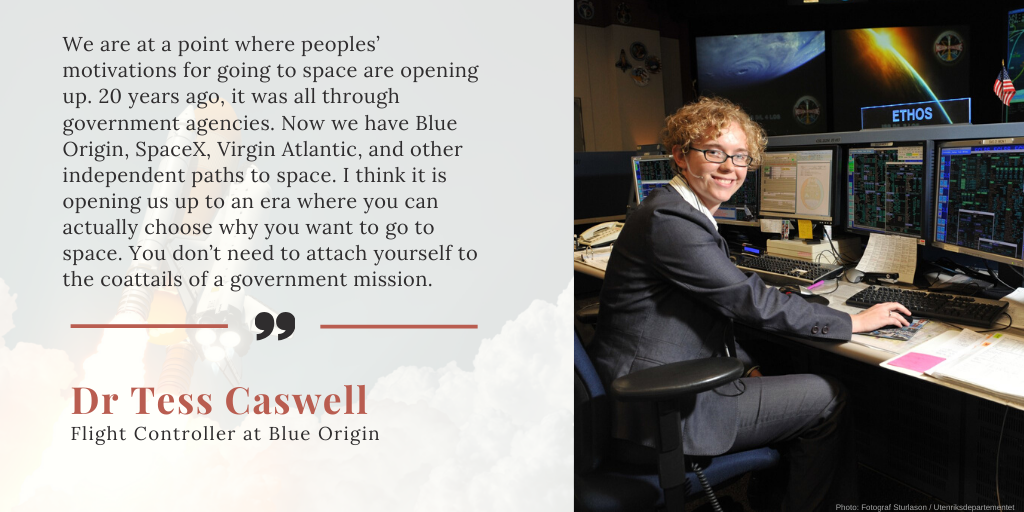 The Modern Space Race – Challenges and Opportunities
The day before the roundtable, Virgin Atlantic became the first human space flight company to trade on the public markets. With the modern space race cranked up to warp speed, more and more private companies are launching themselves into the mix.
"We are at a point where peoples' motivations for going to space are opening up.20 years ago, it was all through government agencies. Now we have Blue Origin, SpaceX, Virgin Atlantic, and other independent paths to space. I think it is opening us up to an era where you can actually choose why you want to go to space. You don't need to attach yourself to the coattails of a government mission," said Caswell.
With so many satellites being sent up and orbiting the earth, one challenge the group focused upon was space debris – an issue that quickly could lead to an exponential increase of debris to the point where space could be impenetrable. Private companies need to take on the challenge of deorbiting and removing outdated satellites.
Two years ago, Norway became a member of the UN's Committee on the Peaceful Uses of Outer Space (COPUS), tasked with finding consensus on common guidelines for long-term sustainability of space activities. 
Also, the Norwegian government's long-awaited space policy plan is scheduled to be released in December 2019. Participants expected that included directives would seize upon the opportunities associated with expanded aerospace education for Norwegian students, both in Norway and beyond. 
Participating roundtable organizations included Equinor, CMR Prototech, Kongsberg Defence & Aerospace, Kongsberg Satellite Services (KSAT), Norwegian Space Agency, NIFRO (Norwegian Industrial Forum for Space Activities), Elmatica, and IDEAS (Integrated Detector Electronics AS).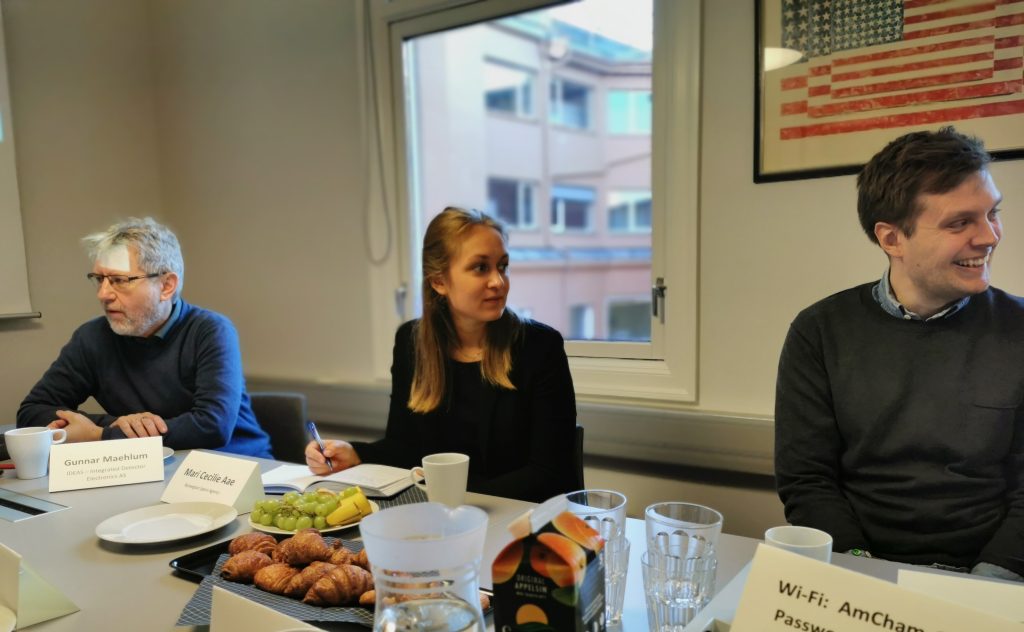 Dr. Caswell was invited to Norway through the US Department of State Speaker Program to share her experiences as an astronaut simulator for the HERA Missions, her work in mission control for the International Space Station with NASA, and most recently from her role as a flight controller for Blue Origin, a privately funded American aerospace manufacturer and sub-orbital spaceflight services company owned by technology entrepreneur Jeff Bezos.
During her visit to Norway she also participated in Jenter i teknologi (Girls in Technology) events to promote STEM education for young Norwegian women and visited the Andøya Space Center, which supported a sounding rocket she launched during her undergraduate at the University of Alaska – Fairbanks.