AmCham Discusses Baker Hughes' Transition to an Energy Technology Company with Allyson Anderson Book, VP Energy Transition
With operations in more than 120 countries and industry-leading technology, Baker Hughes was excellently positioned to embark on an exciting new chapter in the company's history when it made the transition to an energy technology company in 2019. From the company's aggressive emissions reduction goals to the human element of corporate transition strategies, US-based VP Energy Transition Allyson Anderson Book joined AmCham for a wide-ranging discussion on Baker Hughes' journey, highlighting the company's commitment to developing and deploying the technologies to take energy and industry forward. 
Can you discuss how Baker Hughes is going about making this transition, both operationally and in terms of communications?
First, let me acknowledge that this is a very challenging time for the world, and for the business community. We are very proud of the hard work of our employees to keep themselves and their families safe and healthy, meet the needs of our customers, and contribute to the communities where we operate.
Although energy demand is temporarily slowed by the global response to the pandemic, the long-term trends we see in the energy space are relevant now and will help to chart the industry's path to the future. Baker Hughes' energy transition strategy will be an engine of our growth.
To remain relevant in the low-carbon energy future, the oil and gas industry must act decisively to lower the carbon intensity of operations and products. This is important because oil and gas will continue make up nearly half of the global energy mix for decades to come – even as the world's supply of electricity and renewables continues to grow.
Baker Hughes is the natural technology partner to help the oil and gas industry meet the challenges of the energy transition. With our trusted heritage of oil and gas expertise and our unmatched technology portfolio, we are ready to help our customers and future customers develop decarbonization solutions for energy production.
Our approach to low carbon energy has three parts: 
Aggressively reduce emissions from our own operations. We've publicly committed to reduce carbon equivalent emissions by 50% by 2030 and to achieve net zero emissions by 2050 to align with the goals of the Paris Climate Agreement. We are well on our way to meeting that goal, demonstrating our commitment and giving us a chance to build our in-house knowledge and expertise in low carbon energy.
Put our existing technology to work today helping the industry take immediate action to control and reduce emissions. We are actively engaged in low carbon projects with major multinationals and national oil companies today with more on the horizon.
Invest in the development of new technology that will enhance our leadership position in low carbon energy technology. This will come through a combination of in-house research and development, partnerships, and new ventures.
How can Baker Hughes technologies play a critical role in helping addressing climate change? How important will these solutions be in ensuring that we can continue to hit ambitious climate goals while facilitating growth in today's complicated global economic environment?
From a Baker Hughes perspective, we have an existing portfolio of low carbon solutions and continue to develop additional solutions in anticipation of market needs. Baker Hughes has a unique advantage because we bring solutions across the value chain – from upstream oil and gas, to the midstream, and to the downstream – as well across various applications including modular power, measurement, and digital solutions.
We are attacking the technical challenge of emissions reductions on several fronts. Here are a few examples of the types of products and initiatives we are driving commercially today:
Emissions monitoring and measurement: we offer products specifically to aid in emissions monitoring and reduction, such as flare.IQ and the Lumen methane monitoring platform.
Low to zero emissions technologies: Developing energy efficient products helps reduce customers costs while also reducing emissions, for example, the LM9000 gas turbine, our Magnefficient electric submersible pump, or our integrated compressor line. For subsea, we also have our Aptara subsea system and subsea processing technologies for boosting seawater treatment.
Redesign tools and equipment to reduce energy consumption: We are focused on conducting lifecycle analyses of our products to help us develop more efficient manufacturing processes, use less materials, and make equipment lightweight and more modular. A good example of this work is our development of the Aptara subsea tree, which uses less material, is lighter than traditional subsea trees, and can be installed and maintained much more easily than its conventional counterparts.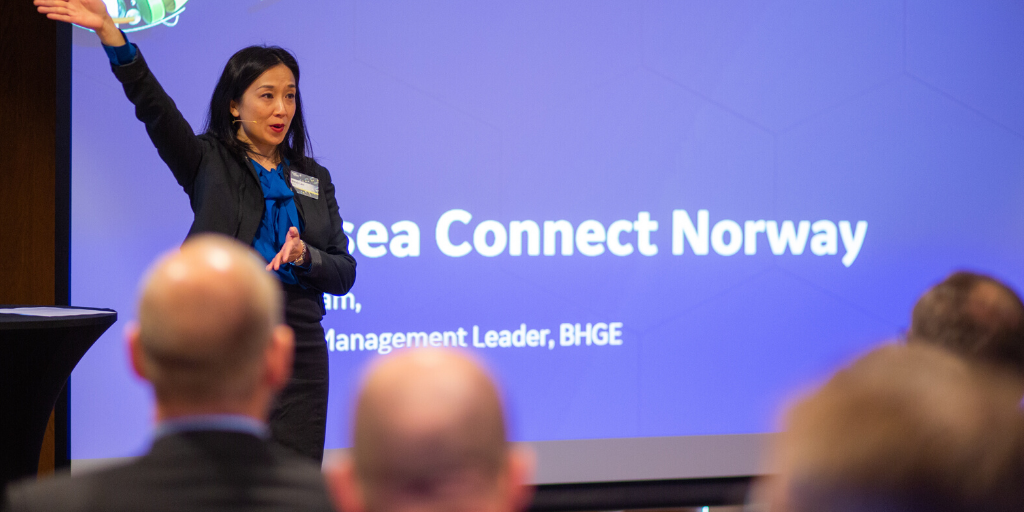 Where do you see the greatest potential for renewable energy advancements?
We believe that it will take all sources of energy working together to meet the world's long-term energy needs. We see a role for oil and gas in the long term, but the industry will need to decarbonize through greater efficiency, reduction of methane emissions, and ultimately large-scale carbon capture and storage – and even hydrogen fuel value chains. Baker Hughes has a role in helping make this happen.
Beyond the oil and gas industry, we see potential to apply our core technology to parts of the renewable and alternative energy ecosystem, and we do this already today. For example, not many people know that our Bently Nevada condition monitoring sensors and software are installed on tens of thousands of wind turbines and hydroelectric generators today – ensuring the reliability of renewable energy supply.
We will continue to look for opportunities like this where our energy technology can enable renewables, such as grid-scale energy storage and decarbonize existing energy supply.
How does BH recruit, train, and retrain the engineers and personnel needed to make these transitions?
We are very fortunate to have many talented and passionate people across our organization who are actively working on energy transition projects and on reducing our own emissions. Since many of our solutions are about extending our core technologies into new markets, it is a natural extension of the existing work. We also share news, host training sessions, and welcome guest speakers during our company meetings to educate our teams about this very dynamic market.
In Norway, we have a team over 2000 employees located in Stavanger, Oslo, Bergen, Stord, Kristiansund, Trondheim, and Hammerfest who interact with our global team. Many of our team members in Norway focus on new technology developments and collaborations with industry partners to support the energy transition. It is an exciting place to work!
Is BH's transition driven primarily by customers, internally, or by international market forces?
It's a combination of factors. There is a lot of interest from major oil and gas companies about carbon reduction, particularly at the C-suite level and on major projects. We work with them on a project-by-project basis to bring a combination of off-the-shelf technologies, like our flare.IQ technology, and customized solutions.
At the same time, the energy transition is a strategic focus for Baker Hughes and one that we are very consciously driving across all of our product companies. We have a unique advantage because we bring solutions across many technology value chains – including our current capabilities for carbon capture, utilization, and storage. We can bring a more complete suite of low carbon solutions than any other technology provider, coupled with in-depth knowledge of the oilfield and the energy industry. It's a central part of our strategy and one that we will continue to drive. 
"Companies should be discussing decarbonization in their organizations, as it will motivate people, inspire new talent to apply for careers in our sector, and show the world how the oil and gas industry is on the cutting edge of the energy transition."
How can multinational companies play a critical role in addressing climate change?
Decarbonizing oil and gas is one of the greatest technical challenges facing the world today. And, as an energy technology company, we're able to make a real difference to the world today. Companies should be discussing decarbonization in their organizations, as it will motivate people, inspire new talent to apply for careers in our sector, and show the world how the oil and gas industry is on the cutting edge of the energy transition.