AmCham Thanksgiving Charity Dinner 2021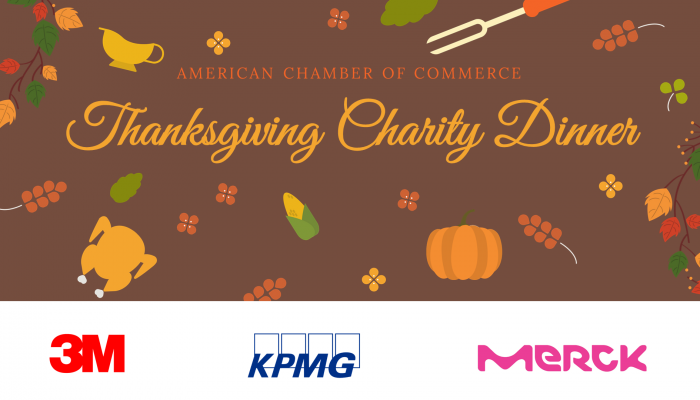 Hosted at Hotel Bristol in their grand Bristol Hall, event sponsors 3M, KPMG and Merck, along with AmCham members, international leaders and government representatives gathered to celebrate Thanksgiving. In theme with the night, and in keeping with AmCham's tradition, the evening concluded with a raffle and auction consisting of generous prizes from member companies, with all proceeds going to charitable partner CARE Norway.
Hotel Bristol's Executive Chef, Johan Laursen, mastered the traditional turkey dinner with all the trimmings, as both Norwegian and American guests agreed it tasted sublime. The dinner was accompanied by Washington's Charles Smith Wines from Anora followed by pecan, pumpkin and apple pies.
Strong Ties and Principles for the Future
The dinner featured a keynote speech by newly appointed Minister of Trade and Industry Jan Christian Vestre. Minister Vestre highlighted the essential transatlantic cooperation between our nations to accelerate the green transition, stating that "Norwegian companies are well equipped to deliver on high ambitions and strict environmental demands in cooperation with American partners," recognizing that companies – in both Norway and the US – are putting forth best efforts to develop new green technologies. He also announced proudly that his first trip overseas in capacity as Minister will be together with Crown Prince Haakon on his visit to New York and Washington D.C. Vestre cited the trip as being of special importance, not only due to his American heritage, but also because of the strong ties Norway shares with the US as its largest trading partner outside of Europe.
To follow, US Embassy Chargé d'Affaires Sharon Hudson-Dean thanked AmCham members for their support of US and Norwegian joint prosperity and investment, and for maintaining the highest standards of international business practice. Hudson-Dean also directed attention to the role of businesses in the green transition, before expertly carving the ceremonial first slice of turkey.
Peter Skovholt Gitmark, Chair of CARE Norway, presented a charity that places special focus on empowering women and girls by promoting gender equality and women's rights. Gitmark explained that equipped with the proper resources, such as VSLAs (Village Savings and Loan Associations), women have the capacity to lift families and communities out of poverty. Founded in the US in 1945, CARE assisted many families in post-WWII Norway.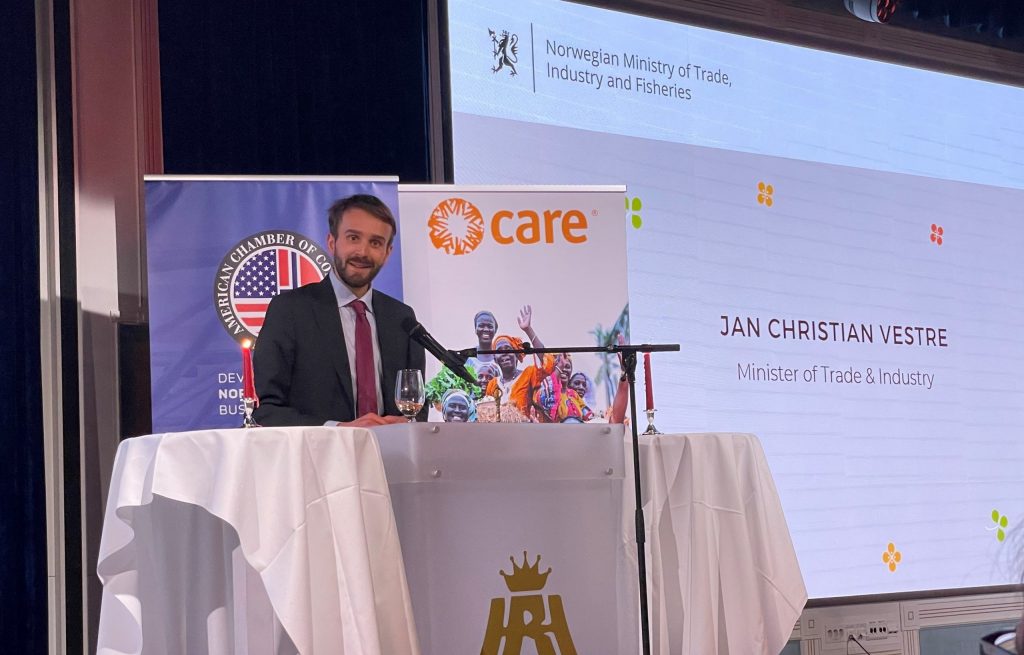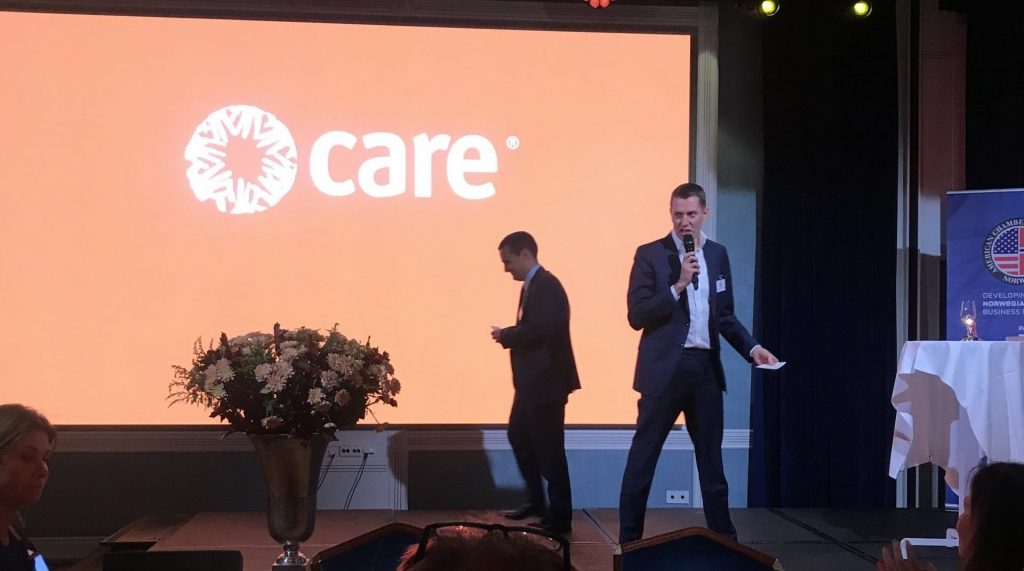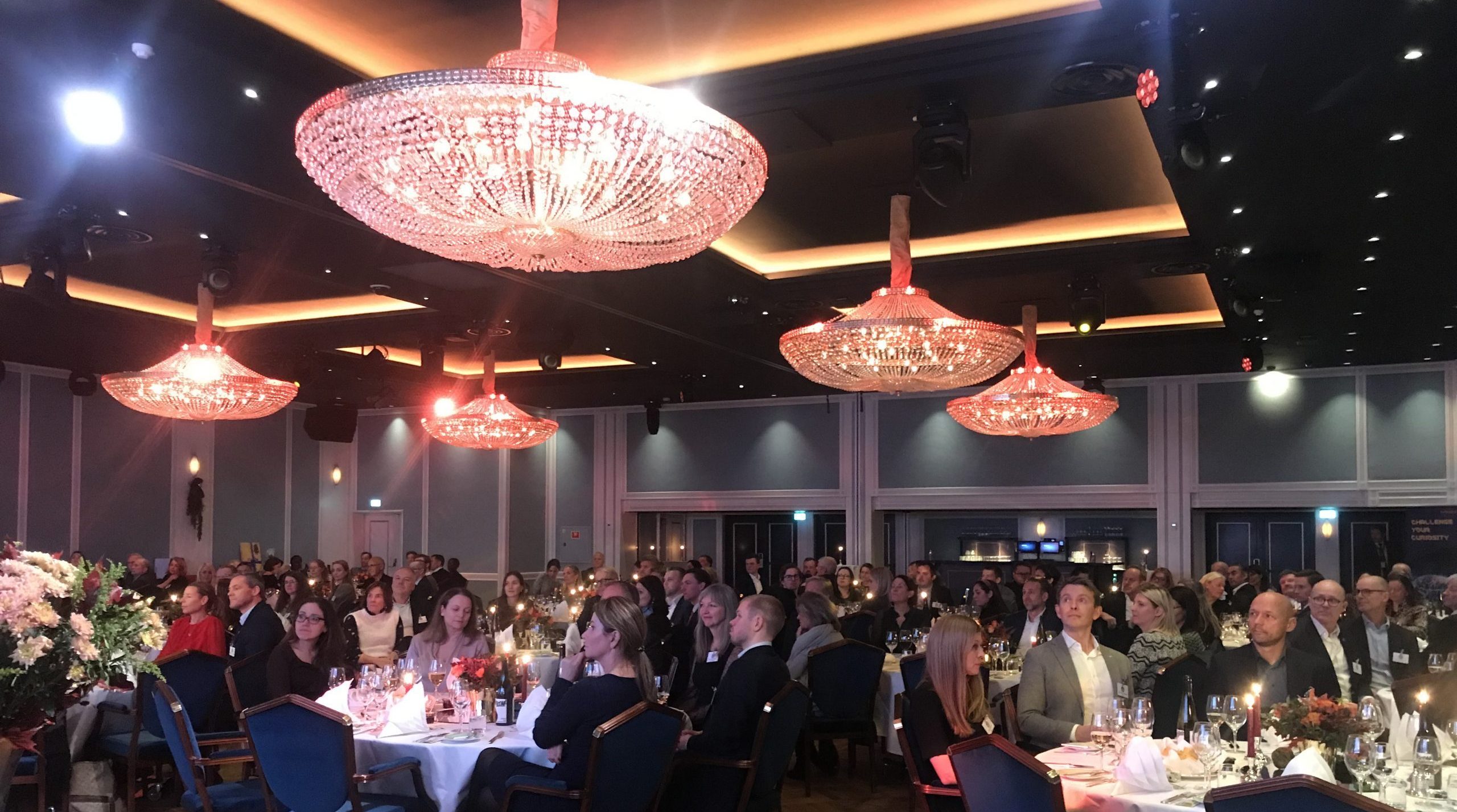 A highlight of the evening, the lively charity raffle drawing and auction began after dinner. Attendees eagerly bid on and won a broad selection of coveted prizes – ranging from VR headsets from PortalOne to a 10kg Jarlsberg cheese wheel from Tine AS.
With the raffle and auction complete, AmCham Managing Director Jason Turflinger announced that this year's auction and raffle had raised a record-breaking 100 000 NOK for CARE Norway. In response to the donation, Kaj-Martin Georgsen, National Director of CARE Norway, remarked "thank you so much for granting CARE Norway with your generous gift in relation to your annual Thanksgiving Celebration. CARE, together with our partners, will support women to access financial services, participate in dignified work, and thrive as entrepreneurs and small-scale producers, whilst also adapting our approach to fragile contexts. The generous support from AmCham will contribute to CARE's work with women's economic justice, and I want to thank you for your support." To read the full letter, please click on the letter below.